- 'Give this side 12 months and you watch, they will be a bullet side'
- 'The scoreline doesn't matter'
- 'What we miss overseas is a batsman in the top six who can bowl. Someone like Sourav'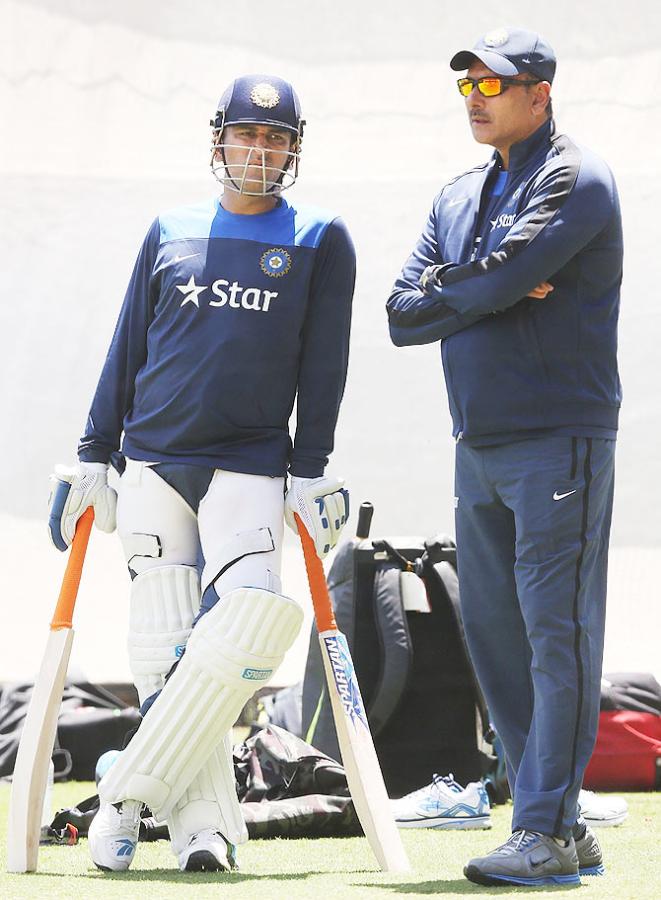 Mahendra Singh Dhoni talks to India Director of Cricket Ravi Shastri. Photograph: Michael Dodge/Getty Images
India have already conceded the Border-Gavaskar Trophy to Australia after the drawn Test at the Melbourne Cricket Ground on Tuesday, but Team Director Ravi Shastri is not bothered about the
scoreline and still believes in his young team.
India trail the series 0-2.
"I am not bothered about the scoreline because of the way they have played. I have seen teams in the past, where we have gone down, buckled under pressure and there has been no competition whatsoever. Here they have taken the attack to the opposition," Shastri told Star Sports.
"The average age of this side is 26. Again, no excuse. But give this side, like I said, 12 months and you watch, they will be a bullet side. They will be ready to play anywhere," he added.
The visitors lost the first match in Adelaide by 48 runs and conceded the Brisbane game by four wickets before putting up a fight at the MCG and Shastri said the loopholes notwithstanding, the team is fighting on.
'They have come out here to compete and look to try and win'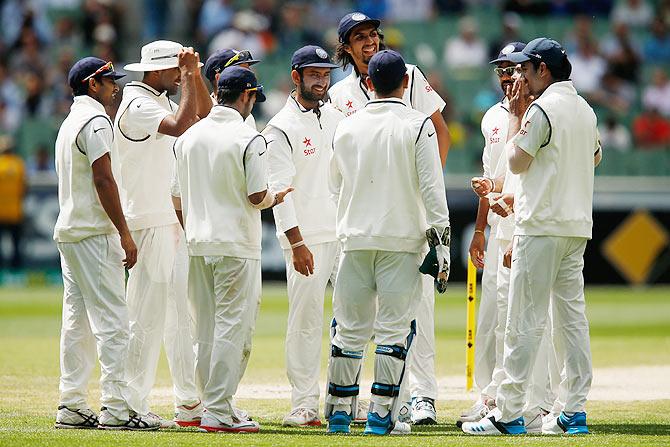 Indian players celebrate the wicket of Steve Smith of Australia on Monday. Photograph: by Darrian Traynor/Getty Images
"Areas are there they have to be addressed. Like better batting from the tail. How do you cope with pressure? How do you don't have batting collapses? How do you eradicate your mistakes and don't keep repeating them. Those have to be addressed," the former Indian captain said.
"But this is the first draw at MCG in the last 10 years. And when you have a scoreboard total of 530 and the batting that I saw on Day 3, I think I have not seen for a long, long time. I think whole of Australia stood up and acknowledged the fact that two young turks took the attack to the opposition.
"Everyone in Australia came to know that this Indian team has not just come out here to play cricket. They have come out here to compete and look to try and win. And that is the most important thing for me. The scoreline doesn't matter."
The 52-year-old Shastri, who played 80 Tests and 150 ODIs during his 11-year-old career, opined that the team does miss a Sourav Ganguly-like all-rounder.
"What we miss overseas is a batsman in the top six who can bowl. Someone like Sourav. When Sourav played he could bowl 10 or 15 overs. A medium-pace bowling all-rounder overseas. If you have that, it will be a big help. And that will be the endeavour, he said.
Shastri said the success mantra of a side always depends on a winning combination.
'When we go into Sydney, we will go without a care in the world'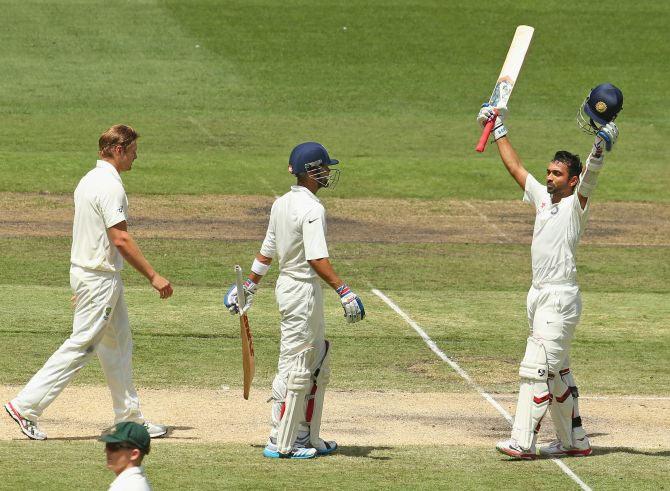 Ajinkya Rahane (right) celebrates after reaching his century. Photograph: Scott Barbour/Getty Images
"In future, when you plan for games overseas you have got to look at combinations in your side and try and groom talent that can fit that billing. I believe, overseas, four bowlers at times, if you have three fast bowlers, the workload becomes hard. You need that cover of that fifth bowler, just to bowl a few overs to give them some respite," he said.
Despite the wide criticism of Indian bowlers, the wily left-arm orthodox in his playing days defended their efforts.
"Discipline wise, the way they bowled this morning, India realised that if they can carry on in that fashion and keep Australia quiet at certain periods of the game. Field placements can be defensive but can also be an attacking move because if you don't allow Australia to score at 3.5-4 runs per over, that creates chances. So I think they will learn.
"Believe me, when we go into Sydney, we will go without a care in the world. We will go to win the game. To hell with the scoreline."
'What they (the fast bowlers) would have realised is that how important fitness is'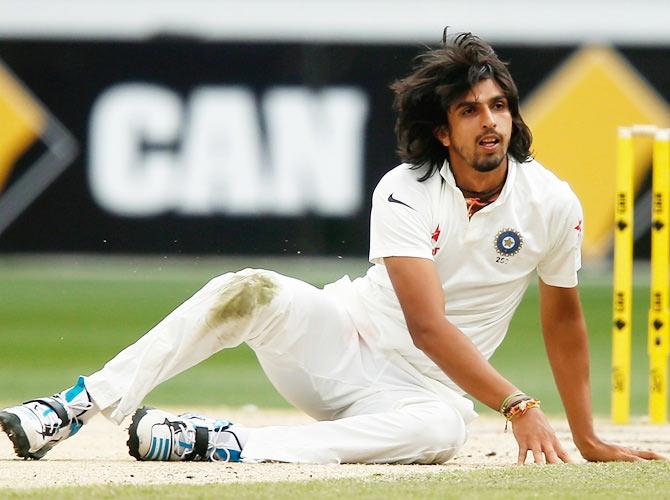 Ishant Sharma of India falls over in his follow through. Photograph: Darrian Traynor/Getty Images
On the point of finding suitable replacements for the non-performers, Shastri said that they always have to find a suitable replacement before raising this question.
"There has to be someone who can replace them. You can't just replace people for the sake of replacing them. And then you also have to take the chance on a certain player. OK, he might have been there in the last tour, but is there someone else to groom and get ahead of him.
"Or do you want to still be patient with him and when do you draw a line on that patience. So at the end of this tour you can do all that evaluation."
Shastri also asserted that the young pace battery of Mohammed Shami, Varun Aaron, Umesh Yadav, would have realised the importance of fitness on this tour.
"What they (the fast bowlers) would have realised is that how important fitness is. To have a sustained level of performance overseas, where you are tested on how good you are on that last session of play. You might bowl a good spell in the first session, you might have a good one in the second session of play.
"But my challenge to them is show me what you can do in that last session. Can you pick up 2 or 3 wickets, can you have that sustained aggression? That makes a big difference. So the writing is on the paper for them, it's now up to them to go out there and perform. if you don't do it, someone else will."