'Rohit is someone who knows how to play big innings'
'Since the rule changes have been made, usually I like to keep a minimum of one or two overs for the spinners'
India's Rohit Sharma celebrates after completing century against Australia during their one day international tri-series cricket match at the Melbourne Cricket Ground. Photograph: David Gray/Reuters
Indian skipper Mahendra Singh Dhoni praised Rohit Sharma, who has been in good form in the ODI cricket for the past two years, terming him as someone, who now knows the art of "building on good starts".
"If I see the performance in ODIs in the last one and a half years, almost all the batsmen have scored runs. But it is good to see Rohit score consistently. He is someone who knows how to play big innings and he knows how to build on the good starts," Dhoni told the mediapersons at the post-match conference after his team lost to Australia in their opening tri-series match.
"Initially, Rohit leaves the good deliveries out and then once he is set, more often than not, he scores big and we can rotate around him. He also scores at a very good pace, so overall it becomes slightly easy to build the innings," Dhoni said.
"The situation Suresh Raina went in to bat today, it was very crucial to get a partnership going. And he had to curb his instinct to some extent and play defensively initially and then he went on to play his shots. I think both of them played really well today," the skipper added, praising the left-hander's role in the century stand with Rohit.
'Axar we all know can bat too`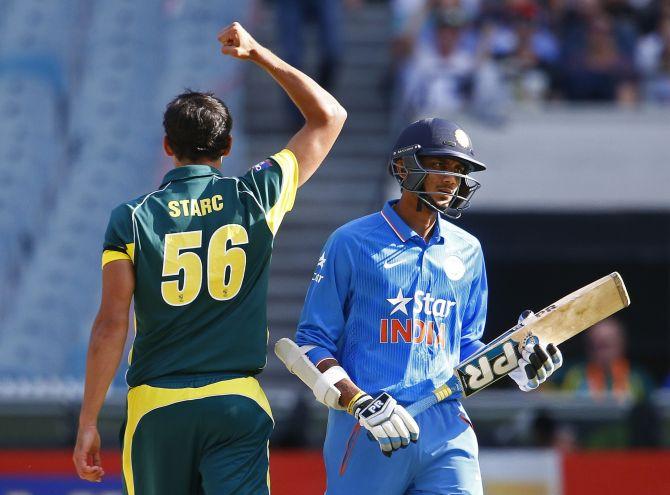 Australia's Mitchell Starc celebrates dismissing India's Akshar Patel (R) LBW for a duck during their one day international tri-series cricket match at the Melbourne Cricket Ground. Photograph: David Gray/Reuters
India were in trouble at 59 for three before the big partnership rescued them. However playing with only six batsmen meant that once the set batsmen, and Dhoni himself, got out, the tail couldn't score too many runs.
"Once I go in to bat at No 6, it seems you have to hit and you can't get out. It's a very difficult thing to balance. We have groomed Jadeja to do the job and I feel with him coming back, it will become slightly easy for us because we all know that he can also hit. Ashwin we all know he can definitely bat. He is a good batsman but he is not someone who will clear big grounds," said Dhoni.
Dhoni also said that young Axar Patel, if groomed, can be as effective as Ravindra Jadeja and may be have an option of playing two left-arm spinners.
"Axar we all know can bat too. Tomorrow he can be as good as Jadeja. With them, you can also have the option of playing two left-arm spinners if needed, depending on the opposition," he added.
'We will have to see if Axar can be our death bowler'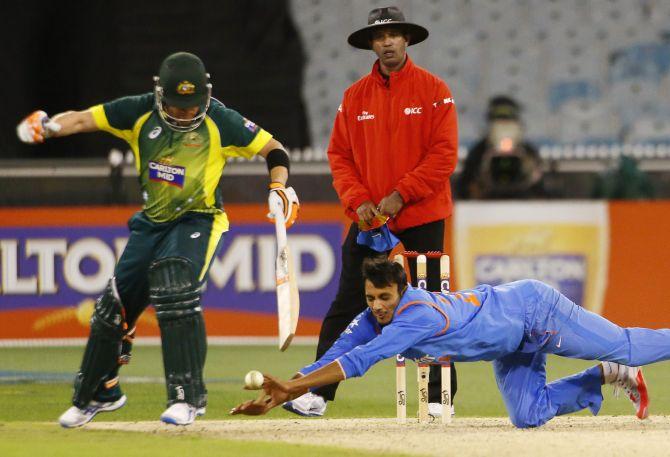 India's Akshar Patel dives to stop the ball as Australia's Brad Haddin (L) tries to avoid him during their one day international tri-series cricket match. Photograph: David Gray/Reuters
The skipper was also full of praise for Patel, who bowled economically throughout the innings and along with Bhuvneshwar Kumar created enough pressure on the Australian batsmen to make the chase interesting.
"Since the rule changes have been made, usually I like to keep a minimum of one or two overs for the spinners because if the fast bowlers are going for runs, with the spinner I can push the batsmen to hit one side of the wicket.
"With big boundaries, I can really exploit that to some extent. It's always good to have those overs up your sleeve. We will have to see if Axar can be our death bowler. But if we can groom him, why not?" he said.
'We gave a bit of width to the Australian batsmen'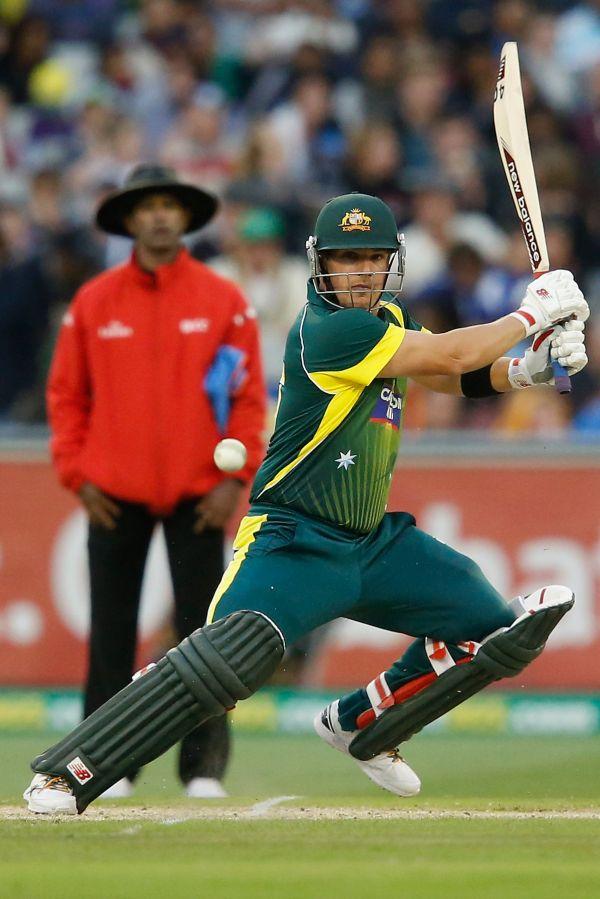 Aaron Finch of Australia plays a cut shot during the One Day International match between Australia and India at Melbourne Cricket Ground. Photograph: Darrian Traynor/Getty Images
Even so, there were still question marks about the consistency of the Indian bowling consistency and the way forward keeping an eye on the World Cup.
"I think we gave a bit of width to the Australian batsmen. We did bowl good deliveries, but in between there were quite a few loose deliveries that were bowled. Whenever you bowl short and wide, how you come back is you bowl really up, and then you come back to length. I think we were slightly shorter to start off with. We didn't have a par-plus total," Dhoni explained.
"It's important for the bowlers to keep in mind is what length they were looking to bowl, what were the areas they were looking to bowl because that's something that will be very crucial in the coming months. I think we bowled very well in the last 10-12 overs. That's something we will have to do more often than not on these wickets," the wicketkeeper said.