India captain Virat Kohli and opener Lokesh Rahul led India to safer shores, scoring centuries as Australia dropped catches -- Joe Burns and captain Steven Smith the culprits -- on Day 3 of the fourth Test at the Sydney Cricket Ground on Thursday. Check out some images from the day's play.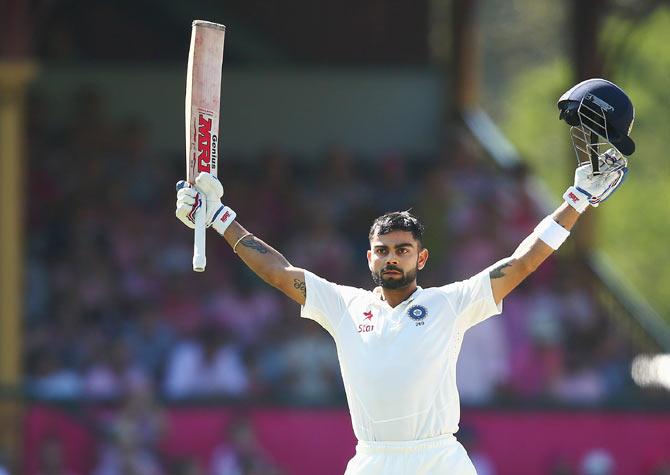 Virat Kohli celebrates scoring a century against Australia on Day 3 of the fourth Test at the Sydney Cricket Ground on Thursday. Photograph: Cameron Spencer/Getty Images
India captain Virat Kolhi and opener Lokesh Rahul hit brilliant tons to help India gain ground on Day 3 of the fourth Test against Australia at the Sydney Cricket Ground on Thursday.
The visitors ended the day on 342 for 5, still 230 runs behind in the first innings.
It was a memorable day of records for Kohli, who became the first batsman in cricket history to score hundreds in his first three innings as Test captain.
He now has four Test centuries in the series, and shares the record with Sunil Gavaskar for most centuries in a Test series.
Gavaskar achieved the feat twice -- in 1971 and 1978/79, the West Indies being the opponents on both occasions.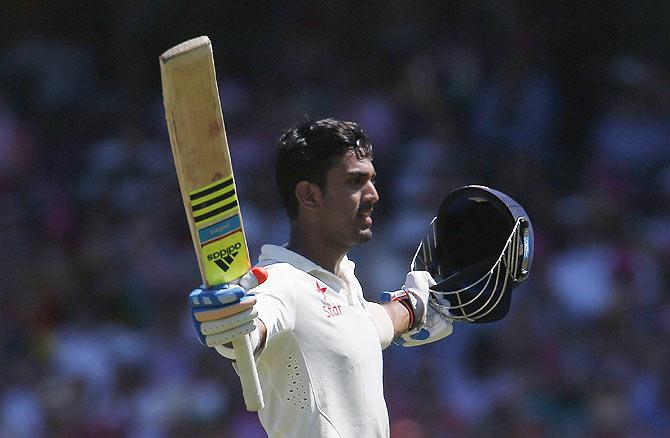 Lokesh Rahul celebrates after completing his century. Photograph: David Gray/Reuters
Rahul struck his maiden century and Kohli his 21st in Tests in the third session of play as the visitors crawled back into the match.
Rahul was dismissed on 110 after a miscued shot had him caught and bowled by Mitchell Starc.
India then lost the wickets of Ajinkya Rahane and Suresh Raina in quick sessions before Kohli and Saha worked to generate the runs without any further loss of wickets till close of play.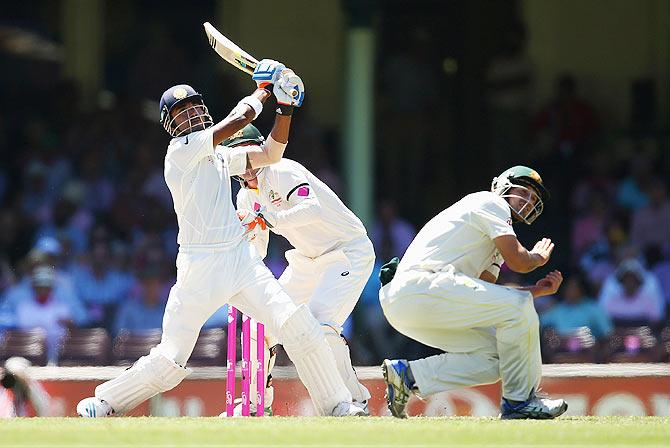 Lokesh Rahul attempts a big heave. Photograph: Cameron Spencer/Getty Images
Earlier, Rahul and Kohli held firm till at tea, the two batsmen putting on 137 unbeaten runs for the third wicket.
The 22-year-old Rahul, playing in only his second Test, was dropped by Australia captain Steven Smith when on 46 in the morning session.
Post-lunch, Rahul and Kohli looked to bat for long with the ball not doing much and the pitch still easy to bat on.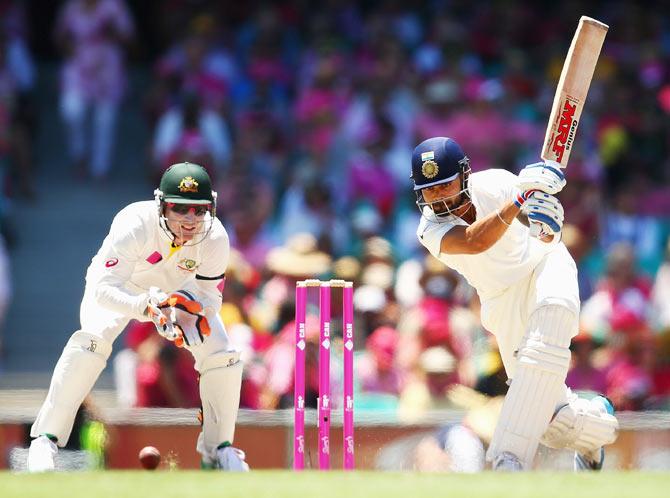 Virat Kohli bats. Photograph: Cameron Spencer/Getty Images
India only scored 51 runs in two hours of play before lunch, but they made amends, as 45 runs came in the first hour and then another 67 runs in the next hour until tea as normalcy was restored.
Kohli raced along to yet another half-century in this series, in the 80th over of the innings, off 108 balls. He was lucky to be still at the crease though with Smith (0/12) dropping a second catch in the day, this time at second slip off Starc (1/50) in the 83rd over, just after the second new ball had been taken.
Kohli was batting on 59 then and happily went to the break given this life. Perhaps his joy was emboldened with the fact that the young opener Rahul overcame his horrific debut Test in Melbourne to achieve a milestone.
Rahul got there in 85th over, the last before tea, off 253 balls.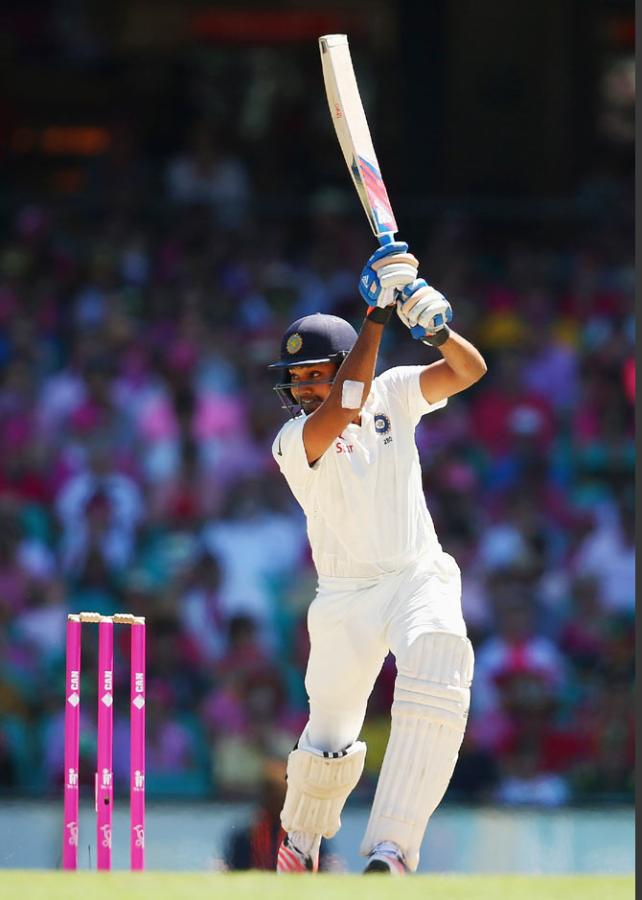 Rohit Sharma bats. Photograph: Cameron Spencer/Getty Images
India started the morning session with Rohit Sharma (53 off 133 balls) and Rahul resuming the innings on the overnight score of 71/1. Runs came in slowly as the Australian bowling attack held a tight line and length and gave very little for the Indian batsmen to play against.
Only 19 runs came off the first hour of play which saw 15 overs bowled. Only three boundaries came in that run of play, two off the bat of Rahul and one from Rohit.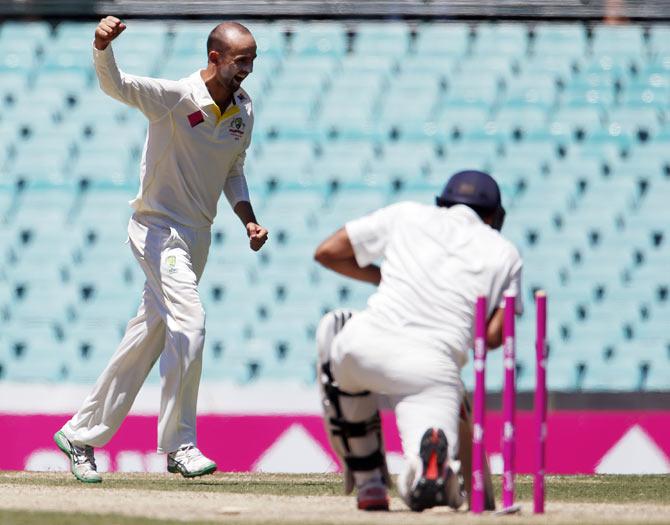 Australia's Nathan Lyon (left) celebrates after bowling Rohit Sharma out for 53. David Gray/Reuters
As the morning progressed the match got more eventful.
First, Nathan Lyon got the ball to bounce and turn and had a close shout for a catch against Rahul (on 42 then) turned down, despite the replays showing that the batsman might have had a feather-nick to Joe Burns at short leg.
Lyon though tasted success soon after when he had Rohit attempting an expansive sweep, only to get a bottom-edge onto his stumps. The batsman walked off dejected, having only reached his second Test fifty, off 132 balls in the previous over bowled by Ryan Harris (0/30).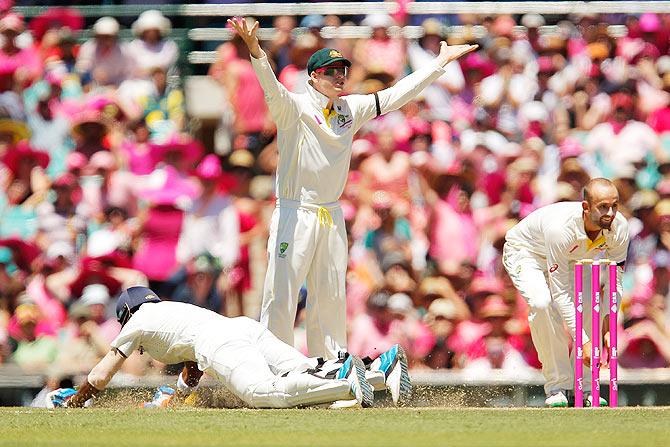 Steven Smith gestures as Lokesh Rahul lunges to make his crease during a run-out attempt. Photograph: Brendon Thorne/Getty Images
It brought Kohli to the crease; he was immediately beaten by Lyon off the first ball. The batsman nearly set off for a run and the non-striker, Rahul (still on 42), came half-way down the crease only to be sent back. It was a great run-out chance for Australia but substitute fielder Pat Cummins threw to the wrong end.
Australia captain Steven Smith drops a catch from Lokesh Rahul. Photograph: Matt King/Getty Images
Then Rahul (on 46 then) had a third chance against him go down as he top-edged Shane Watson (0/10) in the 53rd over, only for Smith to run back from first-slip but drop the skier as he was distracted by the spider-cam hovering over him.
At the other end, Kohli also became the second Indian batsman to go past 500 runs in a Test series against Australia following in the footsteps of Rahul Dravid, who accumulated 619 runs on the 2003-04 tour Down Under.