India likely to retain the same squad for the upcoming World T20 Championships to be played in India from March 8 to April 3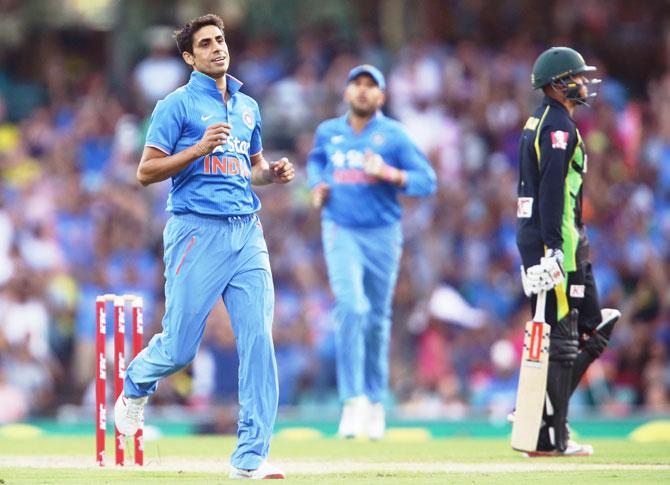 IMAGE: India's Ashish Nehra celebrates taking the wicket of Australia's Usman Khawaja during the third Twenty20 match against Australia at Sydney Cricket Ground on Sunday. Photograph: Matt King/Getty Images
India captain Mahendra Singh Dhoni credited his bowling arsenal for the 3-0 Twenty20 series whitewash over Australia and cited the contributions of young Jasprit Bumrah and experienced Ashish Nehra as being crucial to India's win in the series.
- PHOTOS: India beat Australia in Sydney, complete 3-0 rout
- India script thrilling win to whitewash Australia in T20 series
"A lot of credit to the bowlers. In the ODI series the batsmen were doing well, but we needed the extra 10 per cent from the bowlers. That has changed with (Jasprit) Bumrah coming in, Nehra's experience and others getting their act together," Dhoni said at the post match presentation on Sunday.
"The batsmen have taken it up a notch, but it is the bowlers who have done their job better, which has made the difference."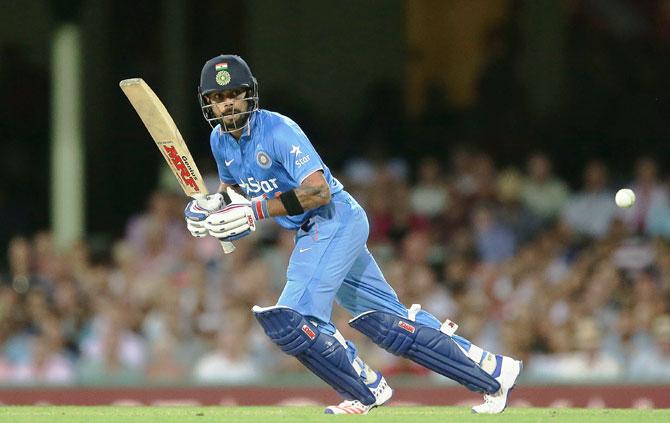 IMAGE: Virat Kohli bats during the 3rd T20 vs Australia on Sunday. Photograph: Mark Metcalfe/Getty Images
Dhoni also indicated that India will retain more or less the same squad for the upcoming ICC World Twenty20 to be held at home from March 8 to April 3.
"There might be one or two changes based on the conditions in the World T20, but this is roughly what our T20 side will look like," he said.
Dhoni's deputy and player-of-the-series Virat Kohli said despite the 1-4 series loss in the ODIs he was happy with the way India wrapped up their tour of Australia.
"Indeed, reads sweet. We decided before the Sydney one-dayer that we want to finish the tour 4-all. Just because we played so well earlier but didn't get on the board," he said.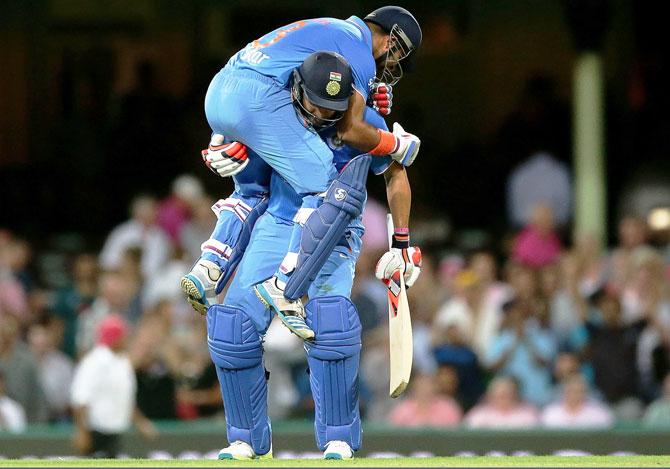 IMAGE: India's Suresh Raina and Yuvraj Singh are ecstatic after their win in the third T20 in Sydney on Sunday. Photograph: Mark Metcalfe/Getty Images
Kohli said he was disappointed not to finish off the game but lauded comeback men Suresh Raina and Yuvraj Singh for keeping a cool head till the end.
"I was disappointed when I got out because I wanted to finish the game off. I challenge myself to finish them off when I chase," he said.
"The way Yuvi (Yuvraj) and (Suresh) Raina, both of them coming back, finished it off, credit to their character.
He also credited Rohit Sharma for his terrific batting in the series.
"I have said this many times that I am a big fan of Rohit. The time he has got, and the miles he can hit the ball," Kohli said.