Virat Kohli and Ajinkya Rahane of India leave the field at the conclusion of day two of the First Test against Australia at Adelaide Oval. Photograph: Scott Barbour/Getty Images
India might be left with a mountain of runs to climb in the first Test in Adelaide but fielding coach R Sridhar was confident that the batsmen will make up for the bowlers' poor show.
India's hapless bowling attack allowed Australia to pile up a mammoth 517 for seven and take control of the first Test after a rain-truncated second day but Sridhar gave credit to Australia's batsmen for making use of a good wicket.
"We must give credit to the Australian batsmen who countered the conditions and the regular rain breaks. They made good use of this good Test wicket and they have put up runs on the board," said Sridhar after the second day, which saw captain Michael Clarke slam 128 and Steve Smith produce a career-best unbeaten 162.
"We had our plans and tried executing them. Sometimes they work, sometimes they don't work, but we must give credit to the batsmen.
"The skipper gave a very positive talk at the end of the day's play. We are here as a cricket unit to play good cricket, both in batting and bowling departments. We back each other all the times. The batsmen are very confident that they will make up for the bowlers," he added.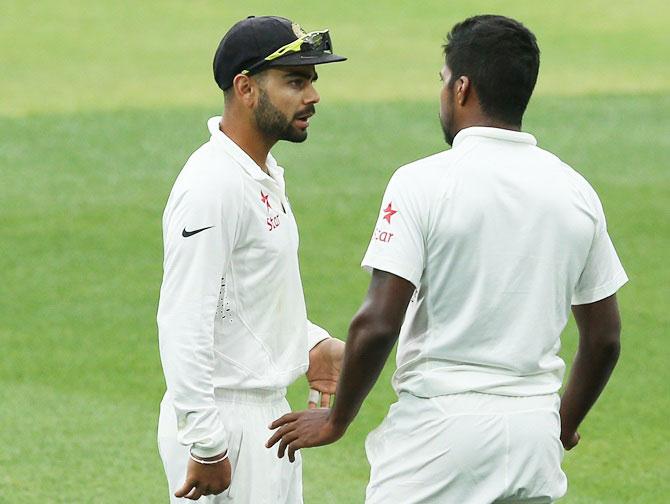 Virat Kohli of India speaks to his bowler Varun Aaron during day two of the First Test against Australia at Adelaide Oval. Photograph: Morne de Klerk/Getty Images
India also lacked in the field as they dropped three outfield catches, besides the wicket-keeper missing a stumping. However the slip catching has been good so far with Murali Vijay and Shikhar Dhawan holding their chances.
"Vijay and Shikhar are very good slip fielders. Virat does a good job at third slip. Ajinkya Rahane is very good at gully. So this will be our slip combination going ahead. We need to have some patience for results. Like our batting order, our slip fielding is also under a transition. Slip catching isn't about good reaction alone but also about anticipation and perception," he said.
"For a major part of the innings, the fielding was good. Even in ground fielding, everyone was chipping in. Yes, there were a few drops today, but it was down to so many rain breaks and the conditions. Overall the concentration levels have been high and the fielding has been pretty impressive," Sridhar said.
Sridhar was part of the new coaching staff brought in after the 3-1 Test series loss in England this past summer. It seemed a cosmetic change at best because fielding remains an issue on days such as these when the Indian team lost their intensity.
"Nobody is happy when you put down catches. But the point is in giving our best efforts. The players are working really hard and are doing well on the field. As long as effort is there, there will both good days and bad days," said Sridhar.