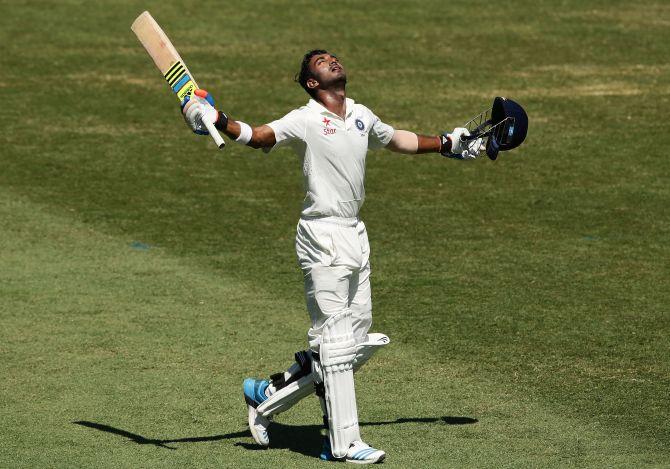 Lokesh Rahul celebrates after scoring a century during Day 3 of the fourth Test against Australia. Photograph: Matt King/Getty Images
India opener Lokesh Rahul showed the sort of grit that his mentor, Rahul Dravid, would have been proud of to brush off a miserable introduction to Test cricket with a maiden century at the Sydney Cricket Ground on Thursday.
The 22-year-old came into the side for the third Test against Australia in Melbourne on Boxing Day and scored just four runs from 13 balls in two nervy innings before losing his wicket with a pair of shockingly poor shots.
The first day of the Sydney Test on Tuesday was little better as he produced a howler of the highest order, dropping Chris Rogers on 19, the Australian opener going on to score 95, as the hosts racked up an imposing 572 for seven declared.
"I'd say I'm more relieved than proud of myself," he told reporters on Thursday.
"It was a nightmare debut and it didn't make my life easier coming here and I dropped a sitter.
"I just kept telling myself the only way from here is up... I'm happy with the way I played and hopefully I continue the same way and keep getting runs for my country."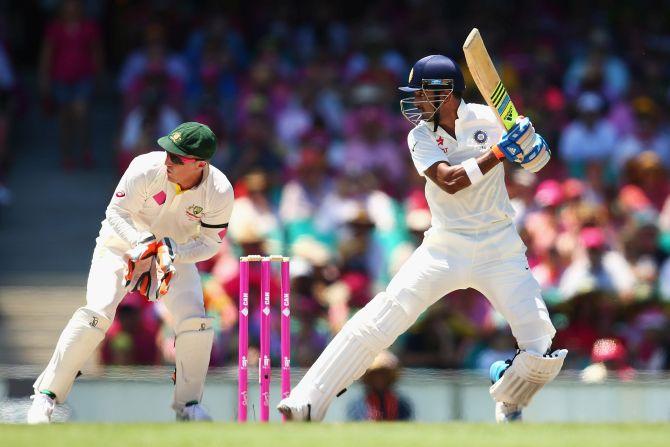 Lokesh Rahul bats during day three of the fourth Test against Australia. Photograph: Cameron Spencer/Getty Images
On Tuesday, the comparisons with Dravid, the fourth highest run-scorer in Test history and an accomplished slip fielder, would have extended only as far as the pair both being from the state of Karnataka.
That might change after Rahul's 110 on Thursday.
He certainly rode his luck at times, needing a sprawling dive to avoid being run-out and saved by 'spidercam' when the wires from the overhead TV camera distracted Steve Smith enough to prevent the Australian captain taking a catch off a top edge.
Otherwise, however, it was just the sort of Dravid-like innings India needed if they were to avoid a third defeat in the series and it helped the tourists to a solid position at the end of day three on 342-5.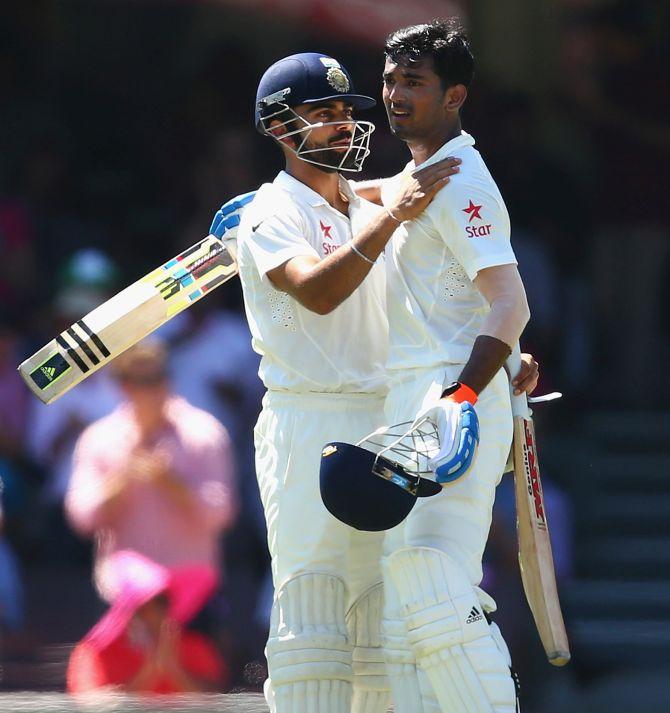 Lokesh Rahul celebrates after scoring a century with captain Virat Kohli during Day 3 of the fourth Test. Photograph: Cameron Spencer/Getty Images
Rahul said he received plenty of support from his team mates after his Melbourne misery but was still at a loss to explain the shots that got him out on his debut.
"To be quite honest, I don't know what was going on in my mind," he said.
"It was all going too fast. That was one of the things the players told me: 'take your time between shots and don't forget to breathe'."