'We in India, even in club level, are not used to chirping'
'I am lauding the Australians for the way they tampered the verbal spats'
'I think giving it back to Australians wasn't such a smart idea'
'Let's not make that as an excuse'
'I am optimistic that India will not be whitewashed'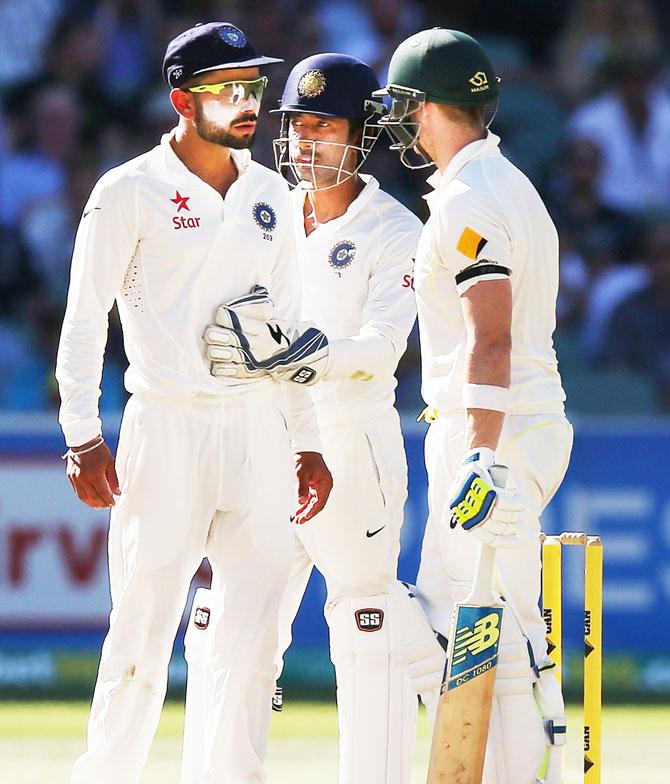 Virat Kohli of India is held back by keeper Wriddhiman Saha as he has words with Steve Smith of Australia. Photograph: Michael Dodge/Getty Images
Former captain Sunil Gavaskar advised the Indian team to avoid verbal spats with their Australian counterparts as he feels the country's cricketers are not as well equipped to deal with sledging as the ones from Down Under.
Stats: Skipper Smith sizzles; Dhoni claims unwanted record
PHOTOS: Batsmen fail as India crash to four-wicket defeat in Brisbane Test
A day after Rohit Sharma got into a verbal spat with Mitchell Johnson while he was batting, the Australian pace spearhead ran through the top half of India's batting line-up to lead the hosts to a four-wicket win with a day to spare in the second Test in Brisbane on Sunday.
"I think the Indians should not get into verbal spats with the Australians. We in India, even in club level, are not used to chirping. But the Australians, from the very beginning, are getting into these situations regularly. So it's really water off a duck's back to an Australian if you have verbal spats with him," Gavaskar told a television channel.
Aggressive intent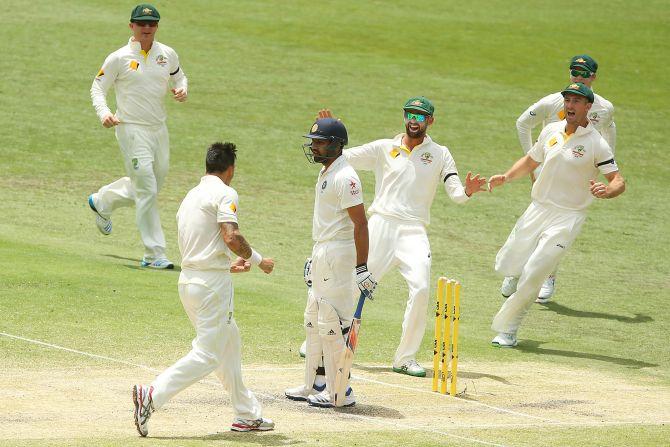 Mitchell Johnson of Australia celebrates with team mates after taking the wicket of Rohit Sharma of India during day four of the second Test match. Photograph: Chris Hyde/Getty Images
He added, "On the other hand, as an Indian it will always stay in your mind even if you are dishing it out. If it is staying at the back of your mind then it is counter- productive. So I think giving it back to Australians wasn't such a smart idea. I know we have talked about being aggressive but that is about aggressive intent.
"I am lauding the Australians for the way they tampered the verbal spats in this series, especially after the unfortunate Phil Hughes incident. I think there are trying to turn over a new leaf, and that's how cricket should be played."
'I am not quite happy with the Indian bowler'
Umesh Yadav celebrates after picking a wicket. Photograph: Cameron Spencer/Getty Images
Though India managed to take six Australian wickets in their second innings, Gavsakar, unlike Dhoni, said he was not satisfied with the visiting bowlers' performance.
"I am not quite happy with the Indian bowlers' performance. I don't think they exploited the Brisbane pitch that well. Pitches in Australia are normally good for batting on day 3 and 4 but when you let a team off the hook and allow them to score 500 runs then you can't say that it was good bowling effort."
'I am optimistic that India will not be whitewashed'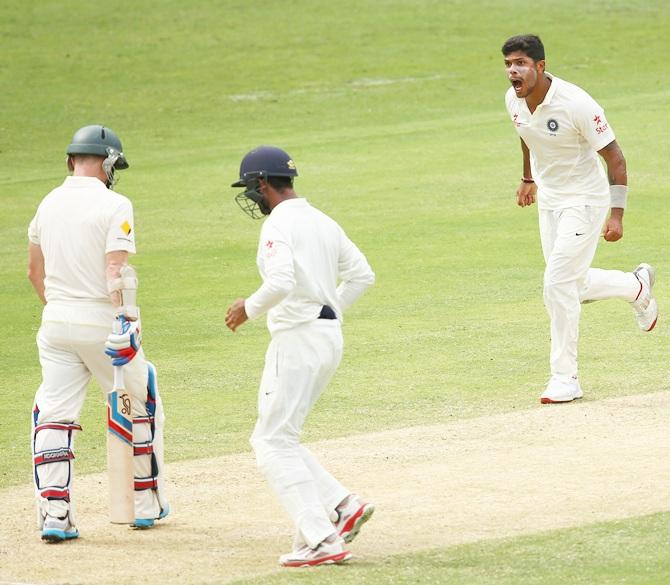 Umesh Yadav celebrates a dismissal. Photograph: Cameron Spencer/Getty Images
With the visitors trailing 0-2 in the four-match Test series, possibility of another whitewash in two years looms large, but Gavaskar preferred to be optimistic.
"I am hoping that Christmas spirit prevails and the
Australians are still celebrating Christmas when they take to the field on Boxing Day. That might give us a little bit of chance and of course the weather in Melbourne can be very unpredictable. I am optimistic that India will not be whitewashed 4-0 this time."
The third Test is scheduled to be held in Melbourne from December 26-30.
'Opener should have been prepared'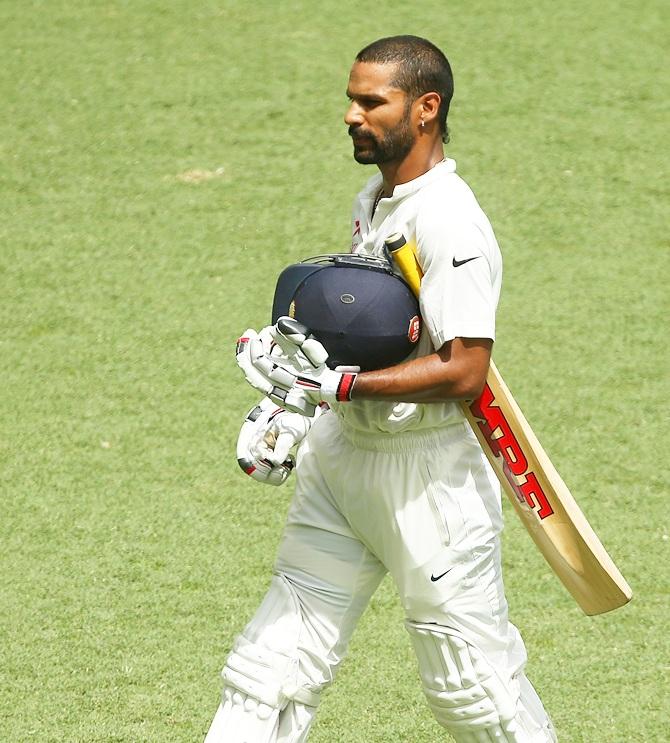 Shikhar Dhawan of India walks off the field after being dismissed by Nathan Lyon of Australia. Photograph: Chris Hyde/Getty Images
Asked about the 'unrest' in the Indian dressing room on Sunday morning following the injured Shikhar Dhawan's refusal to open the batting, Gavaskar said that can't be used as an excuse for the defeat.
"Let's not make that as an excuse. A person who has scored a century in his last two innings, he should have been prepared in those seven minutes. As an opener I can say that batsmen get about seven to eight minutes especially if the innings start in the middle of day's play."