The result in the first Test against Australia was expected, if one takes a look at India's recent, or overall, record overseas. What was unexpected, though, says Bikash Mohapatra, was the Virat Kohli-led side's change of attitude.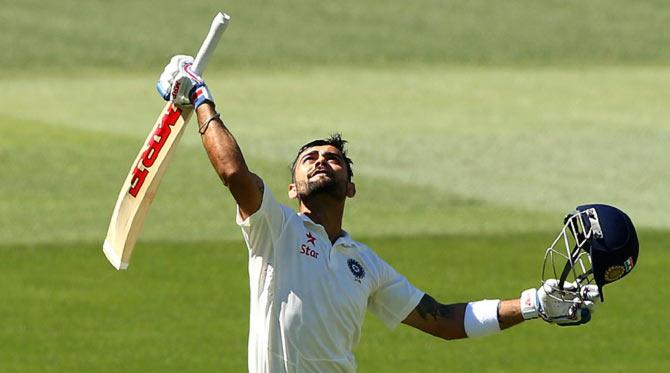 Virat Kohli celebrates after reaching his century on Saturday. Photograph: Robert Cianflone/Getty Images
"The intent is going to be aggressive and that's something that I play my cricket with and that's certainly something I'm going to try and use in my captaincy as well."
That was Virat Kohli's assertion ahead of the opening Test against Australia in Adelaide. The 26-year-old had been handed captaincy duties for the Test and he wasted no time in making his intentions clear.
- Complete coverage of India's tour of Australia
- PHOTOS, 1st Test: Lyon roars as Australia script thrilling victory
- Proud Kohli has no regrets after India go down in Adelaide
Five days later, he was back facing the Fourth Estate.
"I told the guys last evening that whatever be the target, we will chase it. You have to play with passion and commitment if you have been chosen to play for your country," explained Virat.
In the intervening period India had lost the opener by 48 runs. An expected result if one takes a look at the team's recent, or overall, record overseas. What was unexpected, though, was the change of attitude, which was commensurate to the captain's assertion before the start of play.
After Australia captain Michael Clarke expectedly declared ahead of the fifth day's play, India had a target of 364. However, instead of playing for a draw, as is usually the case, the visitors went for a result, and, in the process, made the match one of the most exciting Tests in recent times.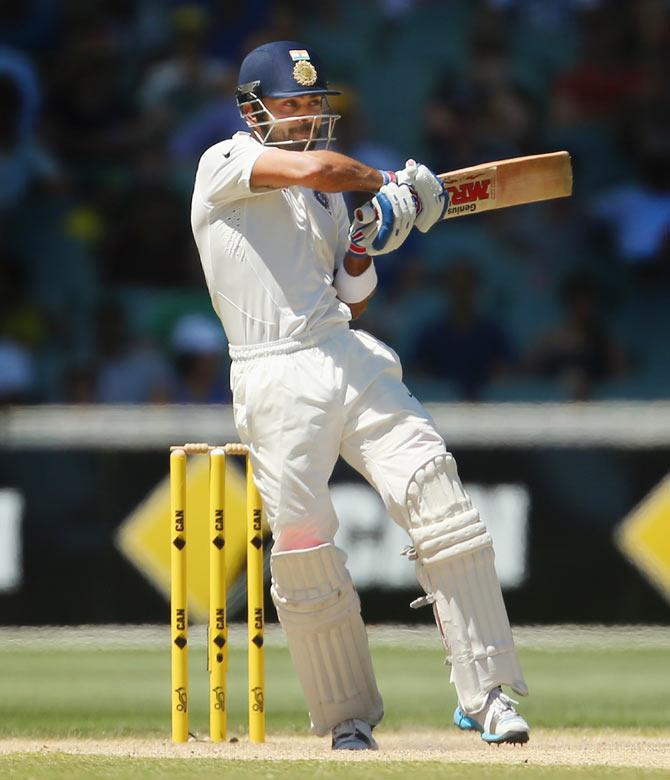 Virat Kohli bats on Day 5. Photograph: Scott Barbour/Getty Images
Leading from the front was the skipper himself. Having scored 115, even as India mounted a strong response to the Australian first innings total, Virat was even better in the second.
His aggressive 141, coupled with an important 185-run stand for the third wicket with Murali Vijay (99), gave India hope of an unlikely win on Day Five, in a Test when they were behind in each of the four preceding days.
In the process Virat became only the second player ever (after Greg Chappell) – and first overseas – to score a century in both innings on his captaincy debut.
More importantly, he gave the Indian team a whole new mentality, and the hosts a few jitters.
When was the last time India took the match to the opposition?
Can't remember? It's not your fault.
Used to playing, and winning, on placid tracks back home, the Indians have historically been pedestrian on the road. Worse still, even if the going goes against them on home turf, the team is more often than not negative.
Blame it on the sporting culture, rather the lack of it, that the team is content as long as it is able to avoid defeat. That probably explains its poor record in the game's classical form.
Virat Kohli and Ajinkya Rahane of India leave the field at the conclusion of day two of the First Test against Australia at Adelaide Oval. Photograph: Scott Barbour/Getty Images
Despite the BCCI's rise to pre-eminence, a massive alteration of wickets around the globe and a bunch of young, enthusiastic players, India still has a negative overall record against most top Test-playing nations like Australia, England, South Africa and Pakistan. And even the West Indies.
The nature of opposition notwithstanding, a majority of India's defeats can also be blamed to the negative attitude within the team. India has on many occasions given up even before trying.
Unlike an Australian side that plays for a result, and is not afraid to lose, India offers a contrast. The team is more often than focused on avoiding defeat, rather than going for a win, unless, of course, the match is being played in favourable conditions.
The fact that India has drawn a whopping 43 per cent of its 484 Tests, as opposed to a winning percentage of just 25, provides perfect attribution to the team's frailties. Compare this figure to the winning percentages of other top teams like Australia (47 per cent), South Africa (37), England (36) and Pakistan (31) and India's record cuts a sorry figure.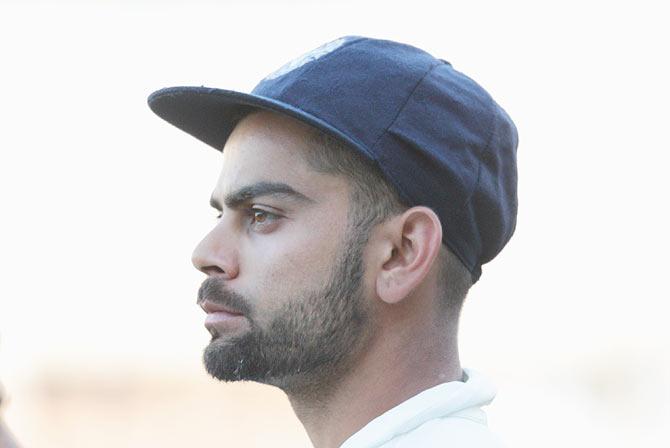 Virat Kohli wears a pensive look after the first Test at the Adelaide Oval on Saturday. Photograph: Scott Barbour/Getty Images
Even a New Zealand side, with limited resources, is more result-oriented. There's an interesting anecdote in this regard.
In the opening Test of the Trans-Tasman Trophy at the Gabba, Brisbane, in November 2001 much of the match was rain-affected. The then New Zealand captain, Stephen Fleming, made a sporting declaration soon after his team had passed the follow-on target -- replying to the Australian first innings total of 486 for nine.
Steve Waugh, his Australian counterpart, returned the favour, declaring their second innings at 84 for two, in a bid to force a result. New Zealand needed 284 to win in 57 overs. They reached 274 for six before running out of overs.
While such declarations can't be expected from the Indian team, a more positive attitude was the need of the hour. And Virat is the harbinger of this change.
"At no point did we back off. If at any stage that we had in mind that we might play for a draw, we would have lost by 150 runs," he explained after the defeat.
It was a reverse, no doubt. It put India on the back foot going into the second Test. And it was disappointing to lose despite having come this close. However, it is also a fact that if the team persists with such a positive attitude it is only a matter of time that results will happen.
In the Adelaide defeat, therefore, is an Indian victory.