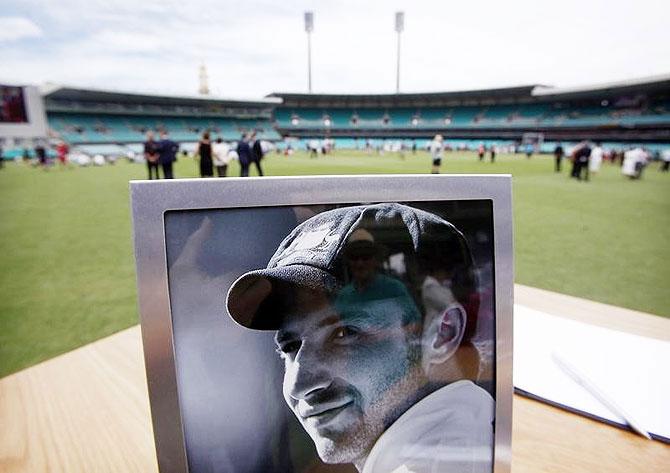 IMAGE: A photograph of Australian cricketer Phillip Hughes is displayed next to a condolences book at the Sydney Cricket Ground (SCG) December 3, 2014. Photograph: David Gray/Files/Reuters
A Canberra-based singer/song writer Jack Biilmann has paid a musical tribute to the late Phillip Hughes, releasing a track called 'Forever Unbeaten'.
Australian batsman Hughes passed away in November 2014 after succumbing to injuries sustained while playing a domestic match at the Sydney Cricket Ground.
The Sydney Cricket Ground is hosting to the fifth One-dayer, on Saturday, the final match of the ongoing ODI series played between India and Australia.
The track was written in honour of the cricketer to commemorate his life that was tragically cut short on November 27, 2014.
Hughes passed away in St Vincent's Hospital just days after being struck in the head by a bouncer from Sean Abbott during a Sheffield Shield clash.
Biilmann, a passionate supporter of the game, was quoted as saying by Daily Telegraph, "I was watching the news about a week after Phillip's death and decided to try and write a song in his memory."
"I've written the song from the perspective of an Australian cricket lover, not as a close friend or family of Phillip."
Biilmann tried to get in touch with the family to take them into confidence before the release of track.
"I contacted the Hughes family as I felt it was just the right thing to do.
"Three months passed of trying (to contact the family) and I was getting used to the idea of not releasing the song for a long while.
"Then one afternoon I was sitting at home and my phone rang with Megan (Phillip's sister) on the line. She thanked me for my gesture and discussed the release which was a surreal experience as I was so happy to hear from her."