- 'He led more by example than by rhetoric or by words'
- 'If there are kids in small towns today dreaming and aspiring for great things, then MS Dhoni has a lot to do with it'
- 'He was never defensive when captaining in India'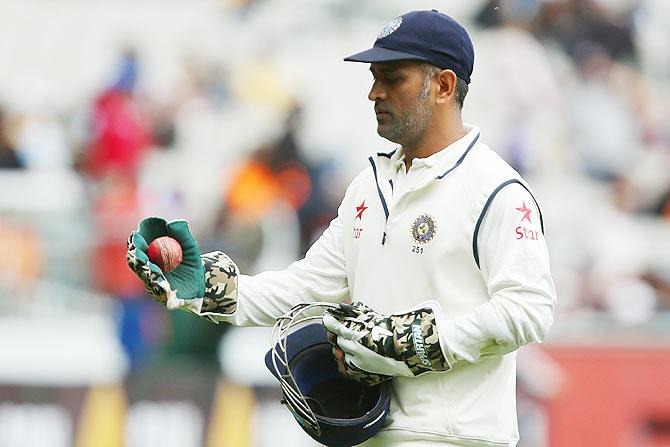 Mahendra Singh Dhoni of India leaves the field on day five of the Third Test match between Australia and India at Melbourne Cricket Ground on Tuesday. Photograph: Chris Hyde/Getty Images
Lavishing praise on Mahendra Singh Dhoni, former Indian skipper Rahul Dravid said the stumper-batsman would go down as a captain who led "more by example than by rhetoric or by words".
"He was a captain I enjoyed playing under," Dravid told ESPNcricinfo.
"One of the things I liked about MS was, what you saw was what you got. Very uncomplicated, always led by example. One of the things I really liked about playing under MS was that he never asked you to do anything that he himself didn't do," he explained.
Dhoni retired from Test cricket at the end of the third Test against Australia at the Melbourne Cricket Ground, which ended in a draw on Tuesday. The retirement was a bolt from the blue given that Dhoni had dropped no hint of such a big decision leading up to the match.
Dravid said Dhoni earned the respect of his teammates by setting an example with his own performances.
"The reality was he was having to transition a senior group of players and build a younger group who were coming through," Dravid said.
"In a sense he was not the most communicative of captains, but he tried to earn your respect by walking the talk. He never took a backward step, and led more by example than by rhetoric or by words. More by actions," he added.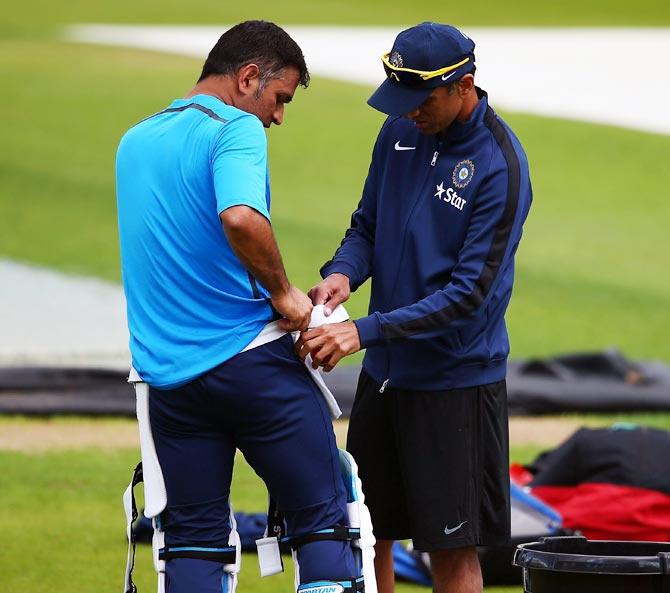 Rahul Dravid (right) with Mahendra Singh Dhoni. Photograph: Matthew Lewis/Getty Images
Dravid said Dhoni deserves credit for inspiring a whole generation of small-town cricketers.
"For someone to come from a small town like Ranchi, to go on and captain India and play 90 Test matches, to do it the way he has, I think he brought a lot of dignity to the job of captaincy," Dravid said.
"He (Dhoni) might not be everyone's cup of tea, but he was his own cup of tea and he led with a lot of success and that can never be taken away from him," Dravid further stated.
"And he's been an inspiration. If there are kids in small towns today dreaming and aspiring for great things, not only in cricket but in various fields, then MS Dhoni has a lot to do with it," he added.
Dravid said Dhoni's retirement was a shock to him as well. The former batsman said had the series, which India have already lost by conceding a 2-0 lead to Australia, still been alive Dhoni could have waited to take a call on his career.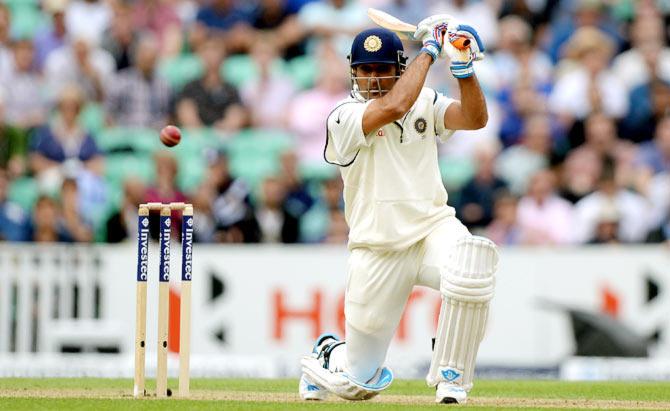 Mahendra Singh Dhoni. Photograph: Gareth Copley/Getty Images
"I guess it was unexpected that he would do it in the middle of the series. I expected him to review it at the end of the series, without India playing Test cricket for the next seven or eight months," Dravid said.
"Knowing MS, if the series was alive, I don't think he would have taken the decision in the middle of the series, but having seen that the series was already gone, maybe he felt that if he was going to go, then maybe this was the time to do it, and to give Virat Kohli a Test match in Australia to captain, Wriddhiman Saha another opportunity in a Test match, and to start the process of taking India's Test team forward."
Dravid lauded Dhoni's leadership style.
"He was never defensive when captaining in India. When he had spinners, he was always attacking. On turning tracks he was willing to force the game. It's just overseas, and over the last three or four years, that I just think he maybe felt he didn't have the bowling resources to be able to take 20 wickets, and he found himself, at many stages, always behind the four-ball," Dravid said.