- 'It's been the most challenging, mentally, couple of days I've had to go through in my career'
- Brad Haddin will take over if Michael Clarke fails to prove his fitness for Australia, with batsman Virat Kohli standing in for Mahendra Singh Dhoni for the Indians.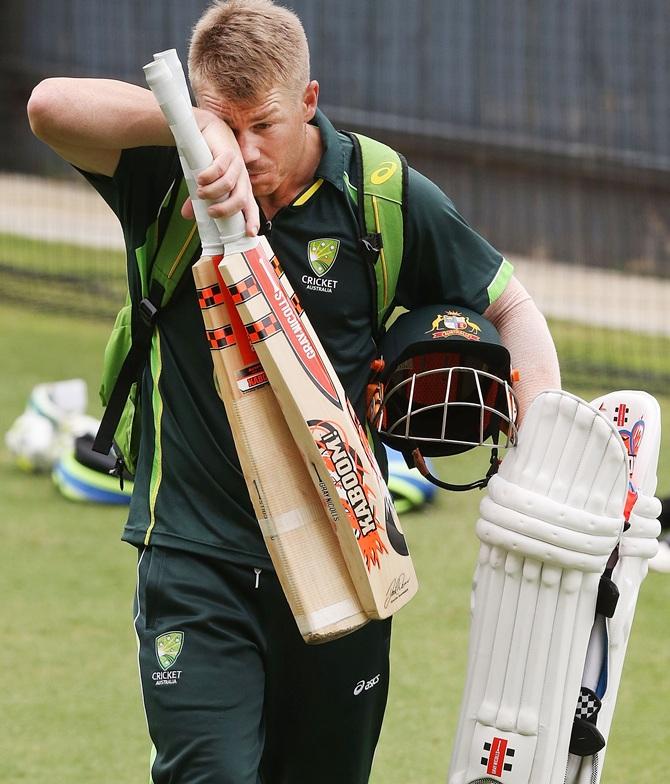 David Warner during the Australian nets session at Adelaide. Photograph: Michael Dodge/Getty Images
The first Test Australia hosts against India this week is set to be fraught with conflicting emotions as players return to battle with a mixture of relief and apprehension after the tragic death of Phillip Hughes.
The Adelaide Oval was Hughes' adopted home ground after his move from New South Wales, and both teams will pay tribute there to the batsman who died in hospital last month, two days after being struck by a short ball during a Sheffield Shield match.
A number of his Australia team mates were fielding for New South Wales when Hughes was felled at the Sydney Cricket Ground and all were present at his funeral last Wednesday, along with India batsman Virat Kohli.
Though the first Test was delayed and switched to Adelaide to allow players time to grieve, Tuesday's opening day will be a leap into the unknown for a number of them.
"It's been the most challenging, mentally, couple of days I've had to go through in my career," Australia all-rounder Shane Watson, who was fielding when Hughes was struck, told reporters at training in Adelaide on Sunday.
"Trying to process everything that happened, especially being there at the SCG.
"But there's no doubt I'll be ready to go on Tuesday."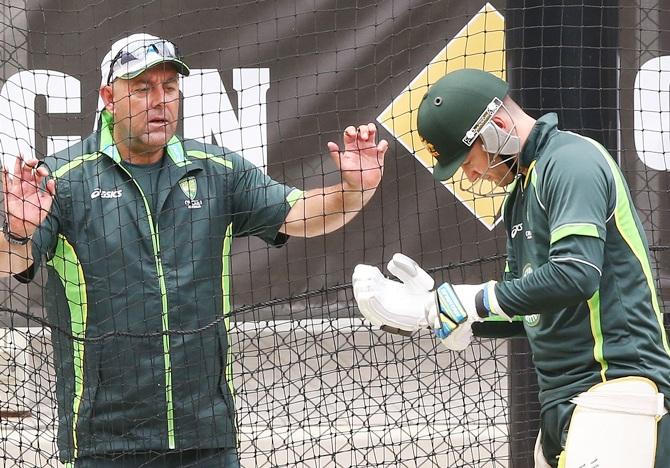 Image: Head coach Darren Lehmann speaks to Michael Clarke during Australian nets session. Photograph: Michael Dodge/Getty Images
Among a number of tributes, the Australian team will wear armbands and the number 408 on their playing shirts, a reference to Hughes, the 408th cricketer to play a test match for Australia.
The fast bowler's use of the bouncer has come under scrutiny in the wake of Hughes' death, with some pundits calling for it to be further limited or even banned altogether.
Few expect either team's pacemen to eschew the delivery at Adelaide, however, and former Australia players have called on them to send down a bouncer first thing to 'clear the air'.
Australia have long prided themselves on 'tough, aggressive' cricket, particularly on their fast and bouncy home pitches, but their approach to the game will be under heavy scrutiny.
India will head into the match underdone, having had only one two-day tour match against a rookie local XI to warm up, with cricket virtually halted in Australia after Hughes' death.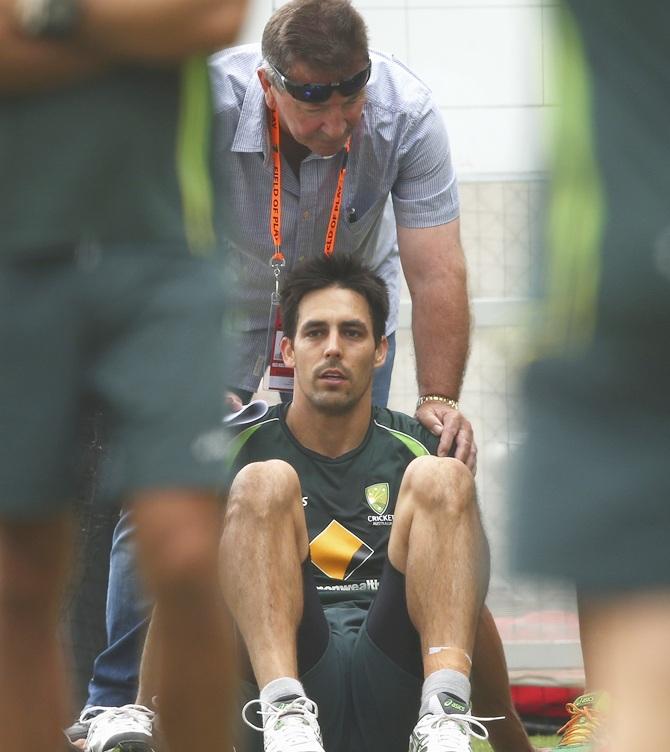 Mitchell Johnson with Australia's chairman of selectors Rod Marsh. Photograph: Ryan Pierse/Getty Images
Uncertainty pervades both sides in terms of their lineups, with fitness queries over captains Michael Clarke and Mahendra Singh Dhoni.
Clarke returned to training on Saturday as he races to recover from his third hamstring injury in three months. Dhoni was expected to train on Sunday after being sidelined with a broken thumb.
Team mates have backed both to lead on Tuesday, but vice-captain and wicketkeeper Brad Haddin will take over if Clarke fails to prove his fitness, with batsman Kohli standing in for Dhoni.
India, who were whitewashed 4-0 in their last tour Down Under in 2011-12, have won only once from 10 Test matches against Australia at Adelaide Oval, their sole victory coming in 2003.
They are likely to need to record their second win at the ground this week if they are to have any hope of a breakthrough Test series win Down Under.