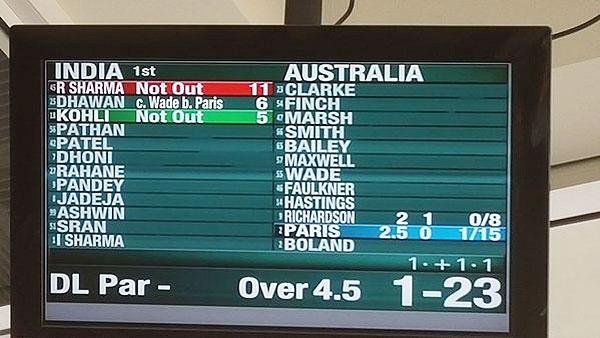 IMAGE: The scoreboard at the Gabba that mistakenly included Michael Clarke in the Australian team line-up. Photograph: Twitter
Fans trouping in for the second India-Australia cricket one-dayer in Brisbabe on Friday were in for a surprise when retired former captain Michael Clarke's name showed up at the top of the home team's line-up on the Gabba's giant scoreboard.
As it turned out, there was no dramatic comeback for the talismanic batsman, who quit the game last year, and the display of his name was just an error which was soon rectified.
"Never say never.. Hahaha. Love the GABBA," tweeted Clarke on seeing a picture of erroneous scoreboard on Twitter.
The 34-year-old bid adieu to his international career last year after a string of poor results.