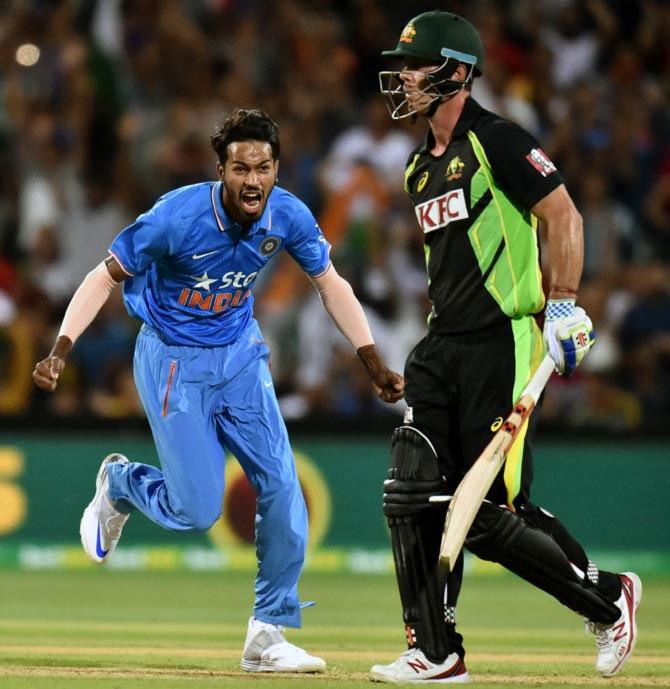 IMAGE: Hardik Pandya (left) reacts after taking the wicket of Chris Lynn during the first T20I at Adelaide Oval on Tuesday. Photograph: Daniel Kalisz/Getty Images
Debutant Hardik Pandya stellar performance in Tuesday's T20 International against Australia caught the attention of India supporters, and India's ODI skipper Mahendra Singh Dhoni said the youngster can lend the side some much-needed stability if he performs consistently.
- PHOTOS: Kohli, spinners secure India's T20 win against Australia
- Kohli's unbeaten 90 propels India to victory in 1st T20I
Pandya executed the yorkers well to contain the home batsmen when they looked to attack the Indian bowlers, and ended up taking two wickets for 37 runs after struggling initially.
"We bowled superbly. I felt once he went through that first over he would bowl much better. He was executing the yorkers well, he was bowling the wide ball well. Overall it was good effort and I think they can give us the stability we desperately need," Dhoni said after the match.
"It was a good game. Good to see our bowlers making the batsmen play the big shot. Rohit started well, followed by Virat and well supported by Raina. Then Ashish did a good job. That's very crucial because you want to win as a team," Dhoni added.
"Raina batted well. He and Yuvi have had just one net session, which is why I promoted myself ahead of Yuvraj."
The India skipper extolled his bowlers for keeping the Australian batsmen under check as they outplayed the hosts to win the first Twenty20 comfortably.
"Jasprit Bumrah and Ashish Nehra executed their plans really well. That's one period where we have struggled consistently, so it's good to see them bowl well. Of course the spinners took the bulk of the wickets in the middle overs. If you keep taking wickets in the middle overs, it becomes easier to win the game so their role was very crucial," Dhoni said at the press conference.
Along with Bumrah India also handed debut to all-rounder Hardik Pandya, who had a mixed outing. Dhoni underlined the need to pack the side with all-rounders in the T20 format.
"Whenever there is a bit of help, Jadeja bowls well. You know that his spectrum of performance is usually quite narrow, which makes it slightly easy for us and gives us stability. That's why Hardik was also playing this game, because if he also gets going, it gives us the kind of stability we are looking for," said the skipper.
"All-rounders are important. Even if Hardik doesn't bowl four overs for me in every game, even if he bowls only two or three overs, I can still use others. What I don't want is the top five or six batsmen including the 'keeper where you don't have a bowling option.
"It's important to have players like Yuvraj Singh, Suresh Raina who can bowl and bat. If you have too many one-dimensional players, especially in your top order, then it becomes very difficult if somebody has a bad day," he added.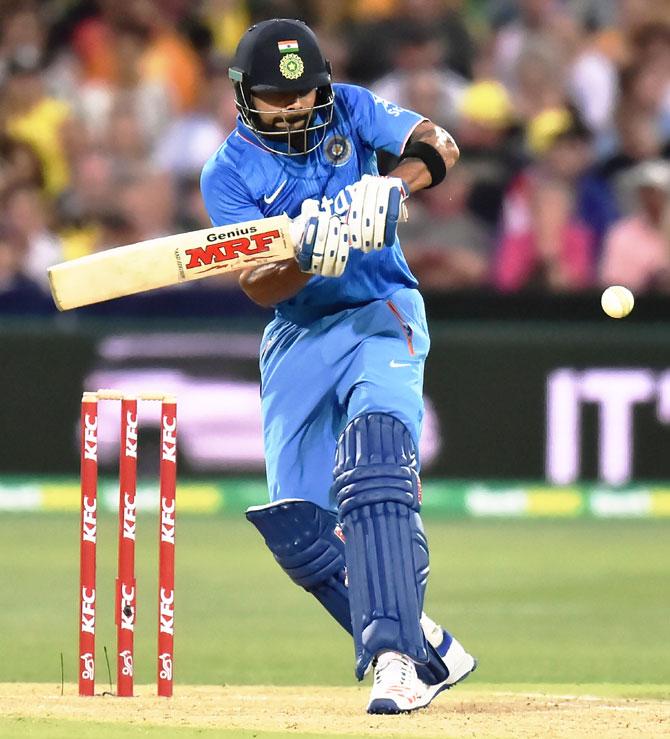 IMAGE: Virat Kohli bats. Photograph: Daniel Kalisz/Getty Images
Kohli has been in great touch since landing in Australia, with two hundreds and two half-centuries in the five-match ODI series, and now an unbeaten 90 in this first T20I.
Dhoni was effusive in his praise for the star batsman.
"I think in Adelaide they'll be naming a stand after him (Kohli), the amount of runs he's scoring. By the time he ends his career, quite a few Australian grounds will have his stand," said Dhoni.
"But yes, he's batting really well. When he is taking the risk of playing a big shot, he calculates it well. Also, he is someone who looks to score in front of the wicket. Of course he's a good cutter and puller of the ball also, but at the same time, he looks to hit in front of the wicket and that always gives you more chances of success.
"He is someone who reads the game also very well. Right from the very start, whenever we had any kind of interaction, he was always looking to improve himself as a cricketer. If you have that kind of curiosity, it helps you become a better cricketer. It's good when youngsters grab a chance with both hands when they get it. I feel Virat did it really well once he got a chance to bat up the order," he added.
Home skipper Aaron Finch said his team's fielding was poor and it did affect them badly.
"We let ourselves in the field today.
"And a great innings from Virat. He is hard to stop when he gets going. We executed well with the ball, but let ourselves down with the fielding. 170 would have been a nice score. When we got our chance to bat, I slowed down a bit and cost ourselves a bit of momentum," he said.
Talking of Adelaide being his happy hunting ground, man-of-the-match Virat Kohli, who scored an unbeaten 90, said, "I could take this stadium with me wherever I bat. I was just trying to keep things simple. I believe that in T20 as well. This stadium is right up there with anywhere in the world. I would love to thank the fans for coming out and supporting us."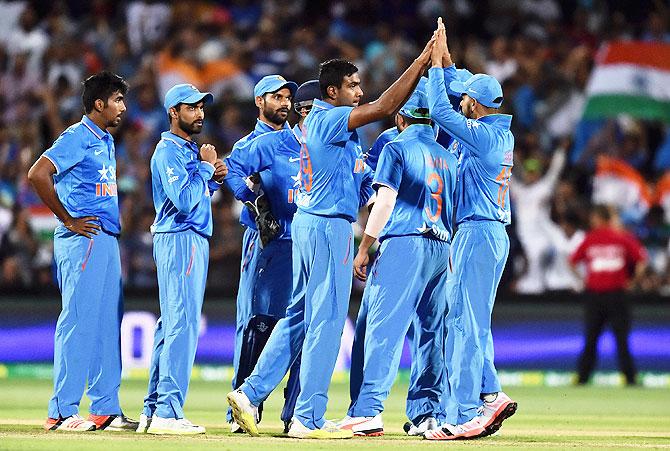 IMAGE: Ravichandran Ashwin celebrates after taking the wicket of Shane Watson. Photograph: Daniel Kalisz/Getty Images
Eventually, Dhoni was just happy to continue the team's winning run since Sydney, after losing four ODIs on the trot before that. Both these wins have been team efforts, and thus it will be imperative that the Men in Blue continue doing so, as they look to build to the World T20 at home.
"In a team sport, it's important that you do well as a team. This was a comprehensive win and it felt nice as a team. Virat's contribution was very important. The new players who came in -- Yuvraj and Raina -- they had only one net session. It would have been a little difficult if they had to bat earlier or more, they could have been under some pressure, because after one net session here, it's not easy to straightaway hit big shots. I felt Raina batted well in that regard.
"But the main thing we needed to see was how the bowlers bowled, and I think they did well. In the short formats, you tend to go for runs but we should see how many dot balls have been bowled. And we bowled quite a few, even initially, fours and sixes were going but the fast bowlers bowled dot balls. And after that Jadeja and Ashwin bowled well which was very crucial for us," Dhoni signed off.