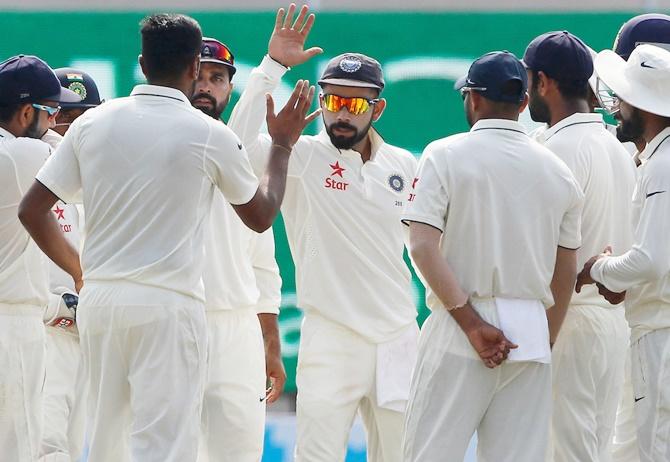 Top ranked Indian cricket team will be aiming to, at least, draw the five-Test series against England, starting in Rajkot on Wednesday, to ensure that it seals the number one Test spot at the end of the year.
The top four-ranked Test sides -- India, Pakistan, Australia and England -- are separated by just 10 points and with the commencement of the Australian summer of cricket and the India-England series starting on Wednesday, changes in the upper half of the draw are on the cards depending on how the upcoming series pan out.
If India manage to even draw the series against England, they would retain their top position irrespective of the outcome of the Australia versus South Africa (ranked fifth) and the New Zealand versus Pakistan series.
In case of a draw, India, who are currently on 115 points, will finish on 113 points and will, thus, be untouchable even if Australia bounce back to win the remaining two Tests against South Africa or Pakistan win both the Tests against New Zealand.
A 3-2 series win will lift India to 116 points, while a 4-1 series win will put them on 119 points and they will jump to 122 points in case of a 5-0 win.
For England, a 3-2 series win will put it on 108 points, while a 4-1 series win will mean it will move ahead of India to 110 points.
IMAGE: Team India celebrate the fall of a wicket
Photograph: BCCI