- 'I want to score runs in every game I play and I want to win the game for my team.'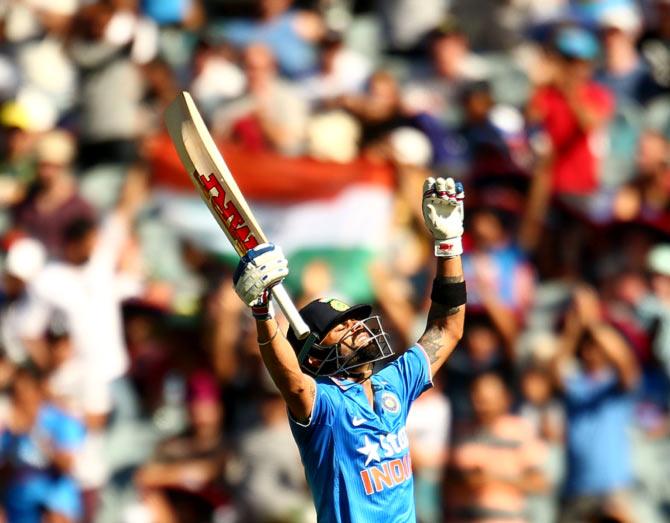 IMAGE: Virat Kohli celebrates after completing his century against Australia in the third ODI in Melbourne. Photograph: Scott Barbour/Getty Images
He surpassed legends like Sachin Tendulkar to become the fastest to reach 7000 runs and 24 ODI centuries, but Virat Kohli says, as a cricketer, he is still learning.
"I am very much a work in progress as a cricketer. Opponents are always trying to get you out, trying to outsmart you and you need to stay ahead of them. I feel like I am learning everyday, trying something new on the field," said Kohli, in a Facebook video chat with his fans on Tuesday.
"That (mindset) keeps you grounded as well. We, as players, understand that not many are getting to play at the highest level and I am trying to make the most of it," he added.
Did he ever think about getting to 7000 runs faster than anyone else?
"I never planned it, to be honest. The aim is to score as many runs for the team as possible. I did not focus on it (the record), but god has been my kind. When you look back you do feel it is special but you can't really plan these records," said India's Test captain, who took 161 innings to achieve the feat.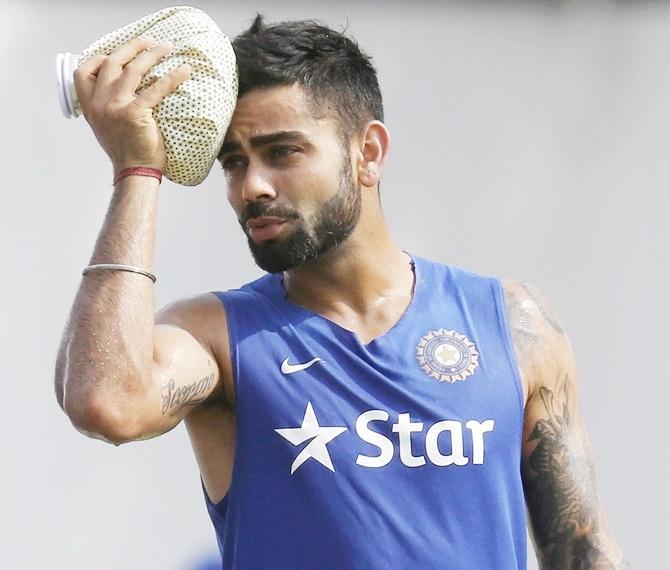 IMAGE: India Test captain Virat Kohli uses an ice pack on his head during a practice session. Photograph: Amit Dave/Reuters
"It was also special to score the century with my brother watching it from the stands. He came to see me just for a day and I am glad his trip turned out to be a fruitful one," he added.
Not the one to be too affected by the conditions, Kohli said it doesn't matter where he is playing as long as he is contributing to the team's cause.
"I take every game the same way (whether in India or overseas). I want to score runs in every game I play and I want to win the game for my team.
"I feel it is just putting extra pressure in your head if you start categorising conditions. Cricket is a simple game and I try to keep it simple."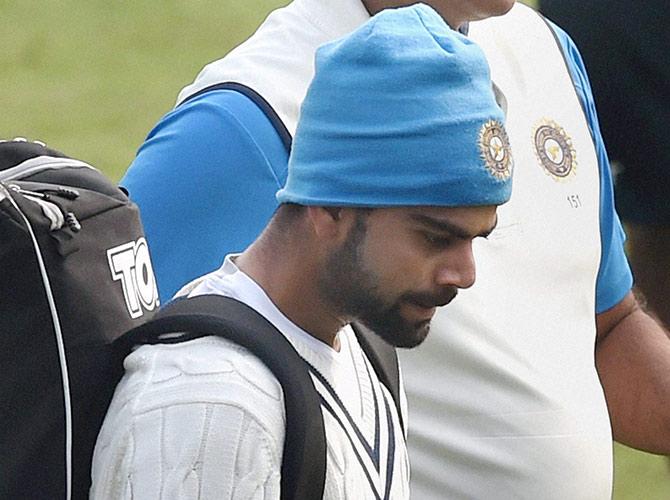 IMAGE: Virat Kohli in a pensive mood during a practice session. Photograph: PTI
With the ongoing ODI series against Australia already lost, Kohli is eyeing redemption in the T20 series which follows the last two ODIs.
Besides that, he is excited to play alongside Yuvraj Singh, who has made a comeback into the Indian team.
How does he describe his rapport with Yuvraj?
"I am very close to him. He is like an elder brother to me. I have always been very fond of him. He plays the game with a lot of passion. He is a wonderful human being, not many know that.
"There has been misconceptions about him, but he is very hard-working, takes a lot of pride in playing for India. He has always guided me. I am very excited to be playing with him in T20s here," said Kohli.