'I don't think anyone in the world is hitting the ball better than Virat at the moment'
'I think everyone is unbelievably harsh on Dhoni. If he vacates that middle-order, it leaves India's batting even thinner.'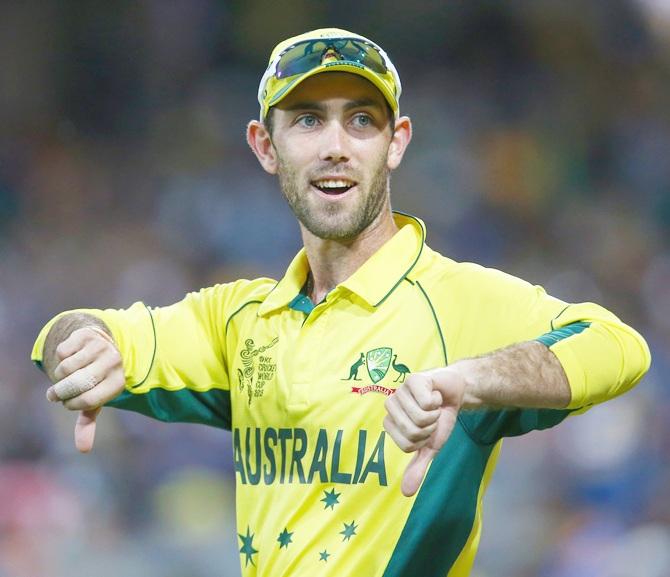 IMAGE: Glenn Maxwell of Australia gestures to the crowd. Photograph: Mark Kolbe/Getty Images.
Swashbuckling Australian batsman Glenn Maxwell dismissed reports that he had criticised Virat Kohli, saying it is "completely untrue" and the Australian team is actually "in awe" of India's Test captain.
Despite nursing a bruised tendon above his right knee and a sore left hamstring, which rendered him doubtful for the fifth and final ODI on Saturday, Maxwell, on Friday, took to social media to clear the air about the reports.
"Taken out of context... I also complimented him (Kohli) on how well he had played and got his team into a winning position," Maxwell posted on his Twitter handle on Friday.
Maxwell, who scored 96 and 41 in the third and fourth ODIs respectively to help Australia take a 4-0 series lead, also spoke to Cricket Australia to clarify his comments on Kohli.
"I was asked to give a bit of an assessment of who was dominating with the bat in this series, and I said, 'I don't think anyone in the world is hitting the ball better than Virat at the moment'," Maxwell told cricket.com.au.
"A lot of us are still in awe of what he can do on the field, and the way that he all but took the game away from us the other night in Canberra was something that we were pretty much powerless to stop.
"But some of the reporting I've seen lately makes it seem like I was personally attacking one of the best players in the game about the way he plays, which is completely untrue."
Kohli became the fastest batsman to score 25 centuries when he blasted 106 in only his 162nd innings while India were chasing a mammoth 349 for victory in the fourth One-dayer. He surpassed the feat of Sachin Tendulkar, who achieved it in 1998 in 234 innings.
Further clarifying his comments, the 27-year-old Maxwell said: "The point that I was making, and it related more to when India were setting totals and had plenty of wickets in hand, is that the scoring rate seemed to slow as milestones got close, which can sometimes be the case, especially when teams are batting first.
"Maintaining a constant scoring rate can be less straightforward batting first than when you're chasing and you know what the required rate has to be, and there have been times when batters just seem to have slowed a bit to make sure they reach those milestones.
"Sometimes that wins you games, and sometimes it doesn't but that was the only point I was trying to make. I've got a really good relationship with Virat off the field and I've already had a chat with him."
Kohli has been involved in a number of volatile exchanges with Australia players in recent years, most recently in a series of running verbal battles with all-rounder James Faulkner.
But Maxwell quashed any suggestions that there was any bad blood between Australia's players and Kohli, who succeeded World Cup-winning captain Mahendra Singh Dhoni as Test skipper.
"Everyone wants to play like Virat does. As a team, we have enormous respect for him largely because he goes about his cricket in much the same way as we do. He's a hard competitor on the field but very fair, and he loves to give as good as he gets.
"Plus he takes the opposition on and that always earns you huge respect from Australian players and fans. There's no doubt that during this ODI series everyone's enjoyed the way that he's taken on the role of aggressor, and the battles he's had with James Faulkner have been a real highlight.
"And off the field, he's really likeable, he's got a great personality and he's happy to show that which makes him one of those guys that people can relate to."
Dhoni has come under a lot of flak for India's loss in the ODI series but Maxwell defended India's skipper.
"I think everyone is unbelievably harsh on MS Dhoni. If he vacates that middle-order, it leaves their batting even thinner with the inexperienced guys they've brought in," he said.
"With four years until the next World Cup, it's probably the perfect time now to bring in young guys and give them a chance to stake their claim but unfortunately for India, they can't realistically break up the middle-order like we were able to."