Dhawan had a few comforting words for the rival team, which has failed terribly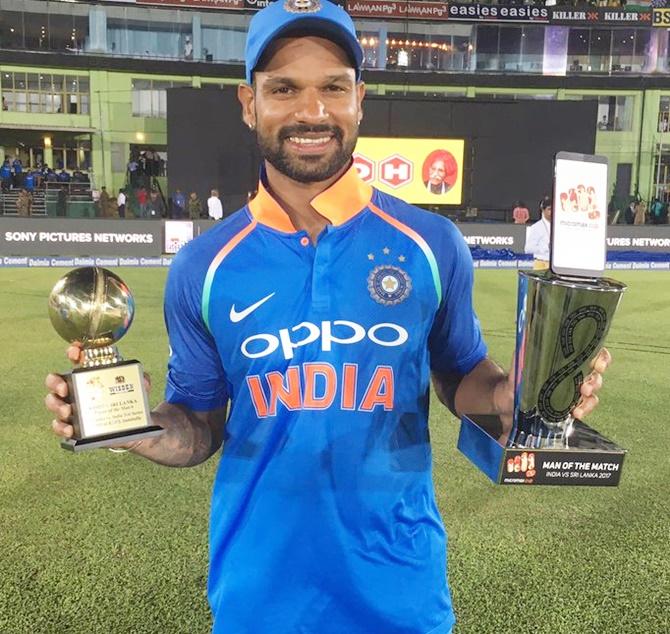 IMAGE: Shikhar Dhawan scored third hundred in Sri Lanka. Photograph: BCCI/Twitter
Shikhar Dhawan is savouring a purple patch, hitting century after century, but the opener won't be overtly worried if he has to face a slump in form.
Put into bat, Sri Lanka were placed at 150/2 at one stage, but then collapsed to 216 all out with Axar Patel taking career-best 3-34. Dhawan put on 197 runs for the second wicket with Virat Kohli as India won with 21.1 overs to spare, their biggest margin of victory in terms of balls remaining.
Dhawan, who hit a punishing knock against Sri Lanka in the first ODI, said "failure teaches you a lot and I am lucky I have learnt so much out of that."
It was the third hundred for Dhawan on this tour, after he scored hundreds in Galle and Pallekele Tests.
"I have already had a slump so I don't think about it. When it has to come it will come. I embrace that period of slump also. When I was not doing well I was just focussing on my processes. And when I am doing well, I am still focussing on my processes. So those things don't bother me that much," Dhawan said at the post-match press conference.
He was dropped from the team after the New Zealand series last year and came back to the team for the Champions Trophy this year. Since then he has done exceedingly well.
He also sympathised with the Sri Lankan team, saying a few comforting words for the rival team, which has failed terribly.
"This is a young Sri Lankan side and they are in transition period where all the boys will mature. In international cricket you need to have that experience. The
young boys are good but with time they will get better.
Asked if the Lankan attack – led by the ageing Lasith Malinga – was the poorest he has faced, the opener didn't want to use too many "harsh words".
"Malinga has been a legend for Sri Lankan cricket and he has done great in international cricket in all formats. He is a bit old now and with time I feel that his pace has gone down a bit. That's why we can attack more as batsmen and that's what we look at. This is natural because he has played so much cricket. It's just a cycle, life cycle, that's what I feel," said the left-handed opener.
"I don't use those harsh words. I won't say they are the worst bowling attack I have faced. The left arm bowler (Vishwa Fernando) bowls decent pace. They have a good fast bowling attack. In Champions Trophy, they even beat us.
"It's just that we have got a mature side, very experienced side so that plays a huge role because how you handle pressure situations that matters a lot with experience. So I feel that with time Sri Lankan team will do well," he added.
He is keen to continue with good form.
"It's a long time (until the next World Cup). I would like to keep performing well. That would be my goal because if I don't perform there are such great batsmen in our side that anyone can take the place, so that's one thing.
"The second thing is I would like to keep my fitness on a high level because all the young boys are there. I like to keep myself fit at the pace of the game. I just focus on my process including my fitness, skills and fielding," he said.
Talking about his red-hot form, Dhawan said he was in similar form during the 2013 Champions Trophy and when she scored a majestic maiden Test hundred against Australia.
"When I made a comeback in the ODI side in the 2013 Champions Trophy, I was batting this fluently. Even this time in the Champions Trophy (2017), I was playing in that flow. I would say that I even played like this in my debut Test match against Australia, or like I played in Galle in the first Test here. I am playing quite similarly to those times. I am trying to keep repeating the same mantra for myself," he said.
"I really didn't think about the pitch. I was just watching the ball and playing the ball. And I felt that the pitch was very good, the way Sri Lanka started the innings. I thought they will score 300 runs but they lost lot of wickets in the middle and we dominated the game," said Dhawan.