'Enjoyed my 10 years, hopefully I will enjoy more whatever I have.'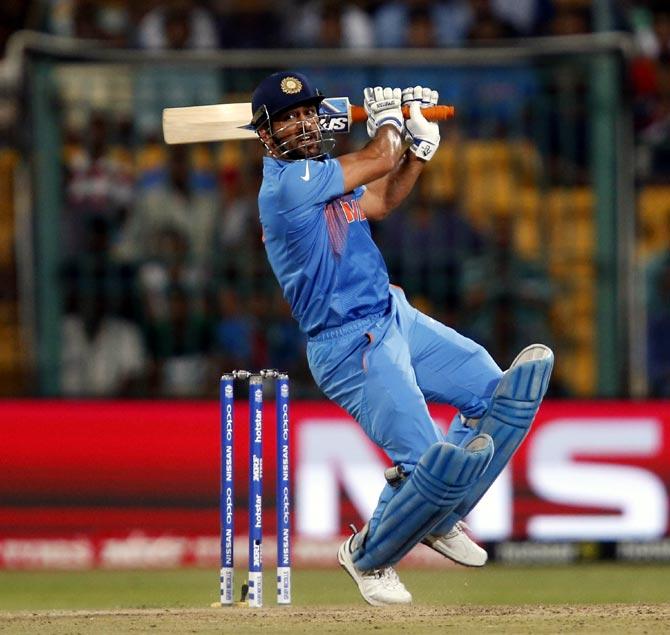 IMAGE: Mahendra Singh Dhoni hits a six. Photograph: Danish Siddiqui/Reuters
Mahendra Singh Dhoni offered words of comfort to his die-hard fans, still coming to terms with his decision to give up the India captaincy in the limited overs format, with an assurance that he would continue to play the aggressive brand of cricket and continue to hit sixes.

Having relinquished the limited overs captaincy after leading India to two World Cup triumphs during an eventful tenure that spanned nearly a decade, Dhoni captained the Men in Blue (India 'A' team) for one last time in a warm-up game against England on Tuesday.

The perfect finish may have eluded him, as his team lost by three wickets, but Dhoni, in a video chat with Yuvraj Singh, assured that he would continue to hit those trademark sixes if they are to be hit.

"If they bowl in my areas, the right areas and the situation permits I would look to hit sixes," Dhoni told long-time teammate Yuvraj.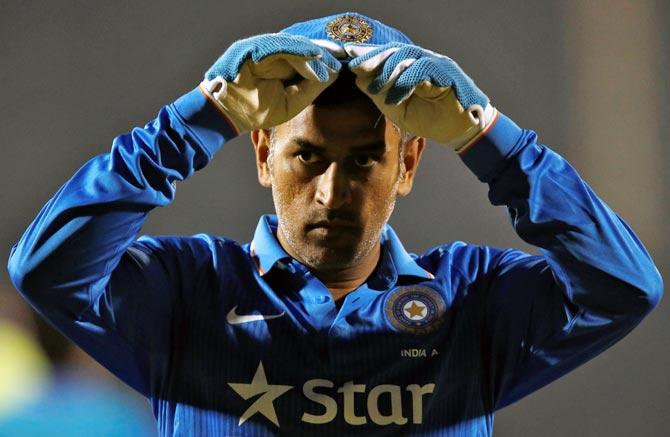 IMAGE: Mahendra Singh Dhoni. Photograph: Danish Siddiqui/Reuters
Dhoni's stint at the helm had more ups than downs, and he called it amazing.

"The journey has been good, fantastic... It's good to have players like you (Yuvraj), the job becomes much more easier. And enjoyed my 10 years, hopefully I will enjoy more whatever I have."

Referring to Yuvraj's six consecutive sixes in the inaugural World T20, Dhoni said, "Thanks to you I witnessed the six sixes from the best seat."

Dhoni was at the non-striker's end while Yuvraj bludgeoned Stuart Broad for a world record six sixes in a single over at the World T20 Championship in 2007.

Yuvraj posted the video on social media after the India 'A' vs England XI match at the Brabourne stadium in Mumbai on Tuesday in which he asked a couple of very interesting questions to Dhoni, who answered each question in his typical manner.

Paying a tribute to his former skipper, Yuvraj said, "You have been one of the best captains ever. It's been amazing playing under you, winning three big championships, the World Cup and being the number one Test team in the world under you.

"Thanks for giving me the opportunity to go and slog as always."