'I think it's just to take the focus away from the series to be honest.'
'To me a newspaper article doesn't matter over the decision of ICC. We as cricketers respect that only.'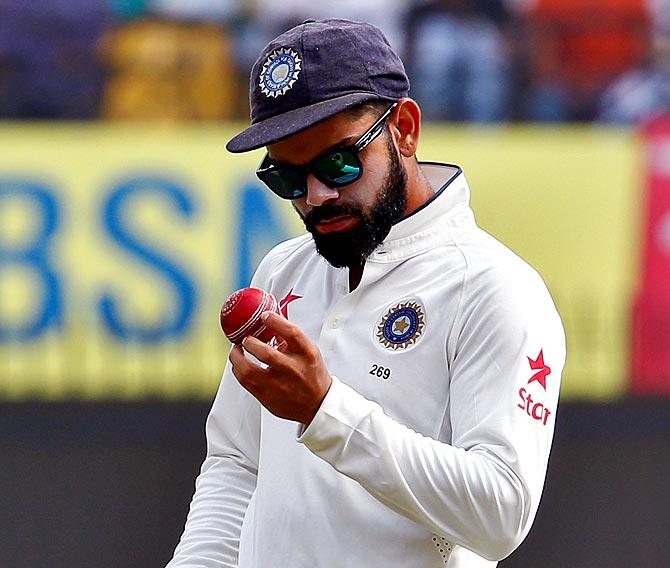 IMAGE: India captain Virat Kohli looks at the ball. Photograph: Danish Siddiqui/Reuters
India Test captain Virat Kohli termed the ball-tampering allegations against him as a ploy to 'shift focus from the series' and he pointed out that the International Cricket Council would have spoken to him had there been any iota of truth in the matter.

Speaking on the eve of the third Test against England in Mohal, Kohli looked prepared with his answer the moment one of the English scribes asked him about the footage that shows him applying saliva to the ball.

"I think it's just to take the focus away from the series to be honest. It happened in Australia when South Africa won the series. I am surprised the issue of what I have been told came up in Rajkot but there was no mention until the result in Vizag," Kohli said on Friday.

"To me a newspaper article doesn't matter over the decision of ICC. We as cricketers respect that only. And allegations and speculations? I don't read newspapers so I am not aware of these things, someone told me and I laughed it off. Some people are trying to take the focus away from the series -- good luck to them. But we are totally focussed on what we have to do," Kohli said firmly.

However, the British journalist was not happy and had a leading question as a follow-up.

"You doing what Du Plessis was doing?" the journalist probed further.

"What was I doing?" was Kohli's counter-query.

"If was doing something ICC would have spoken to me," he finished it off then and there.

The ICC clearly stated that it's a shut case for them as the alleged incident wasn't reported within the prescribed five-day window which ended on November 18 as the first Test in Rajkot concluded on November 13.

India coach Anil Kumble on Thursday had categorically rubbished the claims made by a South African broadcaster and picked by a British tabloid.

"We don't give wind to such stories and media can write whatever they want."

Incidentally, South Africa captain lodge an appeal after he was found guilty of ball-tampering in the second Test against Australia.

Du Plessis, who was fined his entire fee for the match in Hobart, was cleared to play in the third Test in Adelaide and scored a defiant century on Thursday's opening day after walking to the wicket to a chorus of derision from the crowd.