'The bowler must be aware of the rules and try to bowl within the 15 degrees limit'
'Narine must go back to his regular coach in the West Indies and work on his bowling and do whatever is required to get him back'
Former Sri Lanka spin sensation Muttiah Muralitharan discusses the BCCI's clampdown on suspect bowling actions and his role as bowling coach and mentor of Sunrisers Hyderabad with Harish Kotian/Rediff.com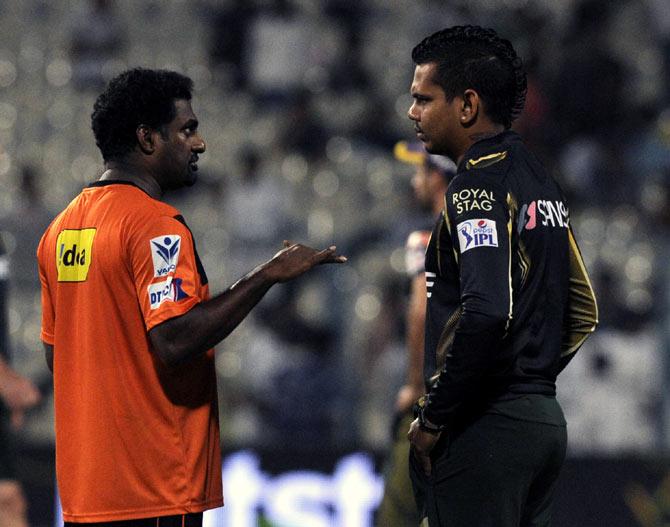 Image: Muttiah Muralitharan (left) speaks to Kolkata Knight Riders spinner Sunil Narine. Photograph: BCCI
Muttiah Muralitharan was regarded as one of the best spinners of his generation. Whether playing at home or overseas, he was a force to reckon with and it was not surprising to see the champion spinner finish his splendid career with a world record haul of 800 wickets from 133 Tests.

He also claimed a massive 534 wickets in 350 One-Day Internationals. However, his action was always a subject of debate and he underwent testing quite a few times in his 18-year career after being reported for suspect action but always emerged unscathed.

The 43-year-old Sri Lankan, currently serving as bowling coach and team mentor of Sunrisers Hyderabad in the ongoing Indian Premier League, has given the thumbs up to the Board of Control for Cricket in India's clampdown on bowlers with suspect action in the IPL.

Kolkata Knight Riders' West Indian spinner Sunil Narine was banned from bowling the off-break deliveries in the IPL following a bio-mechanical analysis in Chennai after he was reported by the umpires for suspect action during an earlier match in the T20 league.

Muralitharan feels banning bowlers who exceed the 15 degree limit in terms of the elbow bend while delivering the ball is right.

"That is the ICC's regulations. If a bowler exceeds 15 degrees then he should be reported and corrective actions need to be taken. The regulations are clear and the bowler who has been reported has to undergo testing and rectify his action if it is not under the allowed limit. The rules are simple. The bowler must be aware of the rules and try to bowl within the 15 degrees limit," he told Rediff.com.
Muralitharan, who himself had undergone testing quite a few times for his bowling action, believes that Narine can still work on his action in the nets and get himself back bowling at his best.

"I would love to help Narine, or any other bowler for that matter, but to help him, I think, I will need to go through a lot of data of his bowling in the last few years and understand him really well. I think it would be best if he goes back to his regular coach in the West Indies and works on his bowling and do whatever is required to get him back," he said.

Talking about his role with Sunrisers, the off-spinner says the six to eight weeks during the IPL are too short to work with a bowler, but he certainly has given a lot of tips to the spinners in the squad.

"I have enjoyed my role working with the Sunrisers Hyderabad bowlers, especially the young spinners. So far it has been good. You don't get much time in the IPL; you hardly get four to six weeks, so in that way, I think, whatever I can do to help a bowler, I will try to do," he said.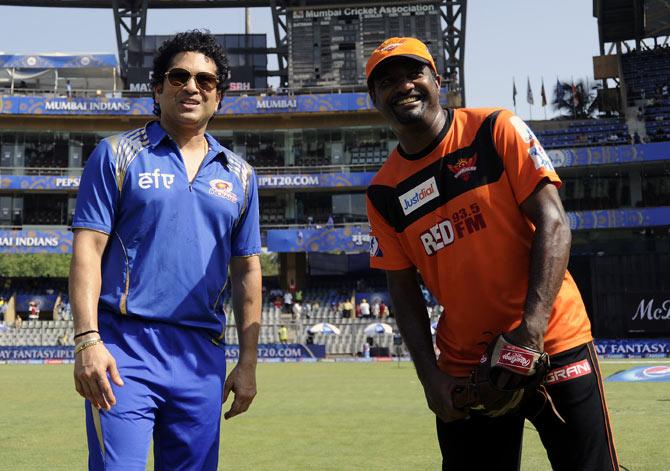 Image: India's batting legend Sachin Tendulkar and Muttiah Muralitharan during an IPL match between Mumbai Indians and Sunrisers Hyderabad. Photograph: BCCI
The two lead spinners for Sunrisers this season are Karn Sharma and Parveez Rasool, who both have had a taste of international cricket but are yet to make a mark on the big stage.

"Karn and Rasool are both good young bowlers but both have a long way to go as far as international cricket is concerned. Right now they are good enough for tournaments like the IPL but with experience they will improve. They both are talented and I feel in the years to come they will certainly play for their country."

Muralitharan believes that Ravichandran Ashwin is a consistent performer for India with the ball in the last few years and it is unfair to say that he is only doing well recently.

"Ashwin has been a good bowler for India for the last three-four years and has done well. But it is about how he is projected in the media; when he takes wickets you will say he has improved and if he goes not get wickets you will criticise him. It all depends on how he performs," he said.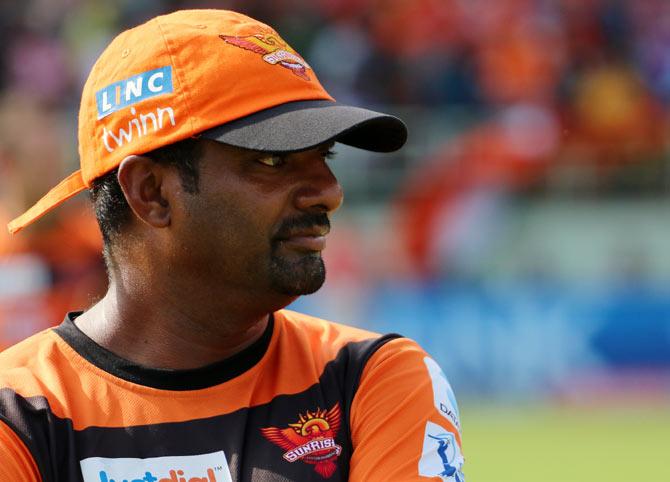 Image: Muttiah Muralitharan in IPL franchise Sunrisers Hyderabad colours. Photograph: BCCI
He also urged the current spinners in world cricket to take on the onus of adapting to the modern game and change accordingly.

"I feel it is not about the pitches but the quality of spinners in today's times is not as good as compared to before. The bowlers have to adapt and change according to the rules because the game has changed a lot," the veteran added.

Asked to pick his best players among the current lot from the three formats, he choices were not surprising.

"In Tests, I would say Kumar Sangakkara is the best batsman in Test cricket, while Dale Steyn is the top bowler.

"If you talk of ODIs, then Mitchell Starc is the best bowler while AB de Villiers is the top batsman in the 50-overs format.

"And talking of T20s overall, I think AB de Villiers is the most dangerous batsman in the world today. And then you have David Warner, while Chris Gayle if he is form he can be quite lethal."