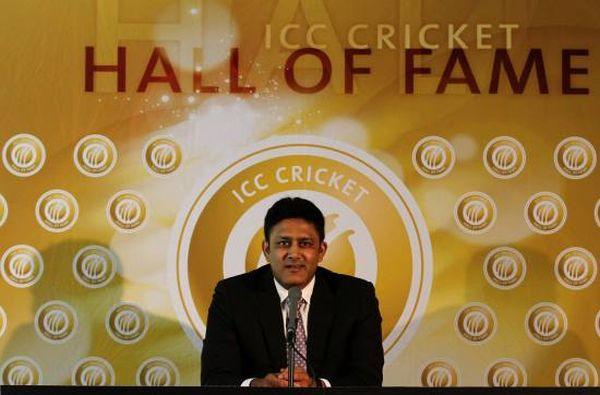 Anil Kumble speaks during the press conference after being inducted in the International Cricket Council (ICC) Cricket Hall of fame at the Melbourne Cricket Stadium. Photograph: Vipin Pawar/Solaris Images
Being the third highest wicket-taker in history of Test cricket is no mean achievement but former India captain Anil Kumble wishes he had the skills of his two greatest contemporaries -- Shane Warne and Muttiah Muralitharan.
"Yeah, Warne and Murali competition, I don't know whether I looked at it as a competition, but I could never compete with a Murali or a Shane Warne. Wish, I had the skills that they (Warne and Murali) had," Kumble told the mediapersons, after being inducted into the ICC's 'Hall of Fame' at MCG.
"I've had some great friendships with Warney and even more with Murali because we played a lot more. We saw each other a lot more. Murali would always call up and congratulate me after every milestone, and he would always possibly be 30, 40 wickets to the next milestone.
"So I would also congratulate him saying, Murali, another three Test matches I'll reach your 30 wickets, so congratulations. It was always a healthy friendship that we had, and it still continues," said Kumble.
Success was due to the core group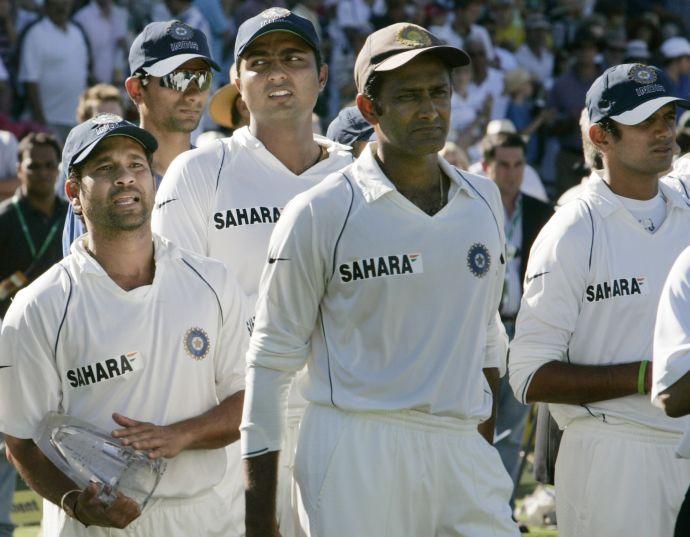 Anil Kumble, Sachin Tendulkar and Rahul Dravid. Photograph: Will Burgess/Reuters
Recalling his 18-year journey in international cricket, starting 1990, Kumble did attribute a lot of it to the core of the team that included him, Sachin Tendulkar, Rahul Dravid, Sourav Ganguly and VVS Laxman.
"That core group stayed for a long time and we started to believe that we can win against any opposition. To this five, you can add Virender Sehwag, Javagal Srinath, Harbhajan Singh and Zaheer Khan, we had a fantastic bunch.
"I always felt fortunate that I only bowled to Tendulkar, Sehwag or Dravid in the nets and not in international matches. Actually, Tendulkar, Dravid or Sehwag later kind of became my "coach" as they would tell me after playing me in the nets as to where I was going wrong and stuff like that," Kumble recollected.
'Lara was blessed with the ability to hit four or five shots of the same delivery'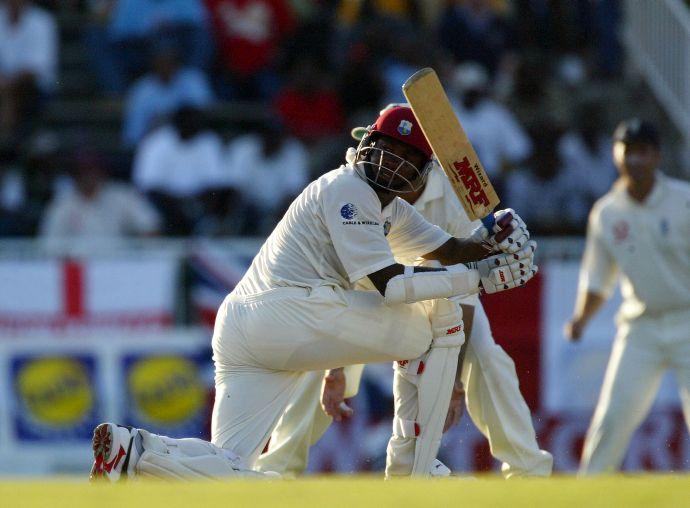 Brian Lara. Photograph: Tom Shaw/Getty Images
For him, the greatest batsman he has ever bowled to is Brian Lara and he recalled one incident.
"Brian Lara was blessed with the ability to hit four or five shots of the same delivery. Once right here at the MCG, during a match played in memory of victims affected by Tsunami, I was bowling to Lara. I bowled a delivery where he charged down the track after I had flighted one.
"Once he came down the track, he realized that he had misjudged the trajectory of ball. Any other player would have missed it and got out. But Lara swept that delivery for boundary and I knew that nothing could be done," one could see the admiration in his eyes.
Competition with Harbhajan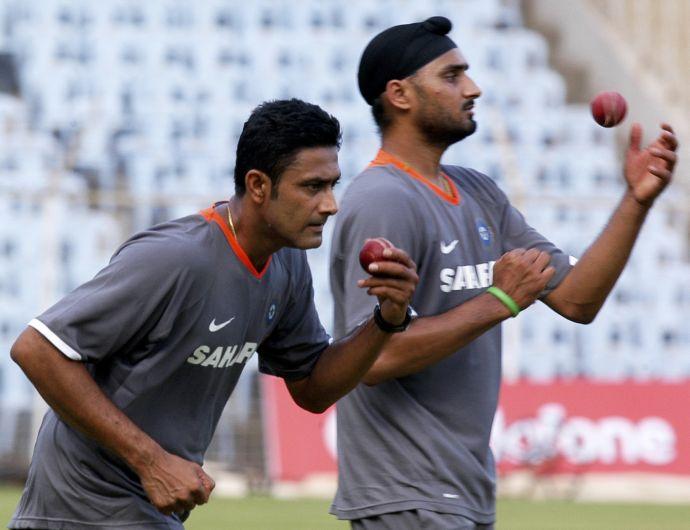 Anil Kumble and Harbhajan Singh. Photograph: Babu/Reuters
He spoke highly of Harbhajan Singh with whom, he had forged a successful combination for close to a decade. "Initially, it was Venkatapathy Raju, Rajesh Chauhan was a part of our group, Hirwani very briefly, Sunil Joshi later on, and then Bhajji, of course, close to 10 years that we played together. And sometimes, we competed against each other, so that was a bit of a challenge. Whenever we toured abroad where they could only accommodate one spinner, so it was always either him or me, so that was a bit of a tough ask.
"Even in ODIs, it became that way. Yes, you always feel that you should be playing in every game, but it was a great healthy competition with Bhajji actually bowling exceptionally well on that Australian series in India when I was injured. I believe that spinners like fast bowlers also hunt in pairs.
For Kumble, the advantage that he had was having captains, who were not imposing and let him play with a free mind.
"In terms of captains, I think I've had some fantastic ones right through my career. I think all captains under whom I played, didn't really bother coming and telling me what fields to set. They didn't give me instructions.
"I never bowled with the captain's instructions. It was always the other way around where I had the freedom of setting my own field, bowling the way I did, so that relationship was there right from the first Test match that I played until, of course, I captained in the last Test. So right through, whether it was Azhar, Sachin, Sourav, Rahul, I think all of them -- I had a great relationship with all of them. Yes, there were disagreements but it is bound to happen when you play for 18 years," he said with a sense of pride.
'I believed that I could get a Test hundred'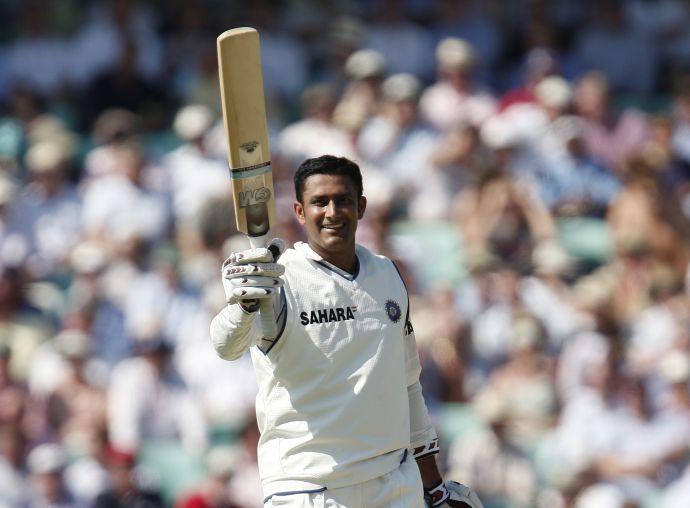 Anil Kumble celebrates after scoring a century. Photograph: Stephen Hird/Reuters
Another feat Kumble feels proud about is the century he scored in the Oval Test against England, back in 2007.
"The Test hundred will always remain special, because I believed that I could get a Test hundred. It took me 117 Test matches to realize my batting potential. In fact, just before the Test match, we had a team meeting where I openly said that I was disappointed with our batting line-up because we had great legends and not a single century on that tour. I didn't realize that I had to show them how to get a hundred," he quipped.
"It was something very special. You could see the faces of my colleagues, how happy they were, more than me, when I scored that hundred," he said.