Starting off with a half-century in Sydney during the 1992 World Cup, to the awe-inspiring 98 at Centurion, Sachin Tendulkar has given Indian fans plenty of memories during an India-Pakistan clash at the World Cup.
'Playing Pakistan in a World Cup semi-final on Indian soil - it just couldn't get any bigger'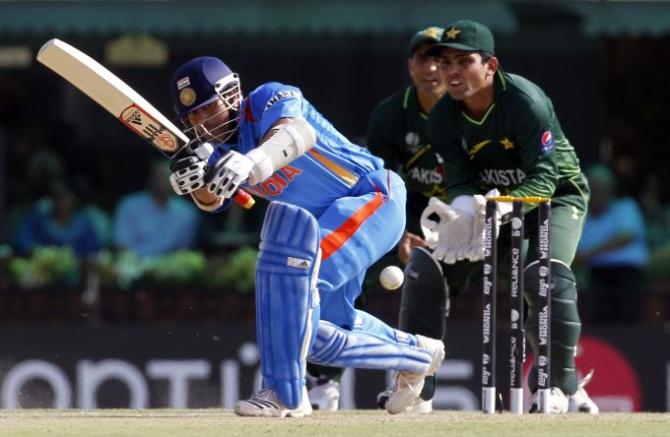 Sachin Tendulkar plays a shot as Younis Khan and wicketkeeper Kamran Akmal look on during their World Cup 2011 semi-final in Mohali. Photograph: Vive Prakash/Reuters
When defending champions India take on Pakistan in their potentially high-octane campaign opener of the ICC Cricket World Cup on February 15, at the Adelaide Oval, the awe-inspiring Sachin Tendulkar will be conspicuously absent for the first time in a match between the two arch-rivals in the showpiece event.
The batting maestro, who retired from the game after a glorious 24-year-career, was a constant presence in each of the five contests between the sub-continental giants in cricket's mega event, winning three man-of-the-match awards and stamping his authority on these nerve-wracking contests which all ended in India's favour.
- VOTE: Who will win the 2015 World Cup?
Significantly, all but one of those victories over Pakistan occurred in the month of March.
Scored a crucial 54 and took a wicket in 1992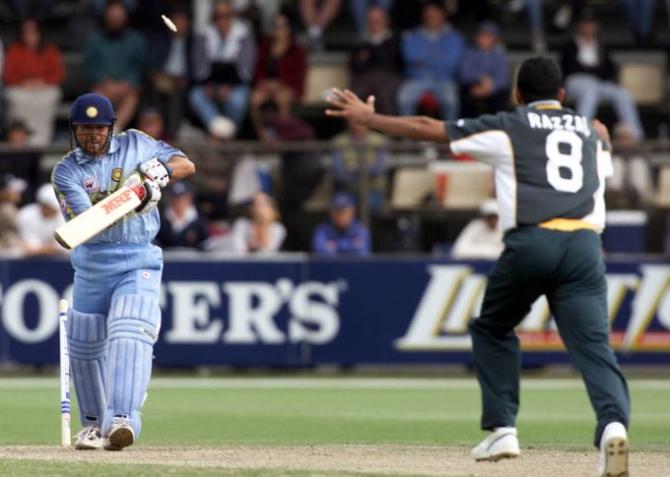 Sachin Tendulkar is bowled by Abdur Razzaq of Pakistan during the match between India and Pakistan at the Bellerive Oval, Hobart. Photograph: Hamish Blair/ALLSPORT
Tendulkar made his World Cup debut in 1992 when the mega event was staged in Australia and New Zealand previously and played a very crucial innings of 54 not out and claimed the vital wicket of Aamer Sohail to bag the man of the match award at the Sydney Cricket Ground in India's victory over Pakistan in their first-ever Cup meeting.
And it was Tendulkar who again stole the show with his vital, albeit chancy, knock of 85 at Mohali four years ago in the semi-final to be adjudged the man of the match for the third time in World Cup contests between the two Asian giants -- thus paving the way for India to win the coveted title a few days later by beating Sri Lanka in the final in Mumbai.
Tendulkar stands above all in all WC contests against Pakistan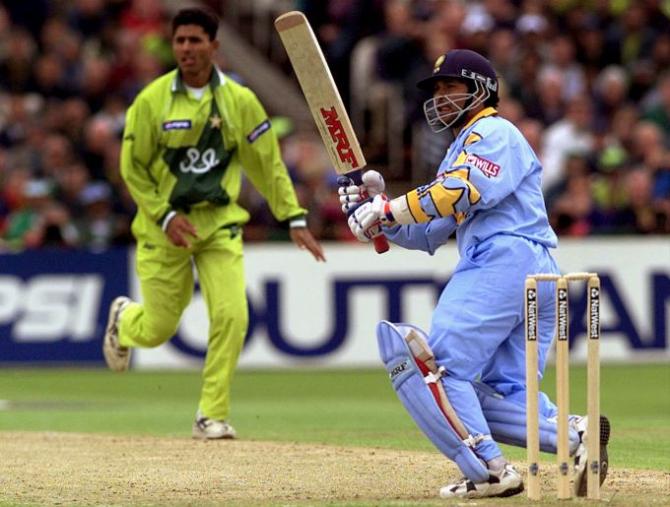 Pakistan bowler Abdul Razzaq (left) watches as he is hit for a boundary by Sachin Tendulkar during their World Cup Super Six match at Old Trafford. Photograph: Reuters
In between his first and last appearance against Pakistan in the tournament, Tendulkar scored 31 in Bangalore in the quarter-finals in 1996, 45 at Old Trafford, Manchester, in a group game in 1999 after rushing home to attend to his father's last rites, and an unforgettable 98 at Centurion Park in South Africa that enabled India chase down Pakistan's imposing total.
During this period, only once -- in 2007 -- when the tournament was held in the West Indies and both India and Pakistan crashed out in shocking fashion early on, the two sub-continental rivals failed to meet each other in the World Cup.
With a tally of 313 runs in five matches, at a high average of 78.05, Tendulkar stands head and shoulders above all other Indians in all World Cup contests against Pakistan.
Only two other Indian batsmen have amassed more than 100 runs against Pakistan in combined World Cup history -- Mohammed Azharuddin, with a tally of 118 in three games, and Rahul Dravid, with 105 in two matches.
Best World Cup innings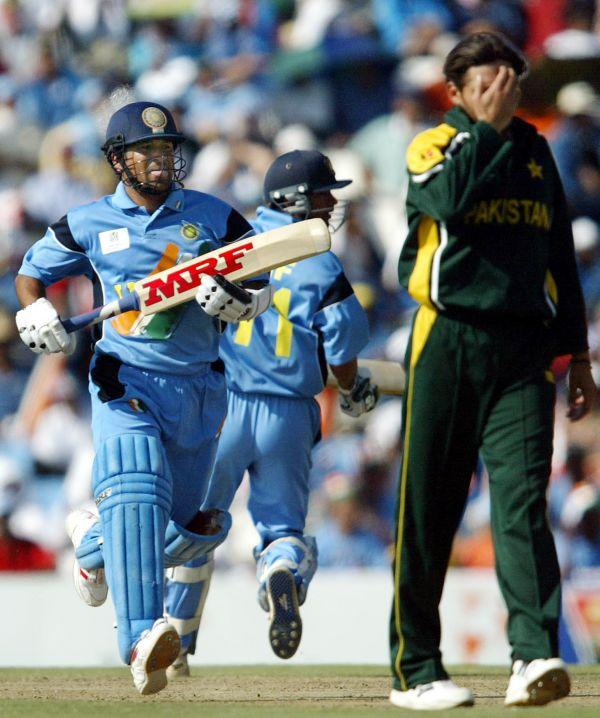 Sachin Tendulkar runs as Pakistan's Shahid Afridi (right) wipes his face during the Group A match of the World Cup in Centurion. Photograph: Arko Datta/Reuters
In his own words, Tendulkar rates the 75-ball 98 he scored against Pakistan's top class three-pronged pace attack of Wasim Akram, Waqar Younis and Shoaib Akhtar at Centurion Park a dozen years ago in South Africa as among his career-best.
"This innings must rank as one of the best I have played because of the immense pressure it was played under," Tendulkar has stated in his autobiography, Playing It My Way.
"It was always going to be a huge game for both teams. The intensity was such that I could not sleep properly for three nights before the game. If there was ever a match we wanted to win, it was this one. The nation would brook no failure and for many of our fans this was the true final. It really did not matter to them what happened in the rest of the tournament, as long as we managed to beat Pakistan at Centurion," he said in the book.
"The ground was buzzing hours before the match. It was sport at its best. This is why I played cricket, to be out in the middle for my team, on the world's biggest cricketing stage, against India's arch-rival. Listening up to the national anthem and singing the words gave me goose bumps."
In that match, after seeing Pakistan ride on Saeed Anwar's 101 to rattle up an imposing score of 273 for 7, Tendulkar told his opening partner, Virender Sehwag, that he would take first strike and before starting to attack the Pakistan fast bowlers they needed to play out the initial burst.
'Defining over of the 2003 World Cup match'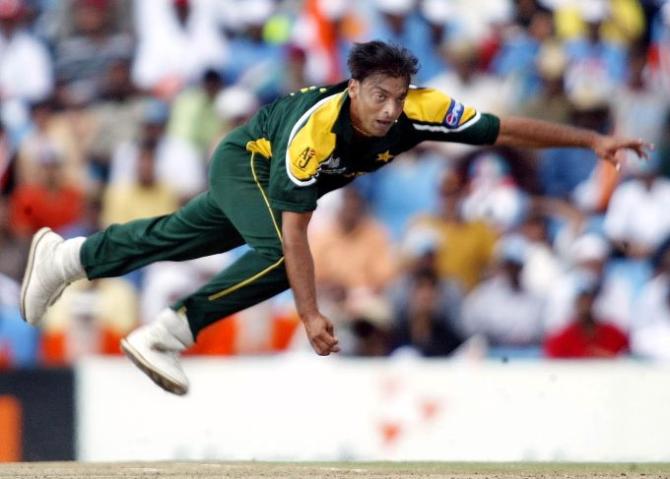 Pakistan's Shoaib Akhtar bowls to Sachin Tendulkar during a Group A match of the World Cup between in Centurion. Photograph: Arko Datta/Reuters
But what unfolded was the opposite, with Tendulkar driving Akram to the covers in the first over and Sehwag following suit.
Akhtar bowled the second over and Tendulkar has written that "and in many ways it turned out to be the defining over of the match".
A slash over third man for six was followed by a flick behind square leg from outside off for four and a straight punch for four. Eighteen runs came off that over and Tendulkar says in his book that was a "dream start".
The opening duo then attacked Waqar.
Tendulkar says: "Our body language had turned aggressive and when I finished off the Waqar over with another four we were firmly in control. We had not allowed the bowlers to settle down and had seized the advantage. It was the best early assault against Pakistan that I had been involved in and it could not have come at a more important time."
'One of the most pressured games of career'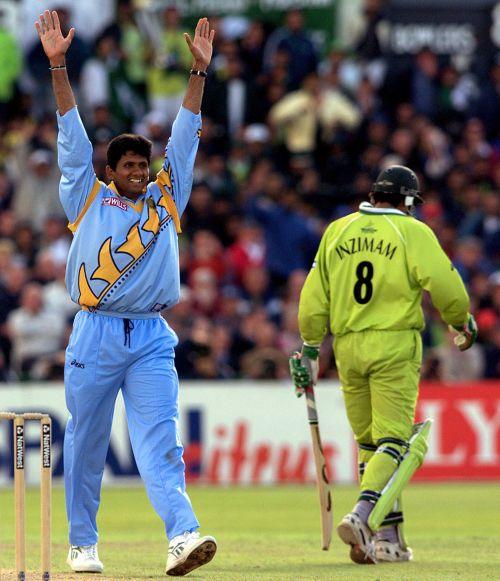 India pace bowler Venkatesh Prasad (left) celebrates after taking the wicket of Pakistan's Inzamam-ul-Haq (right) during their World Cup Super Six match at Old Trafford. Photograph: Reuters
About his World Cup game in Sydney and India's first-ever win over Pakistan, Tendulkar says in his book: "It was a satisfying win and by the end of the match I had completely lost my voice because of all the shouting.
"It was the first time India had played Pakistan in the World Cup since the inception of the tournament in 1975 and it was the start of a string of victories against them in World Cups. The 1992 victory was particularly pleasing because I was also the Player of the Match."
On the 1996 quarter-final win over Pakistan, in Bangalore, Tendulkar - who scored a slow 31 while putting on 90 runs with Navjot Sidhu for the first wicket - wrote that in the team hotel they were treated like royalty after the tension-packed 39-run victory.
"On our way back to the hotel we could see people lining the streets and they were throwing garlands and flowers at the team bus. In the hotel too we were being treated differently.
"We were being treated like royalty and it felt wonderful to see the country so happy and proud."
About the victory in 1999, he recalled it happened when the Kargil conflict with Pakistan was on.
"The match had assumed great significance against the backdrop of strained political relations between the two countries - the war in Kargil in Kashmir was on at the time. India won the highly charged encounter by 47 runs, with Venkatesh Prasad picking up a five-wicket haul."
On what later turned out to be his second-last innings in the World Cup, and against Pakistan in the semi-finals on March 30, 2011, Tendulkar said: "One of the most pressured games of my career. Playing Pakistan in a World Cup semi-final on Indian soil - it just couldn't get any bigger."
The Mahendra Singh Dhoni-led India defeated Pakistan by 29 runs to move into the April 2 final against Sri Lanka which they won at the Wankhede Stadium to clinch the title for the second time after a gap of 28 years.