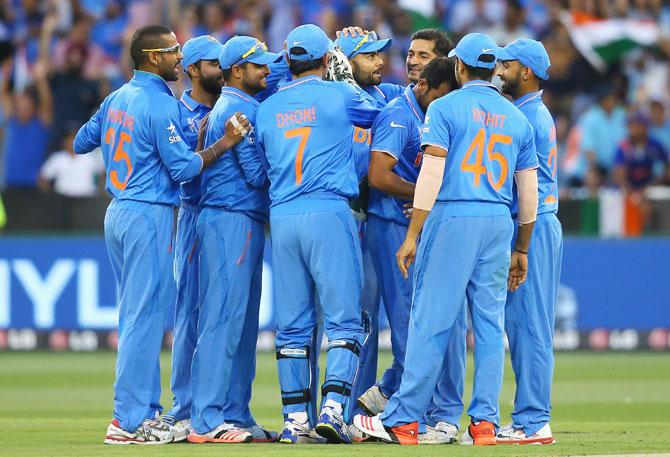 Indian players celebrate the fall of a South African wicket during their World Cup match in Melbourne. Photograph: Quinn Rooney/Getty Images
Insisting that India are currently playing the "best cricket of the World Cup", West Indies batting legend Brian Lara feels that the defending champions
must test their bench strength against minnows UAE in a Pool B match in Perth.
Lara said by testing a few reserve players against weaker opposition, India will best prepared to tackle any eventuality in the crucial stages later in the tournament.
"India for me are playing the best cricket of the World Cup and they just need to make sure that they have the latitude necessary to continue winning right through to the final," the former West Indies skipper told NDTV.
"I think you would expect the reserves of the Indian team to dominate the opposition (UAE). The likes of Shikhar Dhawan and (Virat) Kohli might be scoring runs now but what is important is that later on in the tournament in the critical games if India is forced to call upon somebody from the reserves then they have the time out in the middle to do so.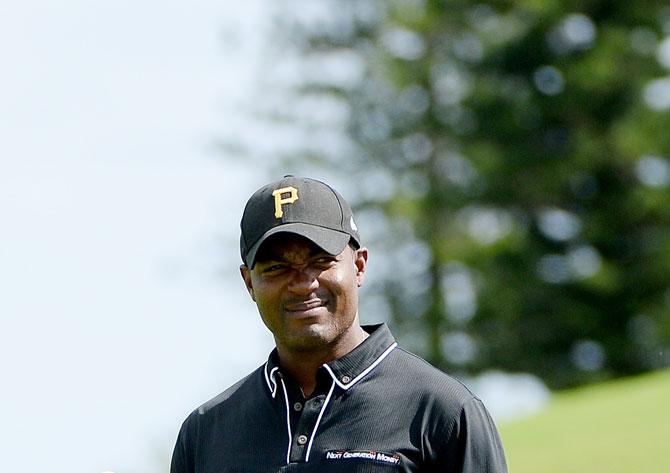 Former West Indies captain Brian Lara. Photograph: Getty Images
I want to see the likes of Rohit Sharma, (Suresh) Raina get in and get some runs. You never know what can happen later on in the tournament, so it's a perfect opportunity for India to try out a few new players, get them in form, get their confidence up.
"It is important that you have an entire squad ready to fire and I think Dhoni and Co should be thinking about that. There should not be any reservation about winning or losing because they are playing against one of the minnows," Lara said.
Indian batting great and former captain Sunil Gavaskar too agreed with Lara, but has expressed apprehensions about Indian team management changing the winning combination apart from the forced replacement for injured Mohammad Shami.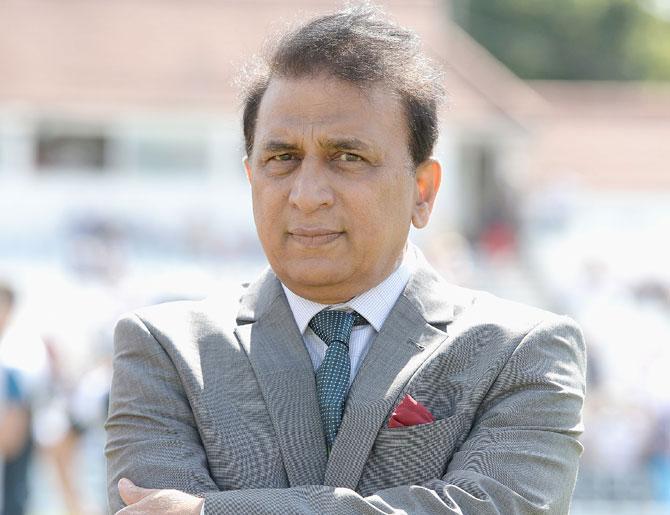 Former India captain Sunil Gavaskar. Photograph: Getty Images
It makes sense because you don't want somebody pulling out on the morning of a knockout stage match and you will have to pick somebody who is sitting on the bench and haven't played a game at all. So this way Bhuveneswar Kumar gets an opportunity to show that he also is fighting for a place in
the team," he said.
"That is what they will probably look to do (play all-rounder Stuart Binny in place of a spinner) but generally teams do not changes winning combinations unless it is forced upon them. I would be surprised if they do a change tomorrow apart from the one that is being forced upon.
"Would the Indian team make the changes that is the question. Like Brian (Lara) said I would like them to have a situation where everybody had some sort of time out in the middle," Gavaskar added.