'James Anderson is a swing bowler rather than a 'hit the deck' type. In 50 overs' cricket -- particularly World Cups -- he has hugely underachieved'
'One would have thought letting (Alex) Hales bat at the top and play his shots would give England their own (Brendon) McCullum'
Manu Shankar/Rediff.com spoke with former Essex player and fast bowling coach Ian Pont to assess England's disastrous start in the ICC's 50-over-a-side extravaganza.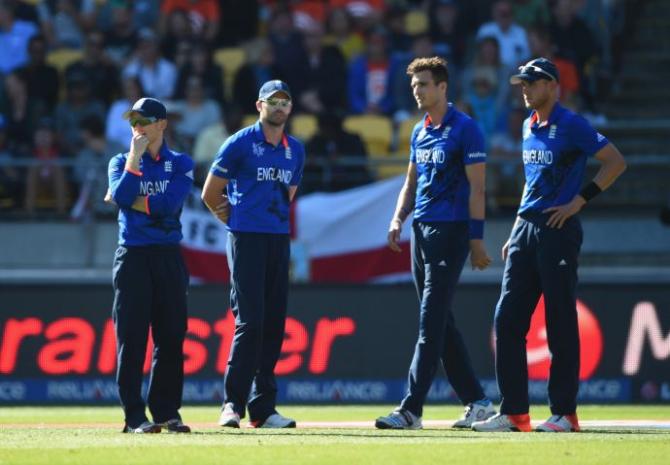 England captain Eoin Morgan talks with bowlers James Anderson, Steven Finn and Stuart Broad during the World Cup match. Photograph: Shaun Botterill/Getty Images
England coach Peter Moores and captain Eoin Morgan must be relieved after beating Scotland by 119 runs and securing the first victory of their 2015 World Cup campaign.
The pressure was on England after embarrassing defeats to Australia and New Zealand respectively. While the joint-hosts thrashed the Three Lions by 111 runs on the opening day of the tournament, six days later Tim Southee destroyed their batting like never before, claiming seven wickets for 7-33 runs, before Brendon McCullum made a mockery of their bowling by smashing a 25-ball 77 in New Zealand's eight-wicket victory.
The team, however, redeemed itself against the Scots. Riding high on a 128 from Moeen Ali they managed to keep their critics quiet for now.
Rediff.com's Manu Shankar spoke with former Essex player and fast bowling coach Ian Pont to assess England's disastrous start in the ICC's 50-over-a-side extravaganza.
Are England's bowlers struggling for ideas in this World Cup? They seem to go with the same Test match lengths even for ODIs.
I think England has a bowling plan they are pretty set on sticking to. Sometimes it works, but in the World Cup so far it hasn't.
The secret of a great bowling set-up is for coach, captain and, more importantly, the bowlers to be able to change things when they see this. International bowlers should clearly be able to control what they are doing.
I am unsure if it is a bowling unit bereft of ideas, or one that cannot think for itself. But what is clear is that it hasn't been effective so far.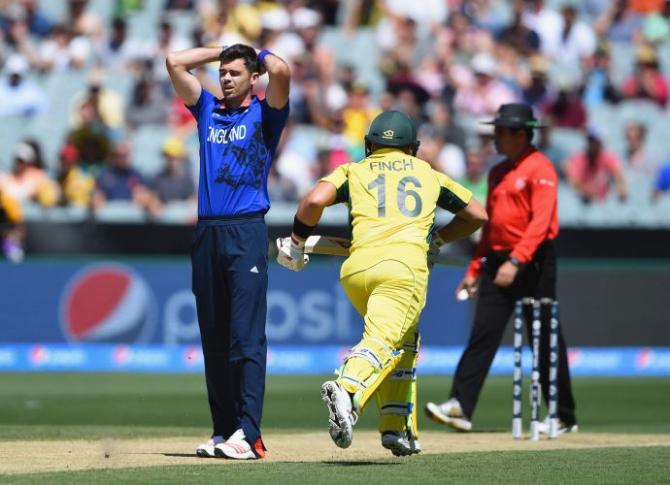 James Anderson of shows his frustration during the World Cup match. Photograph: Shaun Botterill/Getty Images
Is England struggling because Jimmy Anderson struggles if the ball doesn't swing?
Anderson is a swing bowler rather than a 'hit the deck' type. In 50 overs' cricket -- particularly World Cups -- I think he has hugely underachieved.
Unless he is taking wickets up front with the new ball, he is not much of a yorker/mix-it-up specialist you would normally turn to at the death.
Perhaps this is partly why England has gone to short, off-cutter lollipops at the end of the innings as their strategy for the last 10 overs' bowling.
Should England drop Anderson and pick someone like Chris Jordan?
Jordan can be effective, but he has bowled so many wides in ODIs (the most in world cricket in 2014) and I worry a bit about his control. He has a good slower ball, but is just missing something for me. Perhaps, time will give him the extra skills he needs to be a success at this level.
Is David Saker doing enough with this bowling unit?
I believe you should always employ the best bowling coach you can to deliver what plans you have now and in the future.
A bowling coach's role involves being able to support bowlers, mentor them, guide them, understand where they are going wrong, help improve standards, be mindful of technical issues and up-skill the entire attack.
From the beginning of the Ashes' whitewash until now it's been almost 18 months. I do not see the bowling unit progressing, sadly. In fact, I see many of them regressing, if anything. The overall speed of England's bowlers appears to have gone backwards.
A world-class prospect like (Steven) Finn has lost his way; Anderson and (Stuart) Broad are not delivering as we had hoped.
(Chris) Tremlett has disappeared and so has (Boyd) Rankin. If the bowling coach's role is to protect and take care of that, then I don't think it looks very promising for David Saker.
He isn't the one out there bowling, of course, but with the glory comes the criticism, and so I feel it is time for England to reshuffle the pack.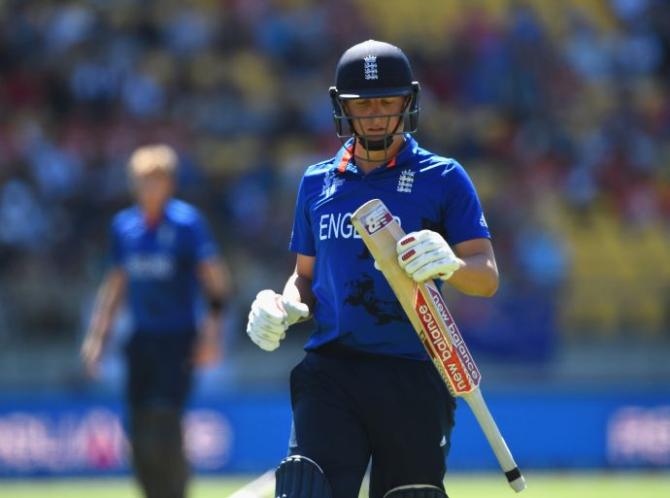 Gary Ballance of England heads back to the dressing room after losing his wicket. Photograph: Shaun Botterill/Getty Images
England's batting too has been a mixed bag. Gary Ballance has struggled, and so has Morgan. Is it time draft someone like Alex Hales into the side?
I think there is room for a player like Balance; he has a decent One-day batting attitude, but, up until now, I am unsure what his role actually is, and I don't think England knows either.
This might be why he hasn't yet appeared comfortable. Also that he has been thrown in somewhat after multiple about turns by the management over batting line-ups coming into this World Cup.
Ballance has done well in Tests when he has time, so can clearly bat. However, the World Cup requires a different skill set and I feel he has filled the classic number 3 issue of a 'place looking for a batsman' rather than a batsman in form looking for a place.
Like Jordan, perhaps, he can develop into something like an asset over time.
Hales is still viewed as a T20 specialist, but I don't see what is wrong with that. It hasn't stopped Chris Gayle making his way across all forms of cricket for the West Indies and Hales is someone with that 'X factor' missing form most of the top order.
England are resolutely sticking with (Ian) Bell at the top, presumably, as they feel he cannot bat down too far given his strike rates. But one would have thought letting Hales bat at the top and play his shots would give England their own (Brendon) McCullum. He could be a huge asset. And it's not as if England has done so brilliantly with the current plans.
Does England need power-hitters, someone like a Kevin Pietersen?
I think there is only one KP. But it's not about hitters so much. It's more about taking the game to the opposition, being fearless, having a crack and being confident.
I don't see those attributes in this England side at the moment. Again, that might come down to role clarity and game plans. Selecting the right people to bat in key positions is another.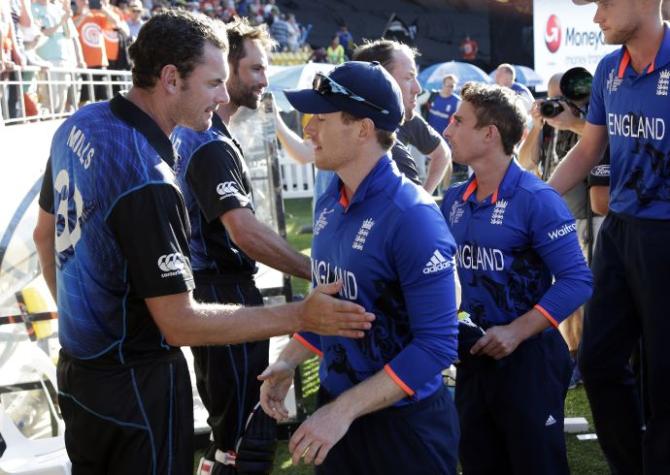 New Zealand's Kyle Mills (left) shakes hands with England's captain Eoin Morgan after their World Cup match at Wellington Stadium. Photograph: Anthony Phelps/Reuters
Was the timing of Morgan's appointment as England skipper too late?
I think Morgan is a good captain and speaks honestly and clearly about the problems facing the England side; he doesn't seem to duck any issues and faces up to the tough questions. Making Morgan captain, or the timing of his appointment, has little to do with the issues.
He was made captain partly on the fact he would be one of the first names on the team sheet. So if he has lost form it affects the team around him.
What's highlighting things is the rest of the side hasn't over performed to make up for it, and, as with (Alastair) Cook, we saw that if the captain starts to fail it can have a detrimental impact on the squad morale and belief.
Morgan will definitely survive it and come out of the other end. I just hope he does it in time before they fly home from the World Cup
What do you think of Jos Butler's promotion?
In my view (James) Taylor should bat at 3. Buttler is fine at 6. I would slip (Ravi) Bopara in there somewhere, too.
As I said, you need to have key batsmen doing a role at different stages of the innings. What messes that up is when a clatter of wickets fall and players are in at times when they have to rebuild rather than strike out for boundaries.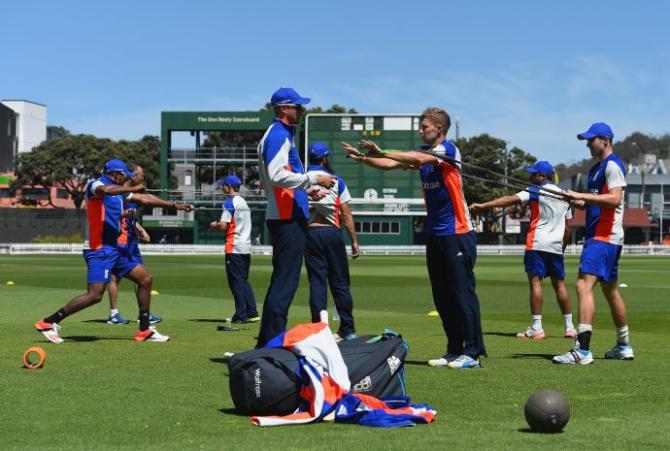 Joe Root of England warms-up whilst talking to team-mate Stuart Broad during an England nets session. Photograph: Shaun Botterill/Getty Images
What can/should England do to turn around their World Cup campaign?
Start winning would be good! They will expect to beat Afghanistan and Bangladesh, giving them at least six points, after the Scotland stroll. The Sri Lanka match (on March 1) is trickier.
The problem England has is that in the last World Cup in Chittagong they lost to Bangladesh and a repeat of that result would be catastrophic.
If they beat Sri Lanka the pressure will be off, I reckon, and they (Bangladesh) are up next. What can still mess things up is the weather and a wash-out along the way against a team they would expect to beat.
I would expect to see Australia, New Zealand, Sri Lanka and England qualify for the quarter-finals, with Bangladesh just missing out again. But the fact we are not certain just shows how vulnerable England is.
I don't see any real progression in English cricket at this World Cup compared to the last World Cup and that concerns me, as England has had four years to prepare for it.