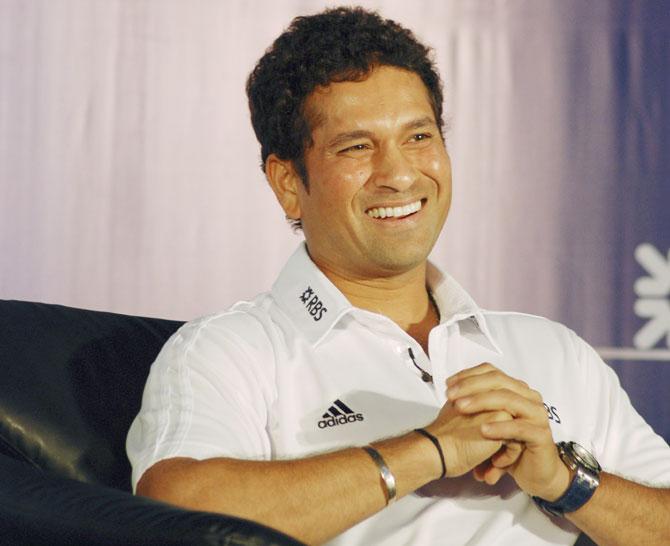 Sachin Tendulkar. Photograph: Getty Images
Sachin Tendulkar has revealed that not getting a long tenure as India's captain was one "big disappointment he found tough to overcome given the number of challenges he endured.
- The World Cup, as never before on Rediff.com
Tendulkar's two tenures as captain of India were not very successful and are considered the rare blips in what was otherwise a glittering 24 years in international cricket. He first took over as skipper in 1996 but by 1997 the team was performing so poorly that he was dropped from the position. And Tendulkar said not getting a long rope as skipper was a huge disappointment for him.
"To me, cricket is team work and not about individuals. There are stages where captain come into play and captain will guide, take important decisions on the field but eventually the batsmen would have to go out and score runs and the bowlers have to land the ball in those areas," Tendulkar said to a gathering at the India Today Conclave.
"I was also dropped from captaincy after only 12-13 months in my first stint. That was a disappointment because you select the captain thinking that he is going to take the team forward and then if that stint is not long enough, then the success rate becomes zero. If you play four matches, you lose two, then you are 50 per cent successful, so on and so forth.
"My tenure was not long enough and it was a big disappointment for me to overcome," he added.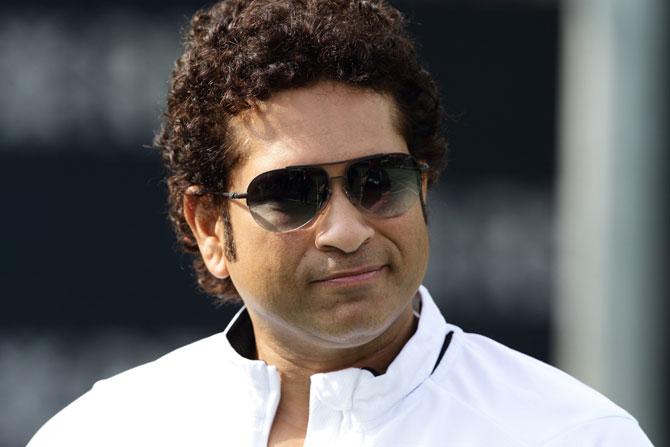 Former India captain Sachin Tendulkar. Photograph: Suhaimi Abdullah/Getty Images
Tendulkar, who bid adieu to the game in 2013, compared his own captaincy stint with India's disastrous Test tours of England and Australia in 2011.
"Cricket to me is a team sport and when I was a captain there were some tough tours. We went to the West Indies and they were a better side. We went to South Africa and Australia, there were number of challenges that I met with.
"One common thing that I experienced during my captaincy period and 2011 when India went to tour England and Australia, we lost Test matches because there were no runs on the board and we gave away far too many runs," the 41-year-old said.
"The same thing happened during tours under my captaincy when there were not many runs on the board and we could not pick those 20 wickets. We lost four Test matches in England and four in Australia," he recalled. With the ICC Cricket World Cup currently underway in Australia and New Zealand, the question of who are favourites to lift the trophy was expected to pop up and Tendulkar had no qualms in saying that he foresees India defending the title.
"The way India is playing, they will win the World Cup. I am so impressed with the team. We bowled well, batted well and (have been) fielding well. There is not a single department which we didn't tick, we have done consistently well," he said.
Sachin Tendulkar. Photograph: Getty Images
First there was this question mark whether we will be able to beat Pakistan, I think we don't give full credit to the team when they do well. I will give full credit to the team. We outclassed South Africa, they didn't play badly but we made them look like that.
"I think when Mohit Sharma got AB de Villiers through a run out that was the turning point. Every individual chipped in, that has helped us through," Tendulkar said. Tendulkar also made his displeasure clear about the recent rule changes in ODIs, like five fielders inside the circle at all times during an innings, and said it has made life difficult for the bowlers, who are already at the receiving end.
"Cricket is changing and the last change has been a little harsh on the bowlers. With five fielders inside the circle, the par score, which was earlier 260 or 270 has become 310 or so. And even if you score 290, commentators say it is chaseable.
"But few years ago that was a big total so I am not so pleased with that change. Because on one hand we want to encourage bowlers and produce quality cricket but on the other hand, by these restriction you are tying their hands and it puts a lot pressure. If you are not a quality bowler, you cannot survive with these rules," he opined.