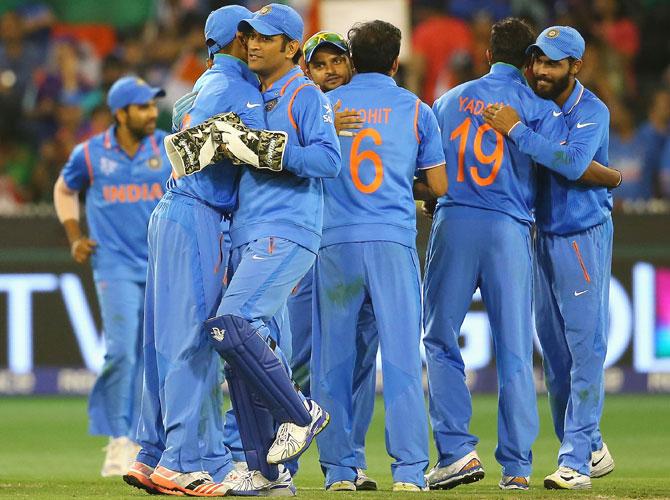 Indian players celebrate winning the World Cup quarter-final at Melbourne Cricket Ground. Photograph: Quinn Rooney/Getty Images
Hailing India's transformation from a struggling side to favourites to defend the World Cup title, captain Mahendra Singh Dhoni has attributed the brilliant seven-match unbeaten run to team effort and fixing "small things right".
"It has been good, we can't shy away from the fact that we are playing some good cricket. But at the same time a month back we were struggling. A lot of credit needs to go to the boys and the support staff," Dhoni said after India thrashed Bangladesh by 109 runs to enter the semi-finals.
Dhoni could not pinpoint any particular reason for the sudden transformation from a struggling side last month to a firm unit, which is on track to the defend the title.
"It's difficult to pinpoint how it changed. Not many players form our side are in the top run-scorers list, but the batting has performed. Bowling team out was an area we wanted to improve.
"Even in New Zealand and South Africa (before the World Cup), we were struggling with that, but now we are doing much better," said Dhoni.
- The Cricket World Cup like never before, only on Rediff.com
- VOTE: Who will win the 2015 World Cup?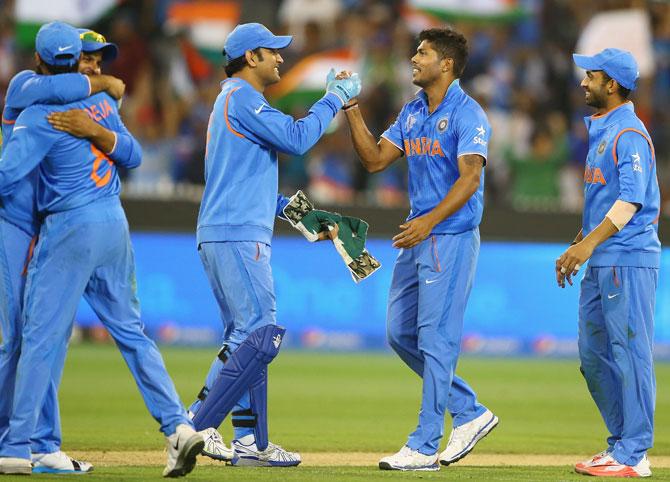 Players from India celebrate after defeating Bangladesh at the World Cup match at Melbourne Cricket Ground. Photograph: Robert Cianflone/Getty Images
Just like a batsman out of form gets back into form, cricket has a lot of abstracts, but we need to do a lot of the small things right. Put in the intensity and hope it all turns out," he added.
Asked about the brilliant diving effort to his left to dismiss Soumya Sarkar off Mohammed Shami in the 21st over, Dhoni joked it was a "fluke" before describing it as a satisfying moment.
"Fluke happens," Dhoni said with a smile.
"It was an important catch, a decent partnership was going and I just dived. I thought it was a bit away from me, I dived and the ball came and sat in my hands. It was a satisfying moment," said the captain.