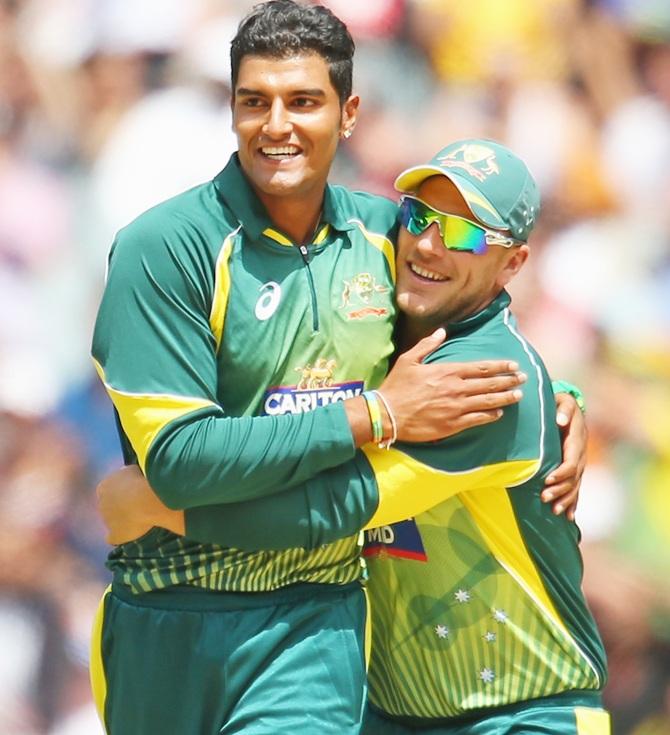 Gurinder Singh Sandhu of Australia celebrates with Aaron Finch. Photograph: Scott Barbour/Getty Images
Indian-origin pacer Gurinder Singh Sandhu narrowly missed out on a spot in Australia's World Cup squad. But Sandhu is nonetheless excited at the prospect of playing alongside Zaheer Khan in the upcoming Indian Premier League and 'learn the art of reverse swing' from the wily seamer.
- The World Cup, as never before on Rediff.com
- VOTE: Who will win the 2015 World Cup?
Sandhu, who has played two ODIs for Australia in January this year, was picked by Delhi Daredevils after some intense bidding at Rs 1.7 crore ($ 283,000) during the auctions in Bangalore on February 16.
"For me the greatest incentive about playing for the Delhi Daredevils is not just about the money I will make but a chance to share the dressing rooms with players like Zaheer Khan, Angelo Mathews and Yuvraj Singh. Especially, it can't get better that I will be training and playing with a bowler of Zaheer's calibre," the 21-year-old Sandhu, who recently made his debut for Australia in the ODI tri-series versus India, said.
Asked how exactly he plans to pick Zaheer's brains, Sandhu said, "Obviously, he has been a great exponent of reverse swing. Hopefully, I will get to learn the art of reversing from him as it will be a good two months that we will be there for the Daredevils.
"Also I would want to know about what kind of homework does he do about opposition batsmen. People say that he is a master in reading a batsman's mind and it won't be a bad idea to get to peek into his brain," the 6 feet 4 inch tall Sydney-based Sandhu said.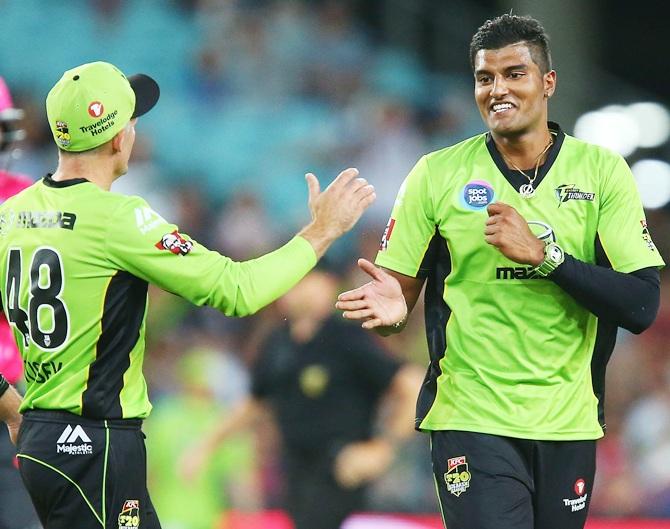 Gurinder Sandhu of the Thunder celebrates with team mate Mike Hussey. Photograph: Brendon Thorne/Getty Images
On the day of the IPL auctions, Sandhu didn't get to watch the live streaming as he was playing for New South Wales in a Sheffield Shield match against Victoria.
"It was at the end of the day that I was told by my mates that I have bagged a contract with the Delhi Daredevils. My folks are also excited as it's a great opportunity for a young player like me.
"I got congratulatory messages from my Australian teammates Josh Hazlewood and Mitchell Starc. They were very happy for me," added Sandhu, whose three international wickets are Eoin Morgan, Ian Bell and Ajinkya Rahane.
It's not only Zaheer for whom Sandhu has prepared his questionnaire as he have a few questions for Yuvraj also.
"If I get a chance to ask Yuvraj one question, I would like to ask whether he has any particular shot in mind for any particular bowler, when he comes into bat," said Sandhu.
For someone, who gets a lot of disconcerting bounce due to his height and high-arm action, Sandhu is working on adding a couple of yards to his mid-130 kmph speed.
"My stock delivery has been the outswinger and my focus has always been on hitting the right length. I can also bowl the incoming delivery. I am working hard on cranking up my pace by another 5 kmph, which should probably help me hit the 140 kmph mark. Glenn McGrath and Craig Mcdermott (Australia's bowling coach) have helped a lot in understanding the nuances of fast bowling," said Sandhu.
Asked about his ODI debut for Australia and one could hear the delight in Sandhu's voice.
"It was a moment, I will treasure all my life. Wearing the Australian ODI cap is something I had dreamt as a child. Actually, as Rod Marsh (selector) handed over the cap, I was in a trance. I know, he said some good things but I was in a different world. It happens, when a dream that you cherish so much comes true," he said.
"I have been to India before at the MRF Pace Academy in Chennai after Glenn McGrath took charge. I have never played at the Feroz Shah Kotla but looking forward towards the experience," said Sandhu, whose father is a cab driver in Sydney.
Sandhu received an email from chief coach Gary Kirsten after the auctions were over.
"Although I haven't spoken formally to Gary, I did get an email from him after the auctions. He welcomed me to the Daredevils family and said that he is looking forward towards meeting me," Sandhu concluded.