'India have got a great side and have great momentum going'
'Kohli's performance could be the game-changer as he is a big occasion player'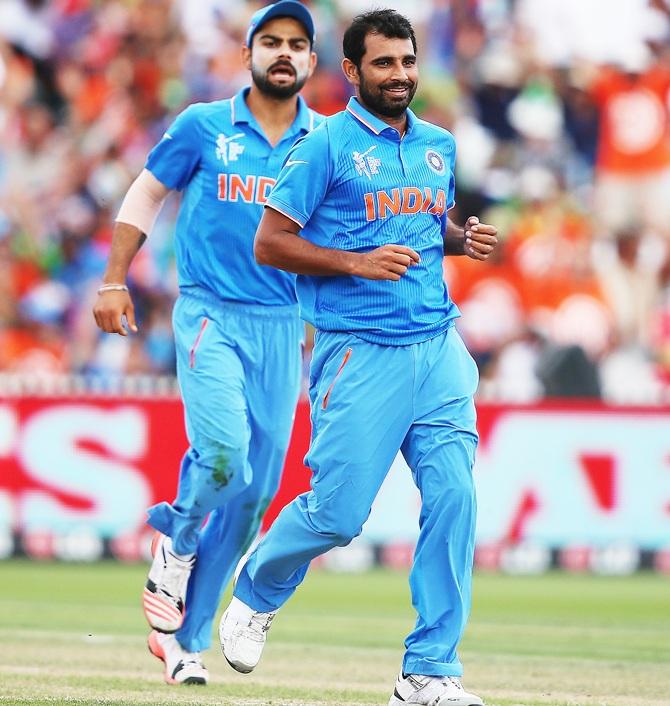 Mohammed Shami of India celebrates with Virat Kohli. Photograph: Hannah Peters/Getty Images
Former Australia fast bowler Brett Lee on Tuesday termed the current Indian pace attack as the 'fastest ever' to have emerged from the cricket-crazy nation, with Mohammed Shami being the 'most impressive' among the trio in the World Cup.
The three-pronged pace attack comprising Umesh Yadav and Mohit Sharma, besides Shami, has so far accounted for 42 out of the 70 wickets for India in the ongoing mega event.
Asked if the trio of Shami, Yadav and Sharma are the fastest ever bowling unit to have represented India, Lee said, "I think it will definitely be up there, yes. When they are on song and bowling fast, then they are definitely up there as I mentioned. They are in the 145kmph barrier.
"If they land in the right spot, then they have a really good chance to get wickets and win."
The fastest bowler during his time in international cricket, the 38-year-old was all praise for Shami, with whom he had spent a couple seasons in IPL playing for the Kolkata Knight Riders.
"Mohammad Shami has got the most number of wickets in the tournament and he is right up there. He has been really impressive. I have actually played a fair bit of cricket with Shami over the last couple of years and he is a wonderful guy. He comes in hard.
"Umesh Yadav is another bowler, who bowls at a good pace. They have got a three-prong pace attack that can all bowl quick up towards a 145kmph mark," the speed merchant said in appreciation.
Although his heart is with Australia, Lee felt India do have a good chance to win the semi-finals against the hosts.
"I think India do have a very good chance to win the game. I will obviously always back Australia being an Australian player. But having said that, India have got a great side and have great momentum going. So as I said it is going to be a tough game and I am looking forward to Thursday."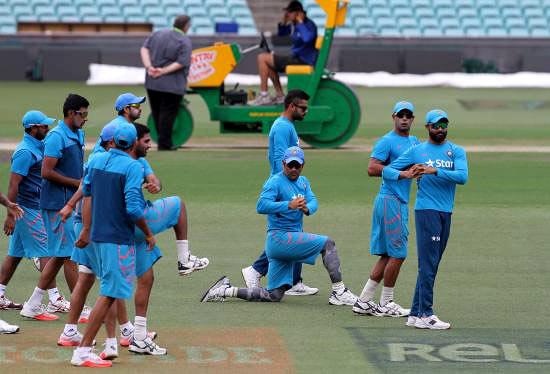 India's players warm up during a practice session in Sydney. Photograph: Solaris Images
Like many other former stars, Lee too is not surprised at India's remarkable turnaround.
Lee said that India's slow bowlers might come in handy if the reports of the SCG track being slow in nature turns out to be true.
"I haven't seen the pitch, but from all the reports that I am reading, I feel it will be a slow wicket. We saw it was very slow in the last game that South Africa won. It could be a bit low and slow and probably the slower bowlers will come into play which might just favour India," observed Lee.
Lee agreed that Virat Kohli's performance could be the game-changer as he is a 'big occasion player'.
Can India expect some 'chin music' coming their way, Lee said, "If the wicket is conducive to fast bowling then yes. They obviously have got three bowlers that can bowl some chin music."
About the bowling combination, Lee reckoned that Pat Cummins might just have a good chance of coming in the side even though Josh Hazlewood has done his case no harm with a match-winning performance against Pakistan in the quarter-finals.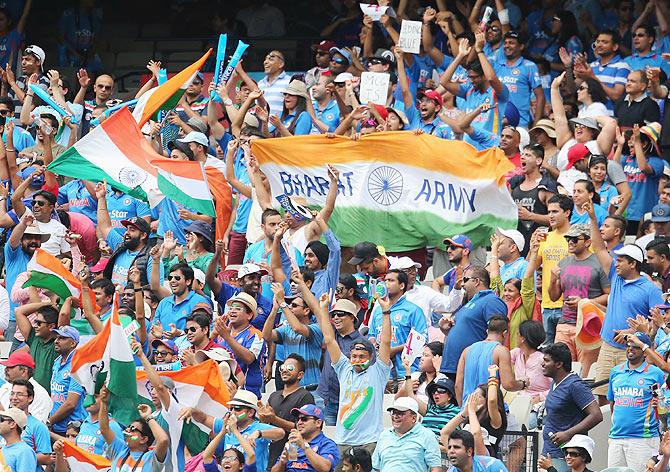 Around 70 per cent of the SCG turnout is supposed to be Indians and Lee felt the atmosphere will be electric.
"It is going to be a tremendous atmosphere. With 50-odd thousand people in the Sydney Cricket Ground, fully packed, we know how passionate the Indian fans are. They love to scream and be nice and loud. So it is going to be exciting. I think it just comes down to obviously the toss and who brings their best game on game-day going forward."
So how much marks will he give both India and Australia, and pat came the reply, "Well, I give both of them 100/100."
Read More:
Prem Panicker: India vs Australia semi-final really too close to call!
Clarke unhappy with Sydney strip for semi-final vs India
How Raina is preparing for the massive Australian test in semis
The doosra: Dhawan can help Team India reach the Shikhar
Will 'big' player Kohli stand up against Aussies in semis?
Pitch perfect? Team India coach, Atkinson inspect SCG strip
How is Raina preparing for the massive Aus test in semis?
Are you watching the World Cup? Please share your videos, photos and comments here