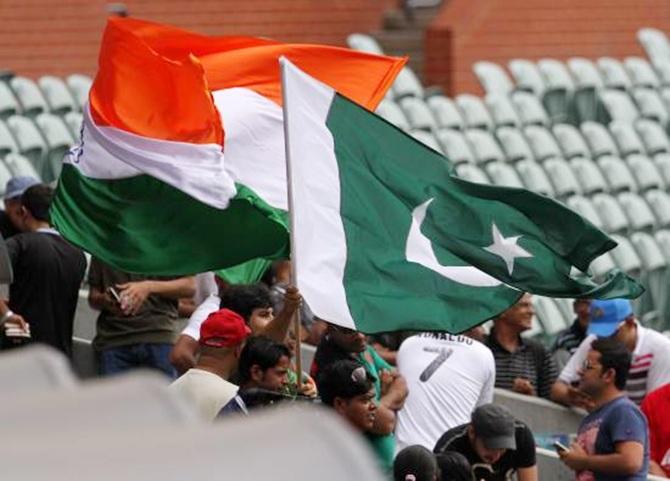 Indian and Pakistan fans during the Indian practice session at the Adelaide Oval stadium. Photograph: Vipin Pawar/Solaris Images
The raucous chants Jeetega bhai Jeeetega Hindustan Jeetega was met with the counter Jeetega bhai jeetega Pakistan Jeetega.
Catch the World Cup action here
Don't miss! The Rediff Cricket Show
It was that kind of day at the Adelaide Oval, a day before the India v Pakistan clash. India practised in the morning session, whereas the arch rivals, Pakistan trained in the afternoon.
Pakistan Chief Selector Moin Khan believed that history has to be rewritten somewhere and Sunday could well be the day when the trend in World Cup changes. Moin is banking on Mohammad Irfan to create the 'big' difference'.
The other man that Moin is looking out for is Younis Khan.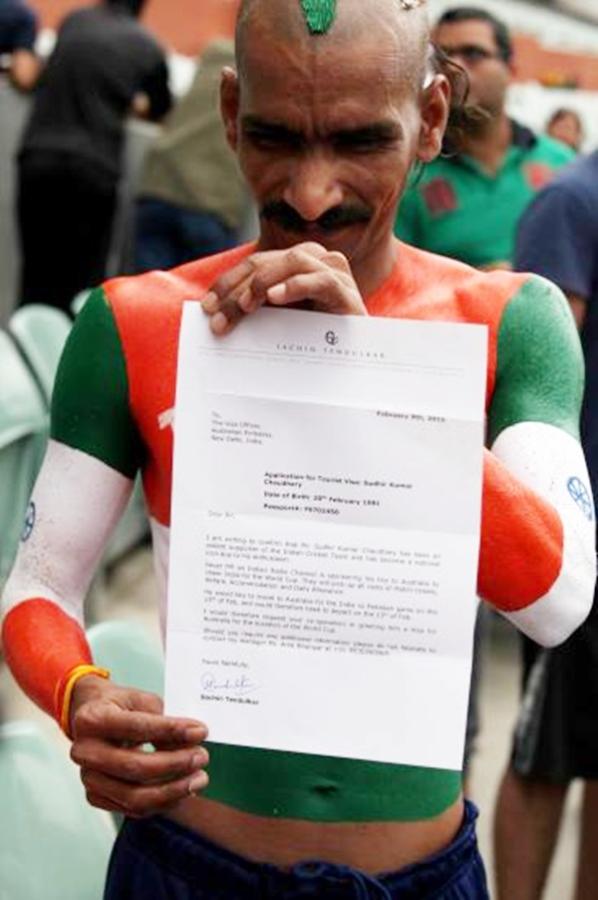 Indian fan Sudhir Kumar Choudhary shows the letter granted to him by former Indian player Sachin Tendulkar. Photograph: Vipin Pawar/Solaris Images
India's mascot or the man who travels everywhere for them, Sudhir Kumar Choudhary, of the Sachin Tendulkar fandom, is in Australia as well. His visa was processed after Tendulkar wrote a request to the Australian High Commission.
The sea of supporters also gathered and managed to crowd the historic Don Bradman Museum, named after the legendary batsman.
Indian player Shikhar Dhawan during the practice session at the St Peter college in Adelaide. Photograph: Vipin Pawar/Solaris Images
The pre-match press conferences proceeded on expected lines with both sides trying to play down the importance of the match.
India's opening batsman Shikhar Dhawan, meanwhile, has pleaded his fans to be patient.

"It is a long tournament and we can pick up our form. Even with my own form I have faith in myself because I have done well at the ICC Champions Trophy in 2013. I scored big runs there when the ball was moving a bit. I am backing myself to do something similar this time," said Dhawan.

Keen to assuage the fans, Dhawan reiterated that he had no technical problems and he has worked on ironing out his mistakes.

India's Possible XI: Shikhar Dhawan, Rohit Sharma, Virat Kohli, Ajinkya Rahane, Suresh Raina, MS Dhoni, Ajay Jadeja, Ravichandran Ashwin, Mohammed Shami, Umesh Yadav, Mohit Sharma.

Apostrophe Content and Entertainment