All-rounder Stuart Binny in reckoning to make World Cup debut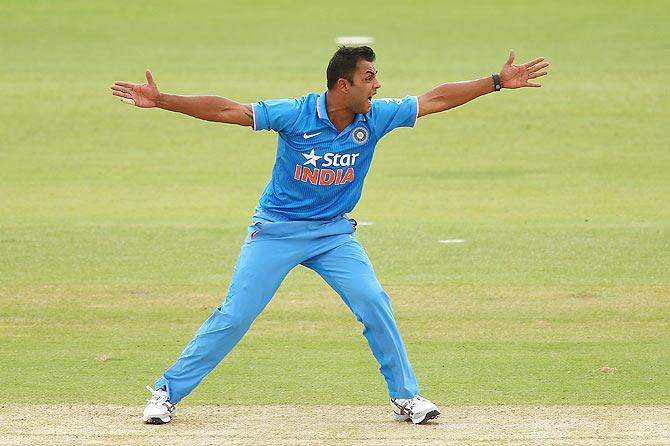 India pacer Stuart Binny appeals for a wicket. Photograph: Paul Kane/Getty Images
India pacer Mohammed Shami has been ruled out of Saturday's World Cup match against the United Arab Emirates in Perth following a knee injury, according to a statement from the ICC on Friday.
"Mohammed Shami got (a) mild left knee problem and had ultrasound guided injection yesterday," read a statement on the ICC's World Cup website.
"For his long-term management perspective he won't be available for Saturday's match the against UAE."
VOTE: Who will win the 2015 World Cup?
The 24-year-old Shami was seen going to a medical facility in Perth to undergo a precautionary X-Ray. All-rounder Binny will come in for him.
Shami's injury, it is learned, is not serious and would only, if at all, keep the right-arm medium pacer away from action for one match.
The team's think-tank does not want to take any chances with fitness concerns and, hence, Shami is being looked after very carefully.
The team is already without lead paceman Ishant Sharma, who was ruled out before the tournament started.
In another development, India's team manager Arshad Ayub will be returning to India.
A former India Test off-spinner, Ayub, who is also president of the Hyderabad Cricket Association, is returning home to cast his vote in the Board of Control for Cricket in India's elections at its Annual General Meeting. Attending the AGM will enable Ayub qualify to contest for any BCCI post in future.
India's fielding coach injects strong work ethic
India captain Mahendra Singh Dhoni and coach Duncan Fletcher during a training session. Photograph: Vipin Pawar/Solaris Images
Meanwhile, fielding has emerged as the new focal point of Team India's training sessions. The run-outs of AB de Villiers and David Miller at the hands of Umesh Yadav and Mohit Sharma has reignited interest in the squad with regards to fielding.
Many felt the de Villiers run-out was the turning point of the match earlier this week. It is all because of a strong work ethic injected by fielding coach R Sridhar.
Particular attention is being paid to sliding at the boundary line, footwork drill and diving to stop the ball. A new drill is being worked out to see how to deal with catches when more than one fielder can pouch the ball.
To avoid confusion about who should go for a catch when more than one fielder is involved, the one running in will be allowed to do the honours. The renewed interest in India's fielding drills can be attributed to de Villiers and his run-out.
Akram impressed by India's bowling stock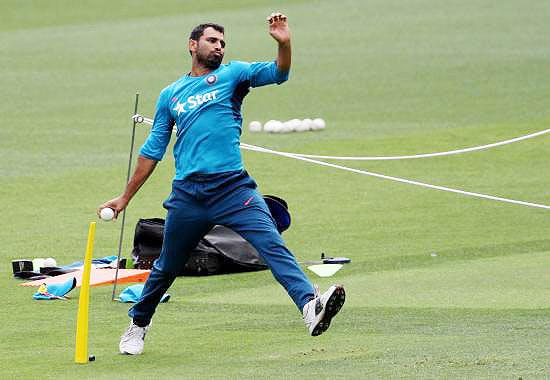 India's Mohammed Shami bowls at a nets session. Photograph: Vipin Pawar/Solaris Images
Former Pakistan captain and bowling great Wasim Akram is happy to see variety in India's bowling attack, but is impressed more seeing his former ward at the Kolkata Knight Riders, Mohammed Shami, making rapid strides in the World Cup.
Akram was one of the first to spot Shami's talent and recommended everyone around to keep an eye on the right-arm fast bowler.
Now, with Shami having torn into Pakistan and South Africa's batting line-ups, Akram is a happy man.
"I had a long chat with Shami during the Test series. I said you are a fast bowler, behave line one. Everything about you... the way you walk, train etc should convey that you are a quick bowler," said Akram.
The whole focus of the discussion between the pupil and teacher was on the concept of fast bowling.
"I told him by all means pitch it in the right areas, but never compromise on speed. That is the essence of seam bowling. Imran bhai always used to tell me, 'if you are in good rhythm you will be a happy man and you will love to keep running'.
"Rhythm is the most important thing. If your rhythm is not right, then everything goes haywire," added Akram.
The former Pakistan captain also reiterated that more can be done with the ball because two new balls are in operation in the matches.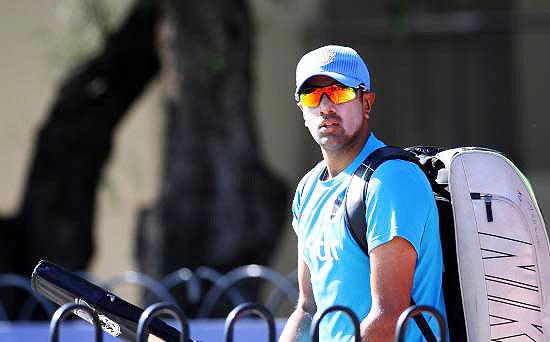 India spinner Ravichandran Ashwin during a practice session. Photograph: Vipin Pawar/Solaris Images
According to Akram, spinner Ravichandran Ashwin's form has changed India's fortunes.
"Dhoni has a lot of confidence in Ashwin. He is also using him well. There is variety in the bowling. Ashwin's bowling is a big plus point. Then there is Ravindra Jadeja, too, who is bowling well. This 3-2 combination is a good one for India," opined Akram.
The legendary former paceman was particularly impressed with the way Ashwin has intelligently used his line to frustrate opposition batsmen.
"He has variety. Then he tries to cramp batsmen for room. Then he throws in his slower delivery. It has all been fantastic," added Akram.
Another player to impress Akram is paceman Mohit Sharma. He was thrilled to see the right-arm seam bowler use the back of the arm delivery to defeat batsmen.
"India also have Umesh Yadav, who swings it at pace which is a big asset. The Indian bowling revolves around Shami and Ashwin. It has been a big turnaround since the Test and tri-series. Now even if the batsmen score 280-290, the bowlers can definitely restrict them. The bowlers have the confidence now," reckoned Akram.
Long breaks between India's matches can be a double-edged sword, but Akram looked at it as a positive.
"The victory over South Africa was the hallmark of a good side. India is a happy bunch, they can wisely use the seven interim days to rest and enjoy. They are therefore bound to do well in the rest of the tournament," concluded Akram.
Apostrophe Content and Entertainment