World champions India will clash with hosts Australia in their first warm-up match of the ICC World Cup 2015 in Adelaide on February 8 before taking on minnows Afghanistan at the same venue two days later.
- Complete schedule: ICC Cricket World Cup 2015
The International Cricket Council on Monday announced the complete schedule of the ICC World Cup 2015, including match start times and warm-up matches.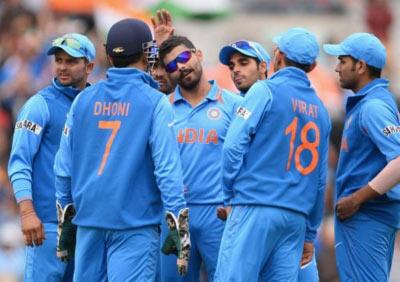 A total of 14 non-ODI warm-up matches will be played across Adelaide, Christchurch, Melbourne and Sydney from February 8 to 13.
Four matches will be played on the second day, with Christchurch hosting South Africa and Sri Lanka at Hagley Oval, and co-host New Zealand and Zimbabwe going head to head at Bert Sutcliffe Oval.
In Sydney, England will face West Indies at the Sydney Cricket Ground, and Blacktown will host the Asian clash between Pakistan and Bangladesh.
Three qualifiers will be in action on Tuesday, February 10, day three of the warm-up matches.
European rivals Ireland and Scotland will lock horns at Blacktown in Sydney while neighbours India and Afghanistan will prepare for the tournament proper at the Adelaide Oval.
Eight sides will feature on Wednesday, February 11.
New Zealand will meet South Africa at Hagley Oval, and Sri Lanka will take on Zimbabwe at Bert Sutcliffe Oval (both matches in Christchurch), 1992 World Cup finalists England and Pakistan will test each other at the Sydney Cricket Ground and Australia will play the United Arab Emirates (UAE) at the Melbourne Cricket Ground.
On Thursday, February 12, the West Indies will play Scotland at the Sydney Cricket Ground and Ireland will play Bangladesh in Blacktown, while Friday, February 13, sees the UAE play Afghanistan at Melbourne's Junction Oval in the final warm-up game.
The ICC pointed out that the warm-up matches are not official ODIs and will operate under slightly different rules with up to 15 players able to be used throughout the game with no more than 11 players may field at any one time.
ICC World Cup 2015 Warm-up matches
Date
Match
Venue
Time

Feb 8

India v Australia

Adelaide

0900 IST

Feb 9

South Africa v Sri Lanka

Christchurch

0330 IST

Feb 9

New Zealand v Zimbabwe

Christchurch

0330 IST

Feb 9

England v West Indies

Sydney

0900 IST

Feb 9

Pakistan v Bangladesh

Sydney

0900 IST

Feb 10

Ireland v Scotland

Sydney

0900 IST

Feb 10

India v Afghanistan

Adelaide

0900 IST

Feb 11

New Zealand v South Africa

Christchurch

0330 IST

Feb 11

Sri Lanka v Zimbabwe

Christchurch

0900 IST

Feb 11

Australia v UAE

Melbourne

0900 IST

Feb 11

England v Pakistan

Sydney

0900 IST

Feb 12

West Indies v Scotland

Sydney

0430 IST

Feb 12

Ireland v Bangladesh

Sydney

0430 IST

Feb 13

Afghanistan v UAE

Melbourne

0900 IST