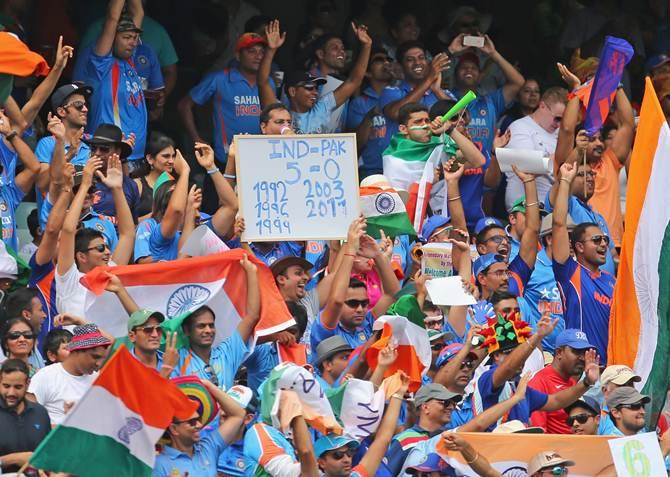 Indian fans in the stands at the Adelaide Oval enjoy the action during the World Cup match between India and Pakistan. Photograph: Scott Barbour/Getty Images
The Adelaide Oval was 'under virtual siege' as Indian fans took complete control of the city, outnumbering their Pakistani counterparts in Sunday's marquee clash between the arch-rivals in the ICC World Cup.
While the number of Indian fans descending on the coastal town swelled close to 25,000, the locals made it increase to 30,000 at the 53,500 capacity stadium.
The green jerseys of Pakistani fans looked like dots in an 'ocean of blue', with the 'Sir Donald Bradman Pavilion' stand completely dominated by the Indians.
It was party time for all Indian fans as they gathered at famous Hindley Street in heart of the city on Saturday, the eve of the high-voltage clash. The local 'Fringe Festival' and colourful Indians made it an evening to remember as the crowd celebrated late into the night.
It was no different today morning as one entered the 'War Memorial Drive' in-front of the Adelaide Oval. You could mistake it for Eden Gardens or the Wankhede stadium as Indian fans sang the hit Bollywood song Dil diya hain jaan bhi denge aye watan tere liye.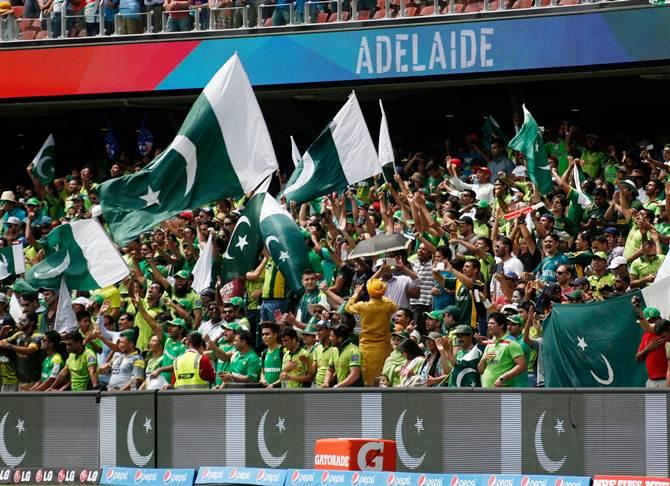 Pakistan fans in the stands at the Adelaide Oval. Photograph: David Gray/Reuters
From popular songs to India's sports anthem Chak De India blared out of loudspeakers everywhere.
But the heartening fact was the bonhomie between the fans as they greeted each other with open arms. While the decibel level of Vande Mataram certainly overpowered the Pakistan Zindabad chants, fans did enjoy each others' company gleefully, clicking away selfies.
- World Cup: Complete Coverage
While the Australian locals, in general, didn't warm-up to the occasion, the media did play its part as local tabloid Sunday Mail had Swagatam printed in Hindi on the front page and Khushamadi printed in Urdu on the back page.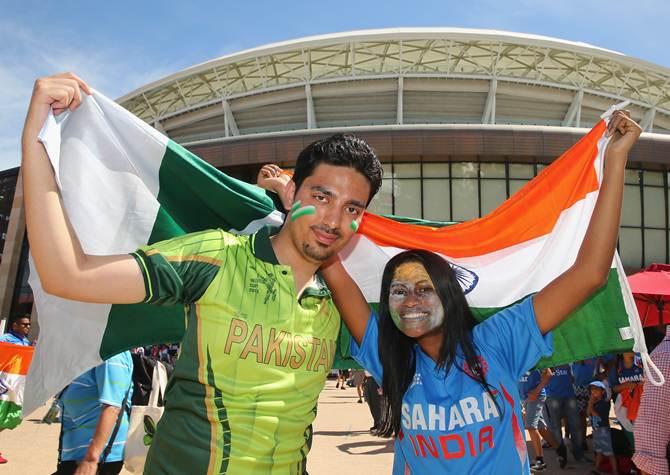 A Pakistan and Indian fan before the start of the match. Photograph: Scott Barbour/Getty Images
If there were 22 out there in the middle battling for supremacy, there were at least five in the commentator's box which could easily be termed as a 'Reserve World XI'.
There was the class of Sunil Gavaskar, complemented by the dogged Geoffrey Boycott, the elegant Sourav Ganguly in the middle-order. There was 'Sultan of Swing' Wasim Akram and speed merchant Brett Lee, not to forget the ever-colourful Shane Warne.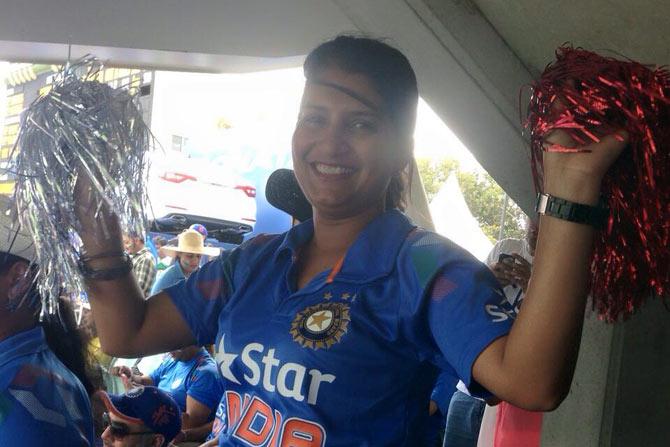 Reader Sharon D'Souza sent us this picture from the India - Pakistan match at the Adelaide Oval.
Boycott for a fact wasn't exactly amused to find naans and dal makhni being served for lunch.
"Looks like it's only for the Indians," Boycott said as he settled for some roasted lamb alongside Gavaskar.