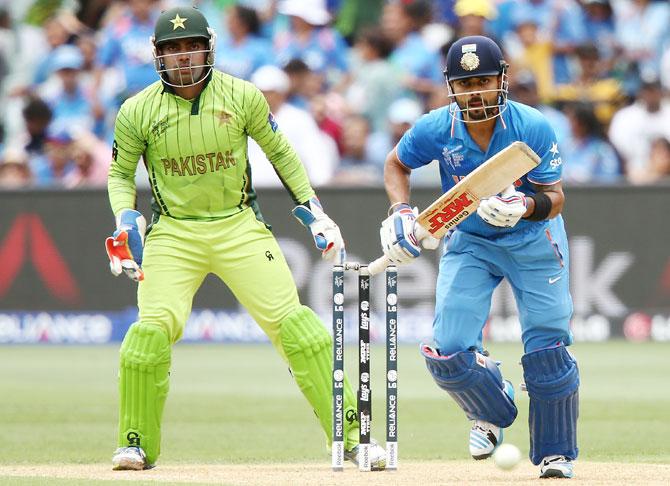 Virat Kohli of India bats in front of Umar Akmal of Pakistan during their ICC World Cup match at Adelaide Oval. Photograph: Getty Images
Pakistan batsman Umar Akmal has said that it was unfair to compare him with India's Virat Kohli as both batted at different positions.
"It is always my effort to deliver 100 per cent for the team and Pakistan but I know people compare me to Virat Kohli which is not right because he bats higher up the order," Akmal told Pakistani journalists in Adelaide on Thursday.
"I should not be compared to Kohli because if he came into bat at six or seven and performed than I would understand and accept the comparisons. If I get a chance to bat higher up I believe I can perform better than what I do and get big innings," he said.
He pointed out that one must keep in mind that he mostly comes to bat at number five, six or seven. Asked if he had discussed his desire to bat at number three or four with the team management, Akmal shrugged off the question simply saying that he could talk to them if they watched domestic cricket back home.
"They have not watched me bat at number three in domestic first class cricket, that is where I bat most of the time. I can only say they will soon trust me and allow me to bat higher up the order where I feel more comfortable," he said.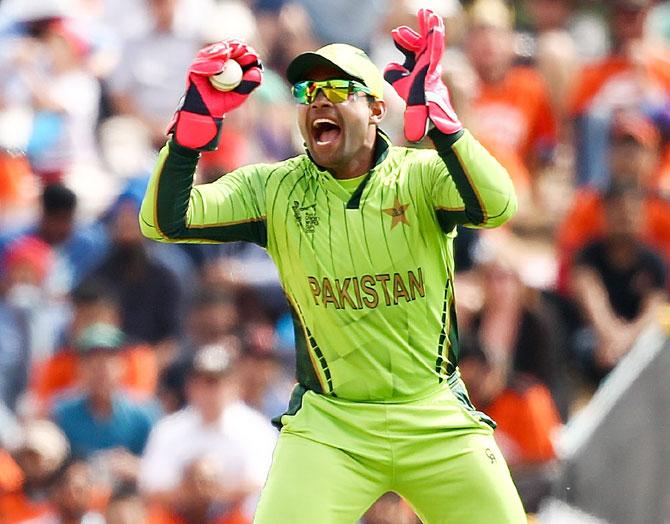 Umar Akmal of Pakistan appeals during the ICC World Cup match against West Indies at Hagley Oval in Christchurch. Photograph: Martin Hunter/Getty Images
But Akmal made it clear that whatever position he was sent into bat, he tried his best and tried to get big scores. He said he was not complaining because he was ready to deliver 100 per cent at any position.
"Even now, I am working hard with my coaches to get this knack of converting good starts into big scores. I know I can do that but sometimes the situations I come into bat I don't have time to play long innings," said Akmal. Asked how difficult it was for him to do wicket-keeping and also bat in limited overs cricket, Akmal said it was difficult to perform both roles satisfactorily.
"I never kept in first class cricket. I used to bowl a bit but I made my debut as a batsman. So at times it is difficult to deal with both roles but I do it because of team requirement." He said he was disappointed himself that he had not won a single man-of-the-match award in the World Cup so far.
"I am happy for Ahmed Shehzad and Sarfraz Ahmed, they won these awards but I am also looking to deliver man of the match material performances in the remaining matches of World Cup. Because I want people to remember me for my performances in such a big tournament," he said.