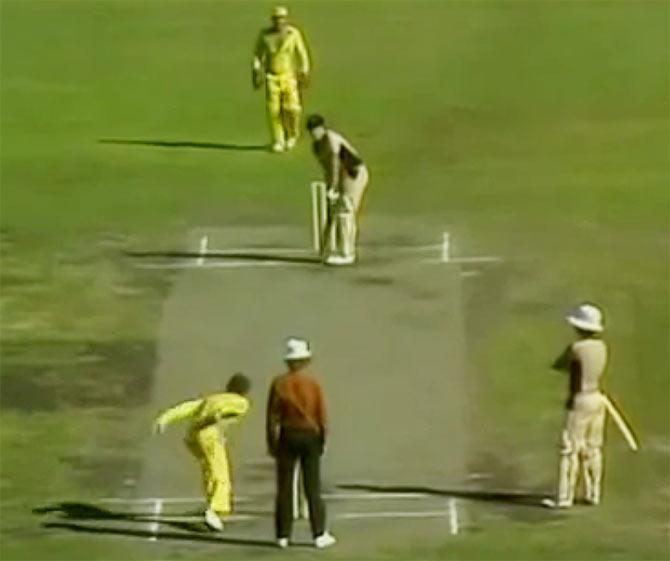 A video grab of Trevor Chappell bowling underarm.
New Zealand's cricketing Gallipoli came on February 1, 1981 when Australia captain Greg Chappell instructed his brother Trevor to bowl the last ball of a One-day match at the Melbourne Cricket Ground along the ground.
New Zealand, with an All Black at the crease in the form of Brian McKechnie, needed a six to tie a World Series one-day final match.
McKechnie blocked the ball and threw his bat away in disgust. His team had lost but the outcry was such that the defeat has resonated in all subsequent games between the two nations, including Sunday's World Cup at the same venue.
"It was the making of New Zealand cricket," recalled captain Geoff Howarth.
"From that moment, interest in the game, and our team, multiplied many times over.
"You could not have brought the publicity cricket got from that game. We should be thankful for what the Australians did."
- Don't miss our 2015 World Cup coverage
Howarth, who played domestic cricket in England where underarm bowling had been banned, raced on to the field in protest only to find there was no similar rule in World Series cricket.
Australian Prime Minister Malcolm Fraser called on Chappell to apologise while his New Zealand counterpart Robert Muldoon quipped he thought it was appropriate the Australian team was dressed in yellow.
"It's the most disgusting episode in the history of cricket," he added.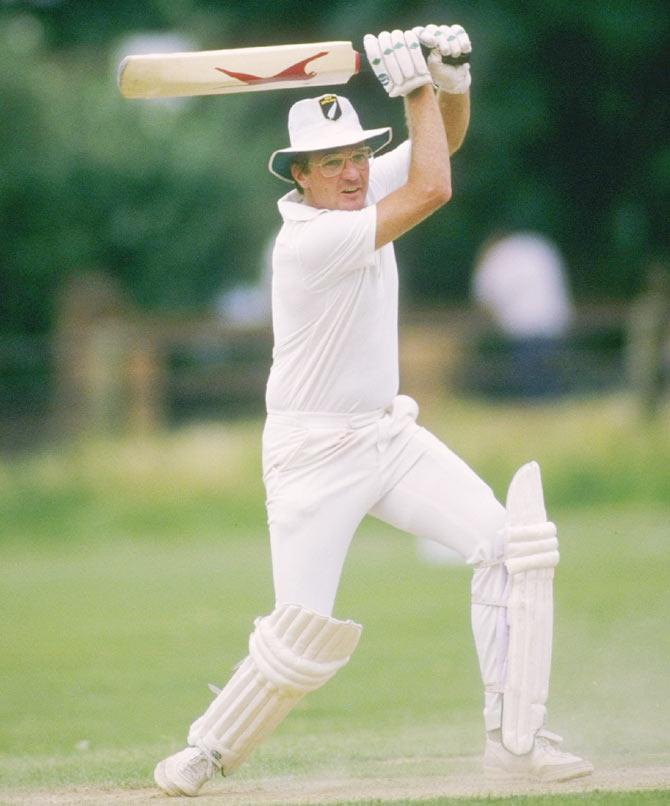 Geoff Howarth of New Zealand bats. Photograph: Mike Powell/Allsport/Getty Images
Seasoned New Zealand cricket followers found a certain irony in the uproar created in Australia.
After an Australian team had humiliated New Zealand on a wet pitch in Wellington in 1946, Australia had simply ignored their trans-Tasman neighbours, sending second string sides across but not the full national side until 1974.
New Zealand responded by beating Australia at Lancaster Park in Christchurch through centuries in both innings by Glenn Turner.
Four years later they defeated England for the first time at the Basin Reserve in Wellington and the foundations of the great side of the 1980s, who won home and away series against both nations and were undefeated in a series at home for the decade had been laid.
"When I first came into the NZ team in 1973 a draw was as good as a win," said Richard Hadlee, the finest cricketer produced by New Zealand and the first man to take 400 Test wickets.
"So we played defensive type cricket to hang in there five days, to get a draw if you were good enough, then we might sneak a win that would take the team as far as we could."
The New Zealand mindset changed under Howarth who took over in 1980.
He proved an innovative and aggressive captain, at his best in the sound and fury of a one-day match which reached a peak of popularity when players such as Lance Cairns became folk heroes in a country where the All Blacks were kings.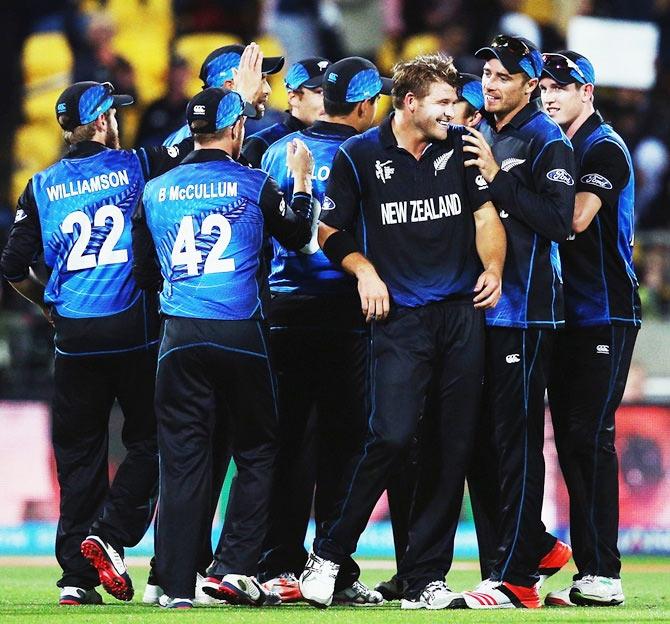 New Zealand players celebrate a wicket. Photograph: Hannah Peters/Getty Images
In an unforgettable assault on the Australian bowlers at the Melbourne Cricket Ground, albeit in another lost cause, Cairns hit six sixes in 10 balls, including a one-handed shot off Dennis Lillee over backward square leg.
"It was a magical time," Cairns said on the morning of New Zealand's winning semi-final against South Africa at Eden Park last Tuesday.
"We would walk on to a plane and the whole plane would be clapping us."
- PHOTOS: Elliott's six powers Kiwis to maiden World Cup final
Martin Crowe took New Zealand to the brink of a World Cup final in 1992 with his brilliant batting and a stream of innovative tactics such as opening the bowling with off-spinner Dipak Patel and the batting with the big-hitting Mark Greatbatch.
But neither he nor any other previous captain in six attempts had led a team to a final until Brendon McCullum, a man whose team Hadlee regards as the natural heirs to the 80s' side.
"All these things are progressions," he said.
"It's great for the game, it's what our game needs. We're attacking and playing an attacking, bright and entertaining style of cricket that is good for television and the fans that come along."
Also Read