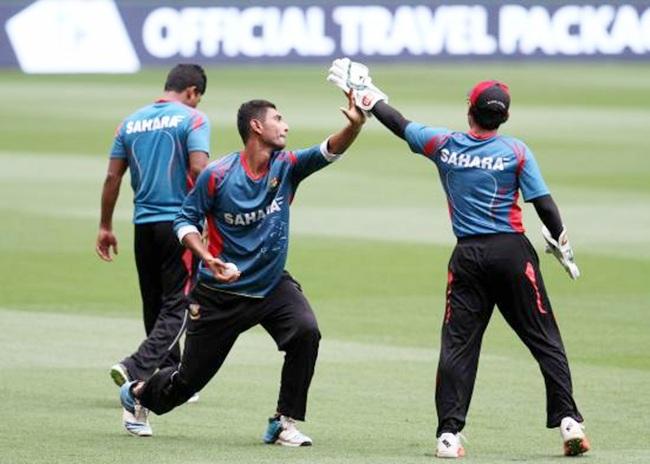 Bangladesh players during practice session at the Melbourne Cricket Stadium. Photograph: Vipin Pawar/Solaris Images
Former Indian captain Sourav Ganguly has complimented Bangladesh for playing good cricket, but has expressed serious doubts about whether they can beat the Men in Blue in their World Cup quarter-final at the Melbourne Cricket Ground on Thursday.
India expected to beat Bangladesh, but may not be easy: Gavaskar
World Cup: Wear Blue for Team India!
"In my view India will have a thumping win," declared Ganguly. "Bowling and batting has already succeeded for India. Above all the, advantage for India is that they have played a lot on this ground (MCG). India should bat first and pile up a big total, to create pressure and then Bangladesh will face difficulties."
In Melbourne on Wednesday, a number of Bangladeshi mediapersons sought his 'blessings' for the Bangladesh team. "Against India, I cannot give them blessings, but if they were up against any other opponents, they would have my blessings," remarked Ganguly.
The former left-handed Indian ODI opener, lauded Bangladesh's bowling stocks.
"The bowling looks good and that is why they are playing good cricket. Mashrafe, Taskin and Rubel form a good pace attack, and Shakib, Nasir and Mahmudullah are good prospects for spinners," opined Ganguly.
But Ganguly had doubts over Bangladesh's ability to lift themselves in front of a big crowd at the Melbourne Cricket Ground.
For Ganguly, MCG holds a special place because he played his 100th Test in 2007. "Lord's is second home after Eden Gardens. I had always dreamt of playing 100 Test matches, that's the reason Melbourne has a special place for me," added Ganguly.
In his mind Ganguly is clear that India will play against Australia in the Sydney semi-final, whereas New Zealand and South Africa will play in the other semi-final at Auckland.
Despite India's poor show against Australia this season in all formats of the game, Ganguly is hopeful of pulling it off against the home team.
"That is history, this is now is a fresh start. The way India is playing at the moment, they are unstoppable. India has organsied the team very well," concluded Ganguly.
Apostrophe Content and Entertainment