'Please don't ask questions on what kind of runs are expected from the track'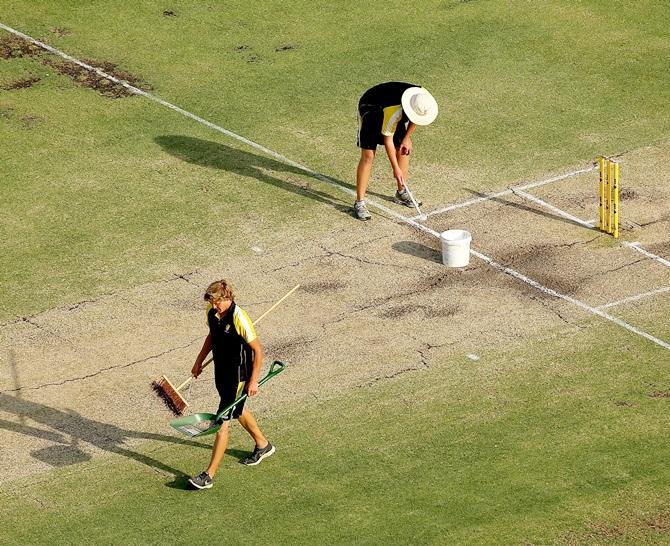 Groundsmen paint the crease at The WACA. Photograph: Paul Kane/Getty Images
In India, you could be blasted for roaming around in the vicinity of a cricket pitch but Western Australia Cricket Association (WACA) ensured that Indian journalists got a feel of what the fastest pitch in the world looks like.
- The World Cup, as never before on Rediff.com
- VOTE: Who will win the 2015 World Cup?
A group of journalists were taken by curator Matthew Page and media manager Glen Foreman to centre of strip.
There was a statutory warning that came during our interaction with curator Page: "Please don't ask questions on what kind of runs are expected from the track as it violates the ICC's anti-corruption rules".
But Page did give an insight on how the WACA strip is prepared.
The hardness comes from the red clay that is used for the strip and it comes from a place, Waroona.
Amidst all the information, when one touches one of strips, he is bound to feel that adrenaline rush thinking about India's glorious cricketing moments at the WACA.
Seventeen-year-old Sachin Tendulkar's epic ton on a deadliest of tracks against a top quality pace attack, comprising of Merv Hughes, Craig McDermott and Mike Whitney.
Ishant Sharma's spell to Ricky Ponting during the 2007-08, can't also be forgotten. And the famous story of Jeff Thomson bouncer which went over Rod Marsh's head and directly flew over the boundary ropes.
It is indeed a walk to remember.
Curtly Ambrose can still hit that 'top of off'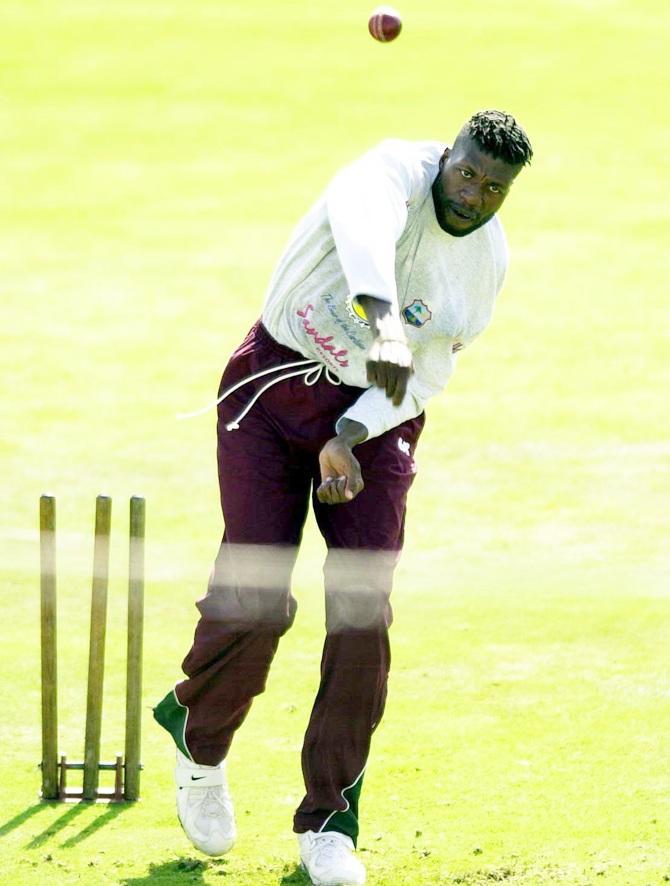 Curtly Ambrose of the West Indies in action during the nets session. Photograph: Tom Shaw/ALLSPORT/Getty Images
What turned out to be the best sight at the West Indies net session in absence of Chris Gayle and Darren Sammy, was big Curtly Ambrose bowling from a four-step run-up and still hitting that line just on top of off-stump.
Video: At last, Bowlers have their day in the sun!
He bowled for good 25 minutes and not a single batsmen was seen going for a big booming drive. Probably, Ambrose can still wake up from his sleep and bowl that probing line.
Matthew Hayden in his autobiography Standing My Ground wrote about his teammate Mark Waugh's famous comment on the big Antiguan, "Does he ever bowl a bad first over?", to which Hayden wrote, "Does he ever bowl a bad over?"
The answer lay in Ambrose's casual bowling at the nets.
Ask media manager Phillip Spooner for a chat with Ambrose, he would laugh and say, "Curtly doesn't love speaking. But read his autobiography which is releasing next month. He has said all that he wants to say."
Are you watching the World Cup? Please share your videos, photos and comments here!