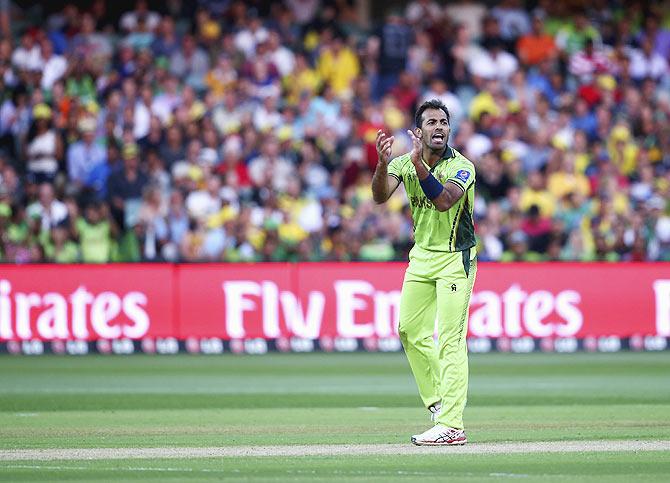 Wahab Riaz of Pakistan in action against Australia during their World Cup quarter-final. Photograph: Ryan Pierse/Getty Images
Floored by the praise showered on him by Brian Lara, pacer Wahab Riaz has invited the West Indian legend to Pakistan.
Riaz, who was one of Pakistan's few standout performers in a failed World Cup campaign, said on his Twitter account that he felt 'honoured' to know that Lara wants to meet him.
- Don't miss our 2015 World Cup coverage
"I feel really proud and honoured that legend @BrianLara wants too meet me. I invite the great man 2 Pakistan n would be honoured 2b his host," Riaz said.
The left-arm pacer's fiery spell against Australia earned him widespread praise from former and present players and Lara was upset when the International Cricket Council decided to fine Riaz for his verbal showdown with Australian Shane Watson.
Lara had said he would love to meet Riaz and termed the ICC's decision to fine him "uncalled for". He also offered to pay for it himself.
"I don't know what the ICC is thinking. It's just uncalled for. We need this in a sport that people are running away from, especially 50-over cricket. I loved the exchange," Lara said on an Indian channel.
"It was above the board as far as I'm concerned and I can't wait to meet him. I want to meet with (this) Riaz guy. I'll pay the fine," Lara said.
Riaz said he was happy that his bowling had been appreciated by so many people but would have loved to see Pakistan win the quarter-final.
"We all did our best but we couldn't win the quarter-final and I don't think anyone can be blamed. But I am happy I was able to step up for Pakistan and bowl well," he said.
Watson promotes reading among kids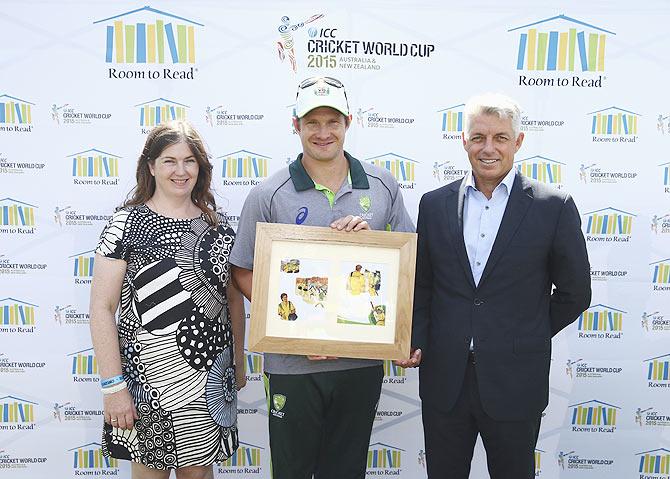 Chantal Lewis, Director Room to Read Australia, Shane Watson of Australia and Dave Richardson, CEO of ICC pose during a book launch at the Sydney Cricket Ground on Wednesday. Photograph: Ryan Pierse/Getty Images
As part of ICC Cricket World Cup's commitment to supporting community causes, Australian all-rounder Shane Watson has launched a children's book to promote reading.
Watson has been named the star in a children's book that has been published by Room to Read, a global non-profit organisation that promotes literacy and gender equality in education across Asian and African countries, together with the ICC.
The book will be published in Bangla, with an initial print-run of 2,500 copies and distributed to schools across Bangladesh and will be available for reprint in future years for additional schools.
This children's title, entitled Dream Big, is about a young boy, Ratul, who dreams of meeting his hero Shane Watson, after seeing him on television. The book inspires children to Dream Big and recognise that great things are possible with perseverance.
"Reading is an important tool in a child's overall development, I encourage children to read more and develop an all-round personality. My message to children worldwide is to Dream Big and never stop chasing your dream. Big dreams can lead to bigger things in life and this is what this book strives to do," Watson commented at the book's launch in the Sydney Cricket Ground.
ICC and Room to Read have been working together since the 2011 World Cup and have focused on motivating children across Asia and Africa to pursue their right to a quality education, the ICC said in a statement.
The partnership has involved numerous activities including Room to Read Ambassadors Shane Watson, Angelo Matthews and Virat Kohli meeting beneficiaries from Room to Read programmes and promoting the importance of reading and education.