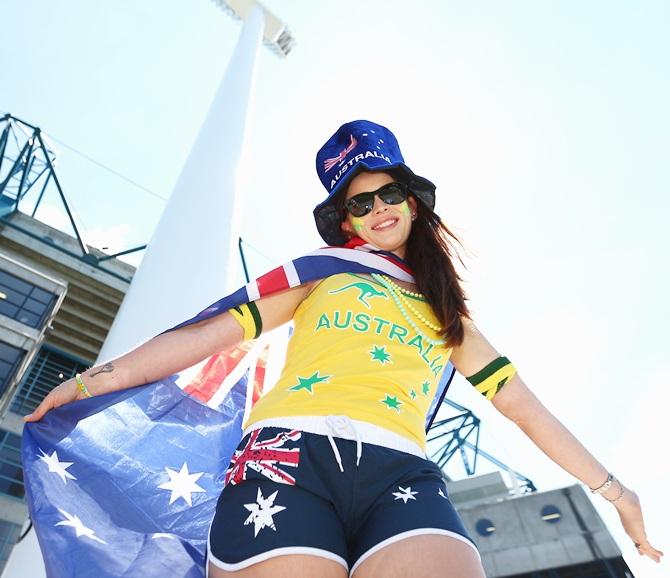 Fans at a World Cup match. Photograph: Robert Cianflone/Getty Images
In Australia, there's a plethora of fan-following for the World Cup. But there is something amiss: the common Aussie fan is largely not bothered about the mega event being staged jointly with neighbours New Zealand.
There are no major, big-ticket banners proclaiming the same, restaurant and coffee shop helpers express surprise when you say we are here to cover the World Cup and even those who have an inkling that the tournament has begun are awaiting the knock-out stage of the tournament.
Probably these fans have realised the importance of reducing the over-kill better than some others.
Met a security guard close to the Adelaide Oval, in the middle of the street where hordes of people had collected. No, it's not because they were eagerly anticipating the start of the World Cup.
The guard informed us they were there to celebrate the Frinch Festival parade in Adelaide. The laid back South Australian city prides itself on being host to the largest arts festival. He reciprocated and asked us why we were there. We told him that are from the media covering the World Cup. He gave us a quizzical look and then, after a few seconds of deliberation, asked us a question we have all been dreading: "Is the World Cup in Australia?"
After we nodded our surprised assent, the follow-up shocked us even more.
"Do India and Pakistan play on Sunday?"
So here is a non-Indian, non-Pakistani security person who doesn't know much about the World Cup, but knows when India and Pakistan will play!
Before our minds can process these thoughts quickly enough, the guard continued. "All the Indian and Pakistan cab drivers have taken an off on Sunday, so it's going to be a problem."
An India-Pakistan game sends everyone's blood pressures through the roof, even those not watching it! Australian newspaper Sunday Mail dedicated its first and its last page to the match between the arch-rivals.
The match itself was a one-sided one. Kohli's love affair with Adelaide cemented its place as second to none, probably, not even Anushka Sharma!
Mahendra Singh Dhoni was his stoic self during the press conference. Did not reveal too much joy, but that is something we have come to accept.
What's interesting is the answer he gave when queried about the 6-0 scoreline against Pakistan in World Cup cricket.
He pointed to the overall head-to-head record between the two teams. Pakistan is way ahead on that count, so he asked the fans to cool down.
The day began as a very hot one, turned windy and cooler during the first innings and as the night fell it was chilly. We needed our jumpers while returning. But the Indian win made even the neutral in us a tad warmer.
Apostrophe Content and Entertainment
PCB officials take day off post team's defeat to India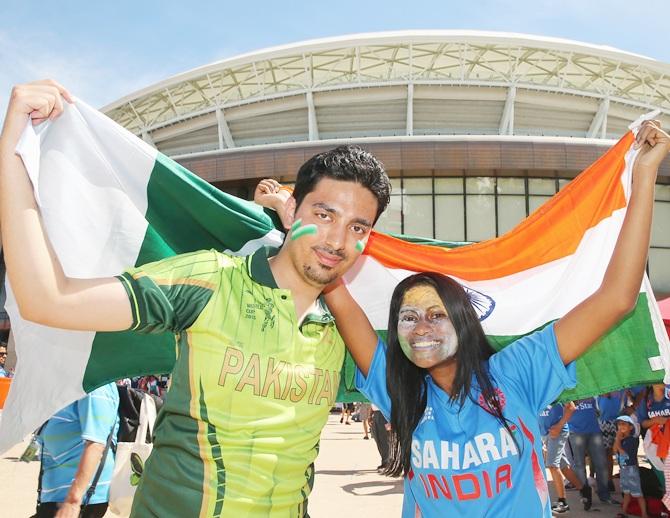 Pakistan and India supporters pose with their flags outside of the ground. Photograph: Scott Barbour/Getty Images
Following Pakistan's 76-run defeat against arch-rivals India in their World Cup opener in Adelaide, Pakistan Cricket Board officials reportedly took a day off from office duties on Monday.
Virat Kohli fan? Solve this World Cup puzzle
VOTE: Who will win the 2015 World Cup?
QUIZ: Who first captained India in a World Cup?
PCB chairman Shaharyar Khan, governing board member and chairman of three committees Najam Sethi and Shakil Sheikh, who played major roles in team's World Cup selection, were unavailable in the PCB headquarters at the Gaddafi Stadium.
Pakistan next meet the West Indies on Saturday at Hagley Oval.
What the shrinks have to say about the Black Caps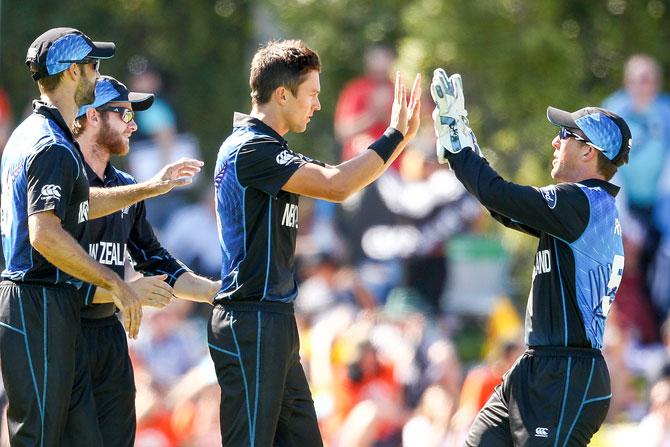 Trent Boult (cenre) of New Zealand celebrates with team mates after dismissing Calum Macleod of Scotland during the World Cup match in Dunedin. Photograph: Martin Hunter/Getty Images
A leading New Zealand sports psychologist has claimed that the biggest challenge for the cricket team would be to manage their mental game in relation to the expectations of being successful at the World Cup.
Dr. Gary Hermansson, who has helped New Zealand Olympic and Commonwealth athletes at eight games dating back to the 1998 Kuala Lumpur Commonwealth Games, believes that perspective needs to be placed on New Zealand World Cup squad's campaign.
Brendon McCullum's team was branded as a tournament favourite along with Australia and South Africa early in the build-up to the World Cup and enhanced those claims with some stunning performances over the last two months.
They continued their winning streak with their demolition of Sri Lanka in their opening Cup game.
Hermansson has acknowledged that the pressures on the New Zealand squad and says that the country can help them in a campaign that is full of expectation.
He said that with the mantle of world champion within reach, managing their mental game in relation to these expectations would be the biggest challenge for the team.
He insisted that when the importance of winning comes to dominate the mind-set people have a tendency to let self-doubt creep in, adding that they too readily move their thinking from performing itself, into a fear of failing.
Hermansson, who has also worked with the New Zealand squad on overseas and home assignments, believes expectations led to a fear of choking in a sports-mad country.
ICC World Cup Merchandise 2015 available on Rediff Shopping