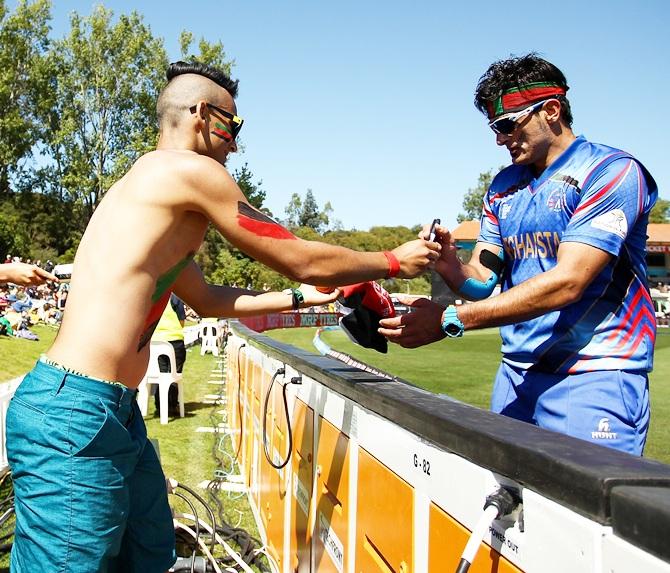 Hamid Hassan of Afghanistan signs autographs during the 2015 ICC Cricket World Cup match between Afghanistan and Scotland at University Oval. Photograph: Martin Hunter/Getty Images
Afghanistan's latest cricket sensation Hamid Hassan found his way into the pages of the popular US daily the Wall Street Journal after his somersaulting antics post Kumar Sangakkara's wicket in their match against Sri Lanka caught the attention of one and all.
World Cup PHOTOS: Shenwari leads Afghanistan to historic win
Shenwari gives Afghanistan first World Cup win
With a bandana and a war paint on both cheeks, Hassan, in his Rambo-like appearance, is not only a hit with fans and the photographers but also with his World Cup opponents, who are wary of his wicket-taking abilities.
With a little over 6 feet in height, his fast-arm surprises batsmen as his 3-45 gave the Angelo Mathews-led team a scare in the pool game after Lanka managed to scrape to their 233-run target in 48.2 overs with only four wickets in hand on Sunday.
VOTE: Who will win the 2015 World Cup?
The pacer continued his somersaulting celebration in the next game after pulling off an athletic diving catch to send Scotland's Josh Davey on his way.

Hamid Hassan of Afghanistan does a cartwheel to celebrate the wicket of Kumar Sangakkara. Photograph: Martin Hunter/Getty Images
Hassan also stood tall with an unbeaten 15 to see Afghanistan register their first World Cup win against Scotland on Thursday.
After Samiuallah Shenwari departed post a fighting 96 that set up the game for the Afghans, Hassan, who had earlier bagged a wicket, stitched an unbeaten 19-run last-wicket stand with Shapoor Zadran (12 not out) to give the fans a lot to cheer about.
With two losses and a win from three games, the Mohammad Nabi-led side has certainly managed to impress one and all in their maiden 50-over World Cup appearance.
Hassan, 27, in particular has managed to carve his own niche after picking up five wickets from three games so far.
It has been a long road to Australia and New Zealand for Afghanistan. The national cricket team was only formed in 2001, and secured qualification for the 50-over showpiece event after beating Kenya into second spot in the World Cricket League championship.
And after years of following heroes from their neighbouring cricket giant Pakistan, with the likes of Imran Khan and Wasim Akram adorning the walls of many a hair salon in the war-ravaged nation, Afghanistan finally have some of their 'own' stars in Zadran and Hassan.
'England's campaign is like a dog with three legs'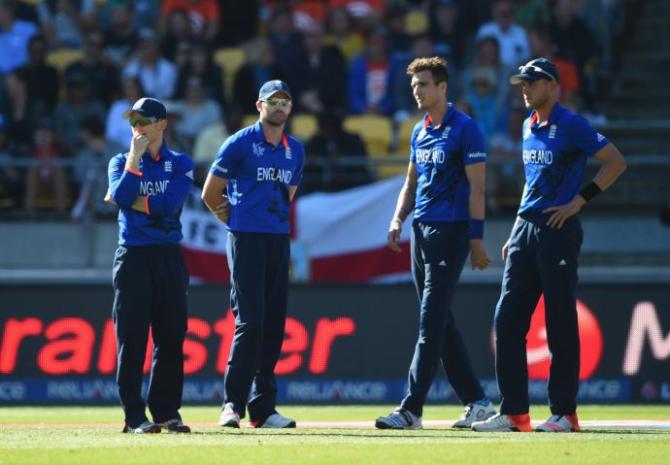 England captain Eoin Morgan talks with bowlers James Anderson, Steven Finn and Stuart Broad during the World Cup match. Photograph: Shaun Botterill/Getty Images
Former England Test Cricket and captain Ian Botham has claimed that the team's World Cup campaign is nothing more than like a dog with three legs, insisting that they are not yet up and running at this tournament.
Botham claimed that people should excuse him if they don't see him doing cartwheels along Waterloo Quay on the way to the Sri Lanka match in Wellington on Sunday, following England's win over Scotland.
Botham wrote in his column for The Mirror that the upcoming England and Sri Lanka game has become an absolutely mammoth clash now with two teams who haven't hit top gear yet. And he added that in England's case have been bumping along the bottom until their Christchurch win.
The former skipper stated that it was a win, and 119 runs is the sort of gap one would expect to see, but added that they should not kid themselves that England are up and running now at this World Cup, because he claims that they are moving like a dog with three legs.