It's a lump-in-the-throat moment for Indians to see their team knocked out in the semis by Australia, but clearly the better team on the day made it to the final.

For India, it was a long and hard-fought World Cup, the team spending more than four months in Australia.
Beginning their campaign as the underdogs who not many Indians thought would make it past the quarter-final, the team surprised everyone with its dream run.

Along with New Zealand, India was the only unbeaten team that made it to the semi-finals. Too bad that unlike the Kiwis, the Indians could not keep their record intact and enter the final.

What are the takeaways for the Indian team, and for Indian cricket, from the remarkable World Cup campaign?

Prem Panicker, during Friday's Rediff World Cup Chat, delved on what went wrong for Team India and what to expect from Sunday's trans-Tasman World Cup final.
what do you say about Jhonson hitting 28 on 9 balls and our bowlers scored zero and were clearly dumbfounded
Boss, it happens. One day he will hit, another day he will get out first ball. Maxwell hit 100 in a little over 30 balls the other day on this ground against Sri Lanka and yesterday he couldn't even score at a run a ball. What of it? That is why sport is what it is -- it is unpredictable.
Last question before I leave. Misbah of Pakistan was crying, Wahab was in tears. Pakistan team was sad, All south africa players in tears, steyn and morkel were weeping like kids seeing their country loose. Compare to that our India morons like Virat Kohli after lose were blowing kisses to their lovers in stand knowing IPL is there.. see patriotism .. stop IPL
Oh what crap! Sorry, pal, but that is utter rubbish.
I agree now a days India has two gd fast bowlers , but why, If pakistan can have legacy of fast bowlers why not we .. please tell us the real reason ..
- The Cricket World Cup: Complete Coverage
Because trying to be a fast bowler on the kind of wickets we have in India is a way of committing slow suicide, frankly.
Sir how about making Anushka sharma the chief selector of BCCI, Katrina the current secretary treasure of BCCI and Deepika as chief of BCCI... will it excite people to turn to fast bowling
It might excite you, maybe, but sports doesn't work that way
Okay, guys, didn't realise it was past four, and certainly way past my allotted time. Got to go. Thank you so much for hanging out with me -- and now that the India part of it is done, enjoy Sunday: it really should be a cracker of a game.
Any comments about the umpiring in this WC? They even misinterpreted the rules. didn't they? (Aus vs Eng)
Oh good lord, no comments -- only because any comments I make will get me banned from Rediff for life. I agree that there were way too many decisions that were frankly nonsensical -- and the third umpire being asked to look for reasons to uphold makes it worse
India dont have fast bowling all rounder. Last was Irfan Pathan the blue eyed boy of Chappel. What happened after that, will we bring all rounder like him from trees. Rich BCCI what it is doing? minting money..... jokers
Eh? If you have a lot of money, you can go buy yourself a couple of good all rounders, you think? Great all rounders don't grow on trees, frankly -- they are once in a generation players. Irfan Pathan -- well, yeah, he was good for a while, but even you refer here to him with contempt, no?
Coming to the bowlers don't you think in our country we tend to admire and encourage batsmen rather than bowlers. Even if you look at the endorsements , except Kapil, every product is endorsed by a batsman rather than a bowler. Should we not do the other way round from now onwards so that we can also fast bowlers like in Australia and Pakistan?
I agree, and said something to that effect in my response to an earlier question.
How big a role do you think mental fatigue of a 5-month long overseas tour played in a big game like this?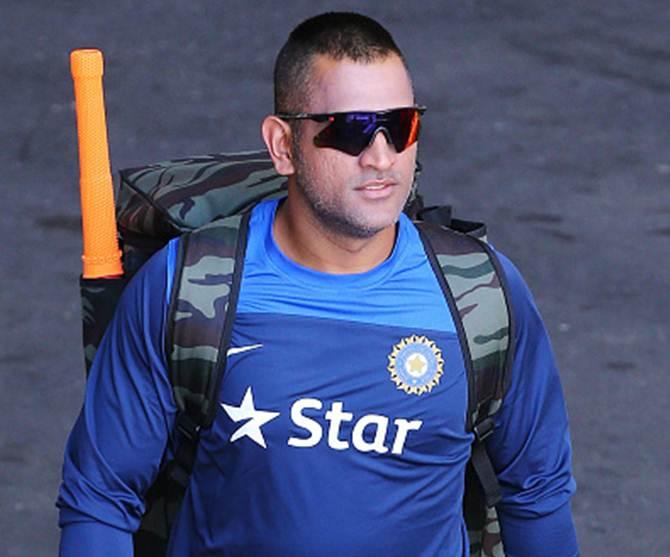 Mahendra Singh Dhoni. Photograph: Shaun Botterill/Getty Images
It is not as if mental fatigue suddenly hits you in one game when it didn't after the previous seven, but that said, I think the cumulative fatigue of four months in Australia did harm us.
We tend to ignore the contribution of our bowlers, don't we? And the fact that our fielding has improved. Cricket is not just about the batsmen.
Oh yes we do. Frankly, I think the Indian bowlers were our stars of this World Cup. We always thought they were going to be our weakest links, and yet they won us all the games -- each batsman had the odd good day, but the bowlers bowled in every game as a unit, and they don't seem to be getting the ink they deserve.
Why was Jadeja preferred over Axar Patel who is a genuine spinner and a decent bat. I do not expect Jadeja to score a century when six others failed. Fielding could not be the only reason for his selection in the XI.
I seem to remember Akshar Patel playing in a few games on the tour earlier without doing anything remarkable with either bat or ball, so what makes any of us assume one simple substitution would have won us the Cup? The boy is young -- this is a good experience for him and his time will come
I agree with you. India team can not be run like a private limited company
I am not God, what I say is not the definitive word on any subject. I have my opinion, you have yours, we are both entitled. BTW, in these domestic competitions you talk about, he would have been facing bowlers who weren't good enough for the Indian side, and not on Aussie wickets, right? Ok.
as known as Kohli is the worst player in this WC. Taking this how in future he will manage the team if gives captainship?
The past is no indicator of the future. Wasn't he "known" as a lousy Test batsman after England? And wasn't he, along with Rahane, your best against Australia by a considerable distance?
why do indian bowlers fail in big games ?? 2003 wc finals and now in semis? before that they have great run.
Wasn't our game against Pakistan a "big game"? how about against SA? How about in the quarterfinal?
In a sport one competitor has to lose and one has to win. But yesterday what has hurt us more is not the loss but the manner in which we lost. We did put up a fight after the first wicket fell... That is my issue with yesterdays game.. We seemed to have mentally lost the game to the aussies even before we took to the field.. Your comments sir...
I agree that the middle order caved in under that pressure, certainly. It is what pressure does, actually -- it finds out even the best sides. Consider this -- in two days from now, one of the top two sides in this tournament is going to have similar proble. One of them will overcome pressure, the other will succumb. No?
Do you blame Virat for poor show in batting.
No I don't "blame" Virat or anyone else for that matter -- much as I like the Indian team to win, I am aware that it is not as simple as wanting it, and I see no point in "blaming" anyone for it. Would you blame Sachin for not getting us the Cup in five tournaments before 2011, for that matter? It's sport -- accepting defeat gracefully is part of it.
For the 2019 WC, shouldn't India be looking for 1 or 2 fast bowling all-rounders. Any good candidates in the present domestic set-up or junior ranks?
For the 2019 World Cup India would need to look for a couple of great swing bowlers (it is in England), two really good openers who can handle the ball moving around in the air -- oh, and maybe six or seven other very good players, while we are at it. Trouble is we can't find them on shelves, so... Not joking -- I think yes, we need to start planning now.
what is correct openion about dhoni in field and his personal life.
Why should any one of us have any opinion about Dhoni's personal life? As for what he is in the field, I don't know about any "correct" opinion -- I think he is a very good one day leader, an average-to-poor Test captain, very fit, and within his limitations, a good batsman of a certain kind.
Sir, do you think we should blame our batsman especially KOHLI, RAINA AND ROHIT. Because india did not get into good partnership for chasing. if YOU HAVE 100 + Partnership then we could easily go through.
Oh I don't "blame" anyone. I do believe one of the top three should ideally have batted the long game, yes -- but I am equally aware that there were some quality bowlers out there. For instance, the ball that got Rohit was marvellous.
Don't you think Varun Aaron should have been retained in squad. Aaron, Shami and Umesh would have been a lethal combination
IIRC, Varun Aaron had injuries in the lead up to the WC and could not be picked because he hadn't recovered sufficiently. Ishant, who bowled very well on the Australian decks, also got injured. That said, sure, we need more fast bowlers -- who doesn't?
Mr.Panicker,when the fast bowlers were getting tonked,do you see any reason why Dhoni did not use Raina?
I guess Raina could have been used, and I am not privy to why he was not, at least for two, three overs. I would suspect, though, that the time to use him would have been mid overs -- but Smith is brilliant on the on side, and Raina comes easiest to him, which may have been one reason
I also want to ask you, Rahane played an uncharacteristic innings against the Proteas in the league, what happened to him thereafter? He even did not seem to be his pale shadow therafter. Any takes?
I recall Graeme Smith making a point recently (and Vaughan said something similar in his autobiography as well) -- that spending two, three months in Australia can be mentally and physically exhausting. I think Rahane, who has had a man-sized job to do, likely is feeling that exhaustion -- it's been four months.
Indian Cricket team lacks killer instinct
Well, we very pacifically, in our own Gandhian fashion, won seven games to get into the semi-final in the first place, while teams with "killer instinct" went out in the first round, or soon thereafter. So I am not so sure.
Sir, what i believe our current team was equally good as Aus in the Semi, but it was the "TOSS" which went in favour of Australia and from there on almost 40% battle was already won by Aussies other wise if we score anything around 280 it won't be that easy for Aussies! Remember What Pak did with only 213..
I agree with you that the toss had a role to play, though unlike you I'd put its impact only at about 10 per cent. Trouble is, that ten percent is all it takes, when top teams are competing. And yes, I remember Australia's problems chasing; pity we didn't win the toss.
Like last 2011 final against Lanka Dhoni moved up and paved the way fro victory dont u think that he should have come before Rahane/Raina
The 2011 final was played on a lower, slower pitch where fast bowlers were not an issue. You could swing out in that game in a way you can't in Australia against Johnson, Starc and Hazelwood. It's not simply about batting up the order, boss.
Dhoni bloody politics shud hve played shewag yuvraj gautam ghambir
Wow. Also Tendulkar, Dravid, Ganguly, Laxman, Zaheer?
You have been kind enough to answer my queries , Sir. One last question , do you think Ashwin should be persisted with in both overseas and domestic tests/ODIs as India's numero uno spinner or we need to look at someone else in the near future. I feel that he has improved dramatically on this long and arduous Australian tour and needs to be given a longer rope.
I think it is not just us -- ALL teams while nurturing the bowlers they have need to look for fresh talent. Look what happened to Oz, for instance, when they lost McGrath and Warne in one shot -- 12 Test defeats, and a ranking of 7th. I think Ashwin, if used in this attacking role, is good, but yeah, we need to find and groom the next lot too.
would u replace jadeja for yuvraj singh with immediate effect in next odi matches. jadeja hard injuries problem & was ok in the world
No I would not, just as I would not with immediate effect replace Rohit with Sehwag and Rahane with Tendulkar and Kohli with Dravid and I don't know, someone else with Ganguly. You have to accept that time moves on.
Dear Mr. Prem, Why we are not able to produce top notch fast bowlers unlike some of other teams? This seems to be a key difference outside sub-continent. Lack of pace attack has been our biggest hurdle since years.
We seem to have produced two bowlers capable of hitting speeds in excess of 145k consistently -- and they led an attack that took 70 wickets in 70 games. Sorry, what were you asking again?
I mentioned about the Danger of Smith in our last chat. I believe Indians have lost it mentally that they can ever get Smith out... for a less score. Do coaches do not watch how other teams have got smith out
If I remember correctly, Smith had three 50-plus scores in the three games before this quarterfinal. So it seems like no one has worked him out yet. It happens -- Sachin Tendulkar was Man of the Tournament, for instance, in 2003. If coaches could infallibly "work" batsmen out, wouldn't all batsmen score zeroes?
From a longer perspective with the 2019 World Cup in mind, if Dhoni decides to play on post 2016 T20 World Cup, who according to you should be handed the mantle of leading India or should Dhoni continue to be the skipper?
I think if MS continues, and his form merits his selection, he should lead at least for the next year or two. But I also think in that time, India should identify its next captain, and begin grooming him towards leading in 2019, Virat is certainly an option -- but he's got some work to do on his game in the immediate future.
:-) Read the transcript, Girish? I said maybe Virat, but I also answered this at some length.
see johnson, filander smith milking runs from so called Indian accurate bowlers. we never came across real competition in the tournament till we met Australia and they showed us who the real TIGER is . . . !! as simple as that
You think South AFrica and Pakistan were not "real competition", then? Bowlers get hit in the one day game. Not just bowlers wearing blue.
do you think the present seam bowler have no mind like legend KAPIL DEV, who can change the match
the present seam bowlers bowled out 7 teams in 7 matches, if I remember correctly. Also if I remember correctly, Kapil Dev has bowled futilely in some games. I would of course like Kapil and Bishen and Prasanna and Gavaskar and Vishwanath and Tendulkar among others to be frozen at the age of 21, but it ain't happening. So.
simply put, Australia was always better side than India. Our brains knew this, but our hearts refused to accept this raw truth.
Which is ok, no? We all are invested in our country's team and loss is always hard to take, at an emotional level. And I like that passion we have for our team -- it becomes a problem only when the resulting expectations are unrealistic, and we react badly to defeat.
SHRI ADI SHIKSHA VA SAMAJSEWI SAMITI
Dhoni says he is fit, he is running we got to see more potential in dhoni than raina in big matches ..........Do you think should India change the ODI captain...& as we all got to see the temperament of Virat Kohli dont you think Rohit could be a better option after an year.....
I think this is a problem we inherit from our former colonialists -- in England they want to change the captain, coach, water boy and the masseur when they lose and when we do, we immediately want to change the captain and ten other players. I think MS led brilliantly in this tournament, frankly. How would changing him help?
Please take this comment in the right spirit.....Please write in simple, crisp English with a minimum of long sentences. Your articles have too many words, majority of them high-sounding. Looks like you are more interested in flaunting off your vocabulary. Please refer to Sharda Ugra's article on Cricinfo today to get a sample of simple yet meaningful article.
Thank you for the suggestion, sir. Sharda Ugra was once my colleague and I think she is one of the finest writers going around today. That said, I -- like everyone else -- can only write the way I know how, not the way someone else does.
Could we have prevented that Aussie total?
How? If you think of it objectively, that total was due to the efforts of one man, Smith, in the middle and one man, Johnson, at the death (plus a couple of very brief cameos). We took out Warner, chained up Finch, took out Clarke, Maxwell, tied down Haddin -- it is not like we let all of them go nuts.
In the future, should we have depth in our batting for tours to Australia and England?
LOL We always need depth in batting -- but the thing with this game is, you also need bowlers. You can't bat with 7 batsmen and only four bowlers, because you will only end up chasing a mountain and failing
I think everybody was knowing that australia is a better team then India so why people are crying so much after losing and expect so much from this team after all in the past too how many matches India won in Australia against australia ,I think 2 out of 10 overall.
I don't know why people are "crying so much", mate. Maybe because they don't have your sense of balance? I agree with you -- Australia was by a small margin the better team -- that margin, plus the occasion, all got the better of us and that is ok. Even the greatest lose, sometimes, so this is not some kind of THE END or anything.
I feelWhats the point to keep shikhar dhwan who is rival for viru. If viru blasts entire world knows what happens. When pressure is there like this emi, youvraj singh would have certainly helped out with strong batting and bowling line up aginst current selection of ravindra jadeja. Zaheer khan must be there against mohit sharma.
Viru -- and this I am told by reliable sources happens to all human beings -- is getting older, his eye sight is getting feebler, his hand-eye coordination is therefore getting affected and he is not able to bat the way he could four years ago. By that token we might as well take Gavaskar no? Oh wait, no -- 36 not out in 60 overs, was it? Forget I said that, then.
I though considering Sydney, Dhoni should have played Axar Patel instead of a pacer. Your assessment?BTW Didnt know you left Yahoo.
The ball did not spin much at all. Aswhin is not the example -- if you notice, he was really tweaking it to get it to turn, and only getting that kind of turn off the odd ball. I agree with what Warne said before the start -- it was not a "spinning" track. Too hard, with too much dry grass rolled in, for that.
Dear Mr. Prem,Why after a loss, do we tend to say simply, that it was not our day? Even Ganguly & for that matter the great SMG also wrote in today's article, if we would have won the toss, it would have been different?
Why not indeed? It's the subtext of what I have been saying -- it wasn't our day, some things went against us, we lost, no body died.
Not taking Yuvraj in the team, has it affected the game all around???
No why? He is out of form and fitness, how would his presence have helped? We might as well say we should have taken Sachin, no? It's a hard game, mate -- you need to be in top fitness/form to do well. Besides, IIRC, India won 7 out of 7 on the trot before this, so it was not like there was a big hole
No, as I think I said three times already.
Ek captain macullum ko dekho jisne apne team ko strong karne ke liye apne bhai ke jagah vettori ko khilaya aur ek captain dhoni ko dekho apni dusmani nikalne ke liye apne achhe player yuvi pe mehnat krne ke bajaye usse team se bahar krke jadeja ko khilaya .......kya hai performance jadeja ka pure world cup mein ye to batao dhoni usse achha hi khelta apna yuvi
Sir, angrezi main jawab dena mushkil pad raha hai mujko -- aap Hindi mat leke aayega idhar. Shukriya
Australia's weapon will again be pace, with Mitchell Johnson, Mitchell Starc and Josh Hazlewood all capable of clocking speeds in the high 140s.
And NZ will respond with Boult, Southee, Henry, Anderson -- that is four very good quick, swinging, seaming bowlers, which is not too bad an attack with Vettori and Williamson in support, no?
My take on Indian Team that we definately missed one genuine allrounder. Sticking to Ravindra Jadega was not fruitful at all, Team should have tried Stuart Binny before quarter finals, because in my opinion a medium Pacer like him would have been successfull.. Wats your take ....
Stuart Binny was tried during the triangulars without accomplishing anything extraordinary -- all that would have happened is we would have had one more seam bowler of gentler pace. I think RJ's role was to team up with Ashwin to restrict runs and keep the middle tight, which he did. And he fielded fantastically. With the bat, he has some work to do.
what is the use of this discussion?? will there be roll back of time ????
No. Why do we talk of anything that happened, in any field, then? Do you ever think of what happened yesterday? Someone with sense once said, Those who do not learn from the lessons of history are doomed to repeat it. To learn, you need to think about it, first.
what per you are the areas that improved and where did we need improvement for men in blue? not having all-rounders did hurt us in a big way though some good bowling and batting in parts hid it for most of the time.
I think their ground game is tremendous. I think the bowlers are learning to bowl as a unit now, and hopefully it is a lesson they won't let go of. I think our batting is still a bit too star-ry -- we lack one anchor player, a Steve Smith type. It is not that he scored at more than a run a ball -- it is that he comes in at one down, and stabilises, and we don't have that just now.
Sir- How do you think was the difference between the two sides and why this type of loss considering the fact that as a nation we only play cricket and nothing else ?
Sport is not a democracy, pal -- we are 1.4 billion and so we should win? How would that work? NZ has less people than Bangalore, where I stay, has -- by that token they shouldn't even be playing. Thing is, we have a good team. But that doesn't guarantee a win. IIRC, SRT played 6 WCs -- and was part of the winning team only once, no?
Michael Clarke or Brendon McCullum -- who's the better captain under pressure?
McCullum, for my money -- Clarke absorbs pressure very well, but Baz seems to have the ability of redirecting it right back where it came from -- with multiplied force. Can lead to your downfall, but he has the team to back him (which is essential, because without it aggression is just bluster)
On what basis you answer questions, i think my post is better than so many here. I could see you ignoring other day as well. The way silly questions to picked to answer is ridiculous..disappointed
I pick on the basis of what I can see -- if you keep flooding your queries over and over again, sorry, can't do much about that.
Who are you betting on to take the Cup home?
I'm not betting on anyone -- but if I had to pick a likely winner, on current form and for the conditions, I'd pick New Zealand for sure. That said, I think it is 51-49 for the Kiwis -- the kind of conditions where any one little thing can turn the outcome.
What was the biggest asset for the Aussies and the greatest liability in the Indian team that caused the downfall?
I think the Aussies biggest asset is the fact that they have batting till very deep -- for instance, consider that Maxwell went less than a run a ball, Warner was out early, Clarke couldn't fire, Haddin was stuck, and Finch was slow. But they still had a Johnson coming in to whack 27 off 9. The deeper you can play, the better your chances, generally.
I also feel India got wrong by sticking with Ravindra Jadeja, neither good bowler, nor batsman. Missing one paceman and lack of all rounder like watson. India is haunted with a lack of fast quality fast bowling all rounder for very long now. Can BCCI think beyond IPL?
Um, well, Watson can't play for India, so we didn't "miss" him, really. Jokes aside, we don't have Watson-type all rounders in India, so much as I would like to see one too, it's hard to know who that someone is.
Also once he came to bat at 108 for 4 in a precarious situation after settling down with Rahane for around 7-8 overs, should n't he have upped the ante from around the 30th over rather that wait till the 42nd over when India needed 121 off 8 overs.
Boss, "upping the ante" depends on more than your personal desire, no? The bowlers have something to say about it as well. His plan was clearly to bat through to the powerplays with Rahane, so two good batsmen could up the tempo and then take it into the death. Rahane got out in the 37th -- second power play over. And not much left in the hut.
Abdul Warith This Indian team will be number one in the world in test cricket in two years. The young batsmen just need a bit more experience. Go Kiwi's in the final
Yeah well, I am not sure what that Starc appeal was all about either. But frankly, I don't mind a bit of an edge in top level sport -- provided what is said is not beyond the bounds of decency, and what is done is not beyond the rules.
We spoke so much about the spin angle at the SCG but it was Australia's show all the way.
Um -- I didn't mention the "spin angle" anywhere, if you noticed. In a Test match, as a pitch goes into the third and fourth day, it tends to soften and, depending on the soil, dust up or even crack. That is when it spins.
How much could the toss affect the result in the World Cup final
Quite a lot. Chasing under huge pressure is always hard -- the occasion adds weight to the runs you are chasing. So winning the toss and batting first gives you that huge advantage, provided you bat well. If you recall, MS said he would have batted first, too.
Find it difficult to agree with your take on bringing Ashwin at the right time on the pretext of ball getting softer. But atleast he should have tried getting some overs out of Suresh Raina considering that the seamers were having an off day.
At what point would you have brought Raina on? The seamers didn't have an "off day" en masse -- at various points, one or the other went for a few. Which you kind of expect against a strong batting unit. That said, sure, he could have bowled Raina for two or three.
Did Dhoni delay bringing in Ashwin during the Aus innings?
I think he brought him in just right. The Aussies go hard at the ball -- Dhoni was clearly waiting for the ball to get as soft as possible, and also to ensure Ashwin had overs towards the latter half, when Clarke and the big hitters come out.
In 2011 world cup final 114/3 . 160 run in 170 ball the MSD come in place of Yuvi & 91/3 then why MSD didn't come cuse 238 run in 192 ball. what we understand...which type of captancy is this?
Probably because this was not 2011 and we were not playing at home? ON the SCG, it was not a matter of coming in and hitting out -- not on that ground, against that bowling attack. Might have been a plan if we were playing this on an Excel spreadsheet, though.
What's the reason behind Virat's failure in the World Cup. is he ready to captain India or should the selectors be looking at someone else?
IIRC, Kohli has been named captain in Tests -- where he has shown great skill and aptitude. As to the reasons for a batsman failing, it can be a weakness -- in his case, around 6th stump line -- that has manifested over the period of a very long tour.
The pacers who we were speaking very highly of gave in against a formidable opposition. Your take.
They bowled very well, with a little wobble in the middle. If you mean they were hit for runs at the very end, yeah, that is the nature of the ODIs. Dale Steyn, who I rate as the greatest of contemporary quicks, has been repeatedly hammered in the death overs, and gave away what, 13 in the game against NZ?
There was conspiracy. Shastri the director had told koli to fail to fail MSD.
Besides being libellous, that remark is positively silly -- if I were a coach, what would I gain by doing that? Whereas I risk my reputation if the team loses?
kohli was not liking MSD...he was jealous of our CSK players ..he was nowhere near to the brillance of our players ..either in talent or commitment
Oh for christ's sake -- this is not the IPL, can't you think beyond "our CSK"? No player will give up a chance at a World Cup simply because he is jealous of "your" IPL team. Sheesh!
Dhoni's team laidback attitude in batting, fielding & bowling shown their amateurish preparation for a big World Cup game. The post match media briefing showed Dhoni as Arrogant and insensitive.
Actually, I thought Dhoni was thoughtful, articulate, and composed in that post match interview. As to where we stand? As one of the top four countries in the game -- and since we beat the other semifinalist, South Africa, that would make us number three. Where do you think we "stand"?
Who is responsible of India's loss in the semifinal-losing the toss,poor batting & poor bowling?
My personal take is, given the conditions, the bowlers did their job against one of the strongest batting line ups in the tournament. If you had to pick *one* cause, it would be that none of the top three in the Indian lineup could bat on -- in big chases, it is almost mandatory.
Don't miss these columns by Prem Panicker on World Cup 2015!