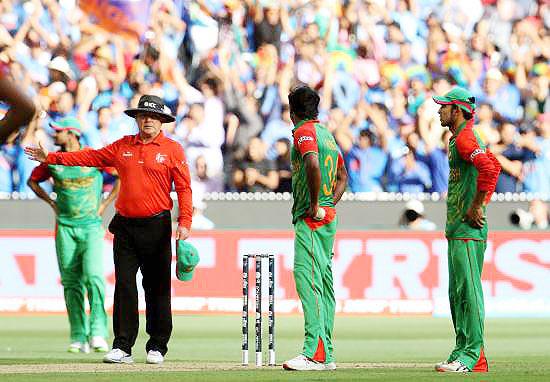 Bangladesh players reacts to a no ball given by umpire Ian Gould during the quarte-final againsy India on Wednesday. Photograph: Vipin Pawar/Solaris Images
Outraged by the quality of umpiring in Bangladesh's World Cup quarter-final loss to India in Melbourne, the country's Cricket Board is all set to lodge a protest in the ICC and has got the backing of the governing body's President AHM Mustafa Kamal, who said the on-field officiating was "very poor".
Bangladesh were handed a 109-run thrashing by India on Wednesday.
- The Cricket World Cup like never before, only on Rediff.com
The only dramatic moment in what was otherwise a clinical Indian performance was when centurion Rohit Sharma got a close no-ball reprieve.
Rohit was on an individual score of 90 and team total on 196 in the 40th over when he bowled by Rubel Hossain. A marginal no-ball call went in favour of the Indian opener, who went onto add another 47 runs in quick time to help India go past 300-run mark.
Ian Gould was the umpire who adjudged Rubel's full-toss as a waist high no-ball as Rohit was holed out at the deep mid-wicket boundary.
However, TV replays showed that it was a touch-and-go situation which could have gone either way.
BCB said it will protest the umpiring in its report to the ICC.
"Naturally we will appeal against these decisions in our report. It won't change the result, unfortunately. One wrong decision can make a huge difference in a World Cup quarter-final," BCB president Nazmul Hassan was quoted as saying by ESPNCricinfo.
"I have had discussions with the ICC president (Mustafa Kamal) as no one else among the senior (ICC) officials were here in Melbourne. Legally what needs to be done, we will do it," Hassan added.
Meanwhile, Kamal, claiming to speak as a fan and not as ICC President, said the matter needs to be looked into.
"From what I have seen, the umpiring was very poor. There was no quality in the umpiring. It seemed as if they had gone into the match with something in mind. I am speaking as a fan, not as the ICC president," Kamal said.
"Umpires may make mistakes. The ICC will see if this was done deliberately. Everything is on record. The ICC has to investigate and inquire the issue to see if there's anything to it."
Protests erupted in Bangladesh after the loss with fans voicing their displeasure with the umpiring.
Bangladesh captain Mashrafe Mortaza had also expressed his displeasure at a few decisions going against his side though he did not say in so many words.
- Prem Panicker: MS smiled, for the second time today...