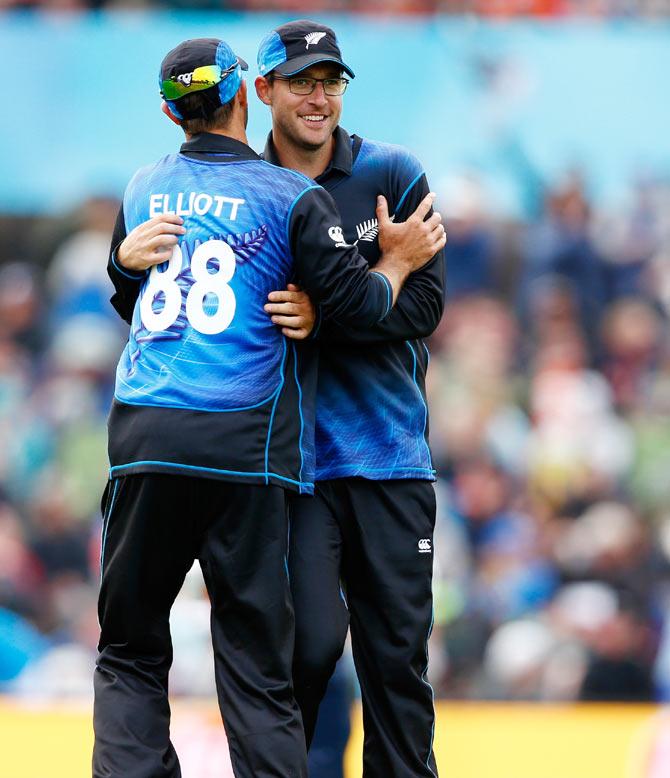 Daniel Vettori of New Zealand celebrates with Grant Elliott after catching out Angelo Mathews of Sri Lanka during their 2015 ICC Cricket World Cup match at Hagley Oval in Christchurch on Saturday. Photograph: Phil Walter/Getty Images
The co-hosts for this edition of the World Cup -- New Zealand -- are the dark horses at the mega event. And, the performance of one man in particular could make or break the team's fate.
That man is the 'young veteran' Daniel Vettori.
- Also Read: Around the wicket: Pakistan will turn tables on India!
- The World Cup, as never before on Rediff.com
For a bloke as good as finished 12 months ago due to endless injuries, Vettori's performance in the World Cup opener against Sri Lanka was the feature of the day. The venue was Hagley Oval but it could just as easily have been called Hagley highway given the quality of the batting surface.

Vettori still managed to pick up two big wickets and go for nothing, quite a feat when you add in a lightning-fast outfield and the opposition in pursuit of more than 330.
Sydney Morning Herald's Jonathan Millmow tells us why Vettori is key to Kiwi World Cup dreams.
1992 World Cup finalists – the most ill-fated group of cricketers ever?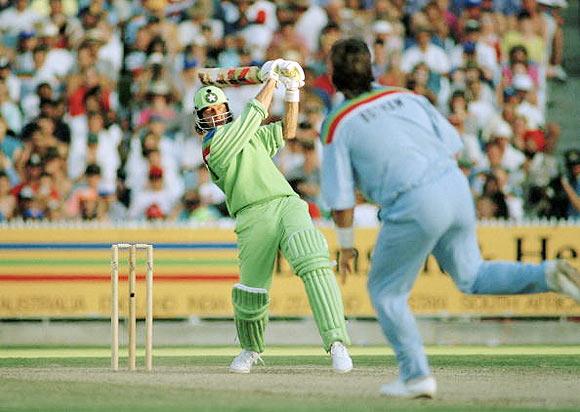 Imran Khan wallops Ian Botham for a six during the 1992 World Cup final. Photograph: Getty Images
It has been pointed out many times that the 1992 tournament was the jumping off point for New Fast Loud Cricket, the moment coloured clothing, floodlights, white balls and all the rest began to defibrillate an unmodernised Victorian spectator sport. But take a look now at the team sheets for that final and something else jumps out too.
It turns out this was a match contested by a uniquely ill-fated group of cricketers. The Guardian's Barney Ronay states why the teams are termed so.