Pakistan off-spinner, Saeed Ajmal has alleged that ICC umpire, Steve Davis had victimized Pakistan after he ruled Umar Akmal caught behind on a referral
decision during their high-octane World Cup opener against India in Adelaide.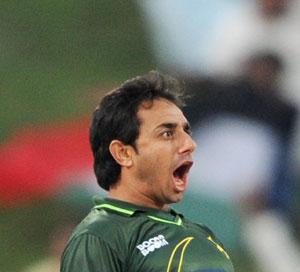 "Steve Davis never upheld any appeal when I bowled and I had to always ask for a referral to get a wicket when he was the umpire," Ajmal said on Dunya news channel.
The channel played up the dismissal of Umar Akmal during the match as a supposed conspiracy against Pakistan. And Ajmal and two other former Test players, Sarfaraz Nawaz and Imran Nazir also backed his arguments.
"Steve Davis has always had issues with us and even when we didn't want him for a match no one listened to us," Ajmal said.
The show's presenter highlighted the fact that Davis had made negative comments about Pakistan after the militants attack on the Sri Lankan team in Lahore in 2009. Ajmal and Nazir said Umar's dismissal had a big bearing on the match.
"When the snickometer didn't show anything and there was no sound why was Umar given out on referral. Why was the field umpire's original not out decision not upheld," Ajmal questioned.
To a question he said he couldn't understand the mechanisms of the technology used for reviewing referrals. He recalled that even in the 2011 World Cup semi-final at Mohali he had got Sachin Tendulkar out leg before and the decision was overturned on review.
"Even at that time I remember Gautam Gambhir telling Sachin not to take a referral as it was a big out yet when the referral was taken it showed the ball going outside the leg-side and this raises lot of questions about this technology. After all this technology is also managed by human beings," Ajmal said.
Image: Saeed Ajmal
Photo: Getty Images