Penpix of the India squad for the 2015 cricket World Cup, which is being held in Australia and New Zealand.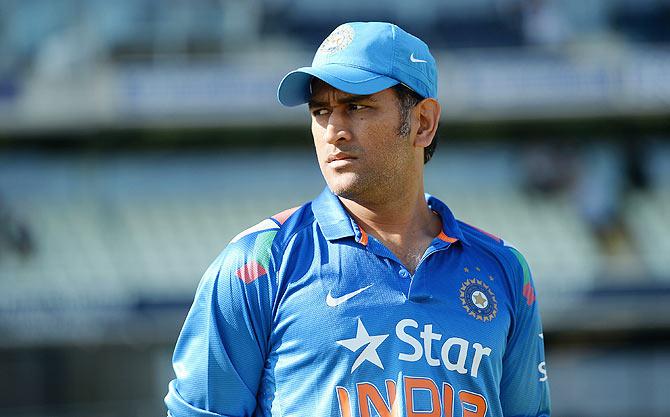 India captain Mahendra Singh Dhoni. Photograph: Gareth Copley/Getty Images
Mahendra Singh Dhoni, 33, right-handed bat, wicketkeeper. India's most successful captain. 254 matches. 8,262 runs. Highest score 183*. Dismissals 308.
Dhoni has won almost everything a captain can dream of. Known for his trademark 'helicopter shot' and a penchant to seal victory with a six, Dhoni would lead India's bid to become only the third side -- after West Indies and Australia -- to defend a World Cup title.
Known for his unflappable temperament, Dhoni's leadership will be crucial to India's campaign.
Virat Kohli, 26, right-handed bat. 150 matches. 6,232 runs. Highest score 183.
Once perceived as a talented brat, the Delhi batsman has sorted out his temperament to emerge as India's batting mainstay and has also taken over the Test captaincy from Dhoni. A brilliant fielder, he does not try to hide his aggression and loves to get under the opposition's skin.
Ajinkya Rahane, 26, right-handed batsman. 46 matches. 1,376 runs. Highest score 111.
The Mumbai right-hander is likely to open for India and has shown his hunger to excel in international cricket.
Rahane is introverted on the field, letting his bat do all the talking for him. He has a tendency to fly under the radar and score useful runs without taking too many risks.
Shikhar Dhawan, 29, left-handed batsman. 53 matches. 2,95 runs. Highest score 119.
The left-handed opener from Delhi is as much known for his ability to score quick runs as for his post-century moustache-twirling celebration. Dhawan has been struggling of late for consistency but enjoys the backing of his captain.
Rohit Sharma, 27, right-handed batsman. 127 matches. 3,90 runs. Highest score 264.
Endowed with bundles of talent, Sharma was tipped as the best batsman to come out of Mumbai since Sachin Tendulkar. The elegant right-hander has lived up to the billing by hitting two double centuries in 50-overs cricket, the only player to do so.
The 264 runs he blasted against Sri Lanka in a Kolkata ODI late last year remains the highest individual score in this format. Consistency and fitness remain issues with Sharma, who is a proven match-winner.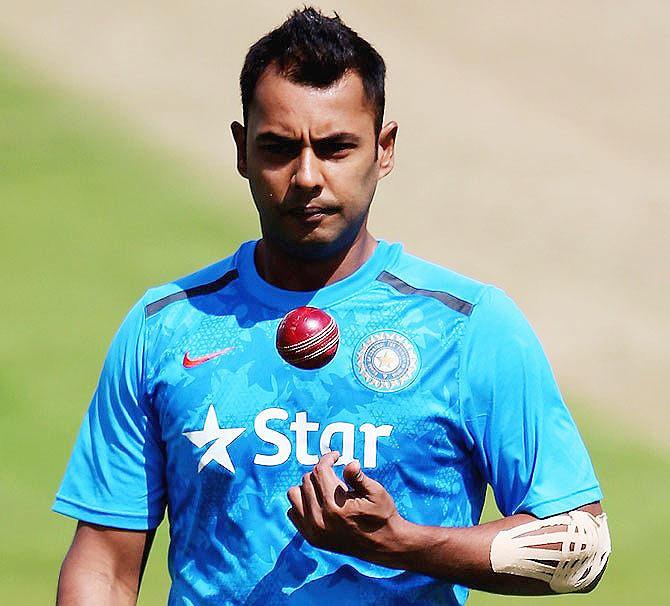 Stuart Binny during a India nets session. Photograph: Matthew Lewis/Getty Images
Stuart Binny, 30, right-handed batsman, right-arm medium pace bowler. Matches 9. Runs 91. Highest score 44. Wickets 13. Best bowling 6-4.
A late bloomer in international cricket, Binny's father Roger was part of India's 1983 World Cup winning squad.
Even though Dhoni wanted a batting all-rounder in the squad Binny was a surprise selection. A handy batsman, Binny can also bowl on a tidy stump-to-stump line and is difficult to score off.
Suresh Raina, 28. Left-handed bat, right-arm offspinner. 207 matches. 5,104 runs. Highest score 116*. Wickets 31. Best bowling 3-34.
Not a Test regular but Raina's limited overs prowess is the reason why captain Dhoni considers him a key member of the side. A fluent batsman in this format, who can clear the boundary and run hard between wickets with the same zeal, Raina knows how to keep the scoreboard ticking over.
A more-than-useful spinner, he can maintain a tight line and length and has a knack of getting the important breakthrough. A brilliant fielder anywhere, Raina adds tremendous value to the team.
Ravindra Jadeja, 26. Left-handed bat, left-arm orthodox spinner. 111 matches. 1,696 runs. Highest score 87. Wickets 134. Best bowling 5-36.
Nicknamed "Rockstar" by his then IPL captain Shane Warne, Jadeja has been a regular under Dhoni. He is miserly with the ball, one of the better fielders in the side, and can score quick runs with the bat.
His importance in the team could be gauged from the fact that he was included in the squad despite still recovering from a shoulder injury.
Ambati Rayudu, 29. Right-handed bat. 27 matches. 743 runs. Highest score 121*.
Rayudu has not quite lived up to expectations and jeopardised his international career by joining a 'rebel' Twenty20 league in India.
That decision cost him two seasons before the strokemaker returned to mainstream cricket and impressed with stint for the Mumbai team in the Indian Premier League. His prolific IPL form earned him an ODI call-up and he will be keen to shine on his World Cup debut.
Axar Patel, 20. Left-handed bat, left-arm orthodox spinner. 13 matches. 16 wickets. Best bowling 3-40.
The frail-looking bowling all-rounder was rewarded for his solid IPL performance with an ODI call-up last year against Bangladesh. The youngster may live under Jadeja's shadow for the time being but would be keen to grasp whatever opportunity comes his way.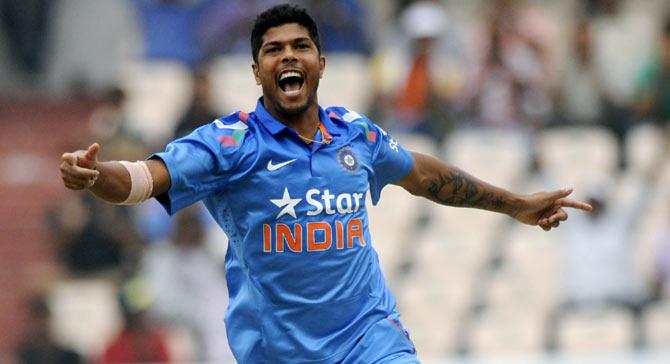 Umesh Yadav. Photograph: BCCI
Ravichandran Ashwin, 28. Right-arm off-spinner, right-handed batsman. 88 matches. 120 wickets. Best bowling 3-24.
The lanky Chennai spinner is a key cog in Dhoni's attack, both in 20-overs cricket and ODIs. A smart bowler with control over his craft, Ashwin can stifle batsmen with his accuracy.
Known for his carrom-ball delivery, which he flicks with a finger, he is very good at reading match situations and is a handy lower order batsman.
Bhuvneshwar Kumar, 25. Right-arm medium pace bowler. 44 matches. 45 wickets. Best bowling 4-8.
He does not have the pace of an Umesh Yadav or Varun Aaron but Kumar swings the ball both ways and can particularly trouble right-handers by curling it back into them.
A smart bowler who is aware of his strengths and limitations, Kumar will have to be at the top of his game to get India those early breakthroughs.
Mohammed Shami, 24. Right-arm medium pace bowler. 40 matches. 70 wickets. Best bowling 4-36.
Shami became the first Indian bowler to send down four or more maiden overs in his ODI debut in 2013. Since then, he has only got better but needs to curb his tendency to bowl one or two bad deliveries every over.
Umesh Yadav, 27. Right-arm medium pace bowler. 40 matches. 49 wickets. Best bowling 4-53.
Son of a coal miner who aspired to be a policeman, Yadav has become one of the few cricketers in India who can consistently bowl in the 140kmph range.
He can bowl quick, swing it both ways and has an effective bouncer which make him an important member of India's pace attack.
Mohit Sharma (26): Right-arm medium pace bowler. 12 matches. 10 wickets. Best bowling 4-22.
Mohit, who was part of the Indian squad in the tri-series, has played 12 ODIs in which he has taken 10 wickets replaced Ishant Sharma. His best was 4-22 against Bangladesh in Mirpur which was erased by Stuart Binny's 6 wicket haul.