Penpix of the Afghanistan squad for the 2015 cricket World Cup in Australia and New Zealand.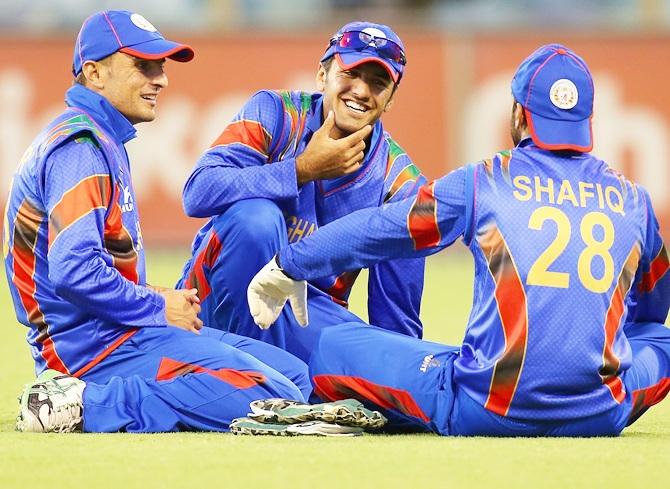 Nasir Jamal, Najibullah Zadran and Shafiqullah Shafaq of Afghanistan chat. Photograph: Paul Kane/Getty Images
Mohammad Nabi (30): Captain. All-rounder. Right-handed bat, right-arm off-spin. 45 matches. 1,069 runs. High score: 77. 42 wickets
Born and raised in a Peshawar refugee camp on the Pakistan-Afghan border, Nabi has blossomed into an off-spinning all-rounder who is the only man to play in every one of Afghanistan's one-day internationals. Nabi, who has played domestically in England, Pakistan and Bangladesh, has hit seven 50s and taken 42 wickets in ODIs and is the country's leading run scorer with over 1,000 runs.
Nawroz Mangal (30): Middle-order batsman. Right-handed bat. 34 matches. 960 runs. High score: 129
Mangal was the skipper when Afghanistan qualified for the Twenty20 World Cup in 2010. The middle-order batsman holds the record for highest individual innings by an Afghan in ODIs. Another to grow up in a refugee camp, his father was initially against him playing cricket professionally before being persuaded by former coach Taj Malik.
Asghar Stanikzai(27): Right-handed batsman. 38 matches. 832 runs. High score: 90*
Has moved up and down the order, batting at three, four and five. Top scored with 66 runs in Afghanistan's sole ODI against Australia in 2012. Also struck 90 not out against Bangladesh to help his side claim a first ODI win over a test playing nation.
Samiullah Shenwari (28): All-rounder. Right-handed bat, right-arm leg-spin. 44 matches. 1,018 runs. High score: 82*. 41 wickets
A talented all-rounder, the right-hander is sn accomplished middle-order run scorer and is the country's best ranked batsman behind Nabi in the International Cricket Council rankings. Another to grow up in a Peshawar refugee camp, he has played in all but one of Afghanistan's ODIs, scoring eight half centuries, and has taken 41 wickets with his tricky leg spin.
Afsar Zazai (21): Wicketkeeper. Right-handed bat. 8 matches. 206 runs. High score: 60. Dismissals 13
Talented young wicketkeeper/batsman who has modelled his game on India's Rohit Sharma, he has long been viewed as a future international having represented the under-19 side when only 16. Made his first ODI start in October in a tour of Australia and New Zealand and cemented his place in the recent series against the UAE at the expense of experienced Mohammad Shahzad.
Najibullah Zadran (21): Left-handed batsman. 10 matches. 190 runs. High score: 83
Left-handed batsman who occasional bowls right-arm off-spin. Made his ODI debut against Ireland in 2012. Has struggled to turn his bright starts into big scores, but smashed his maiden half century with 83 against Ireland in January.
Nasir Jamal (21): Right-handed batsman. 4 matches. 127 runs. High score: 52*
Another of the talented crop of youngsters to be given their chance under new coach Andy Moles. Batting at four, he anchored the side to an eight-wicket win over Scotland in Dubai last month with a swift, 51 ball maiden half century.
Mirwais Ashraf (26): All-rounder. Right-handed bat, right-arm fast-medium bowler. 28 matches. 229 runs. High score 52*. 26 wickets
Powerful all-rounder with a penchant for a big six, as he showed with a monster hit against South Africa in the Twenty20 World Cup, Ashraf also bowls right arm fast-medium at an economical rate. Has a poor batting average but showed his ability as a dangerous lower order batsman by smacking an unbeaten 50 to seal victory over the UAE in December.
Gulbadin Naib (23): All-rounder. Right-handed bat, right-arm medium fast bowler. 14 matches. 152 runs. High score: 31. Eight wickets
A back-up all-rounder who has seen his playing chances reduced in recent months. Was featured in the television doctumentary following the rise of the team from Division Five of the World Cricket League in 2008.
Hamid Hassan (27): Right-arm fast bowler. 24 matches. 46 wickets. Best bowling 5-45
An economical fast bowler who is the country's leading wickettaker. Became only the second Afghan to take a 'five for' in an ODI when he ripped through the UAE in December. The 27-year-old was the first Afghan to play at Lord's when he represented the Marylebone Cricket Club in 2007. He is capable of swinging the ball both ways, but has had knee trouble in the past.
Shapoor Zadran (27): Left-arm fast bowler. 30 matches. 29 wickets. Best bowling 4-24
A talented quick who loves to bowl angry and delivers a mean stare at his opponents. Renowned for his ability to get bounce so should enjoy the hard Australian pitches. His favourite bowler is former Pakistan great Shoaib Akhtar. Was selected for the national team after coming through a trial of 500 players which he kept secret from his family.
Dawlat Zadran (26): Right-arm fast bowler. 24 matches. 32 wickets. Best bowling 3-36
A right-arm genuine quick who has become a consistent wickettaker for the Afghans and frequently opens the bowling attack. Took three wickets on his ODI debut against Canada. Also a handy tailender also and smacked 24 runs off seven balls to secure victory over test playing nation Zimbabwe in July.
Aftab Alam (22): Right-arm bowler. Eight matches. 11 wickets. Best bowling 3-48
A right-arm medium pacer who has been in and out of the side in recent years. Came to prominence with impressive showings at the 2010 under-19 World Cup where he was the country's top wicket taker. Took 4-41 in a warm-up win over Australian Capital Territory in Canberra in September.
Javed Ahmadi (23): All-rounder. Right-handed bat, right-arm offbreak. 19 matches. Seven wickets
459 runs. High score: 81. A right-handed opening batsman who also offers an offspin option to the bowling attack. Models his game on former England skipper Michael Vaughan. Has been in solid form of late, knocking half centuries against UAE, Scotland and Ireland.
Usman Ghani (18): Right-handed opening batsman. 12 matches. 396 runs. High score: 118
A precocious talent who hit a 70 on debut in May against Hong Kong before joining a small group of Afghans to hit ODI centuries when he hit 118 against Zimbabwe in July. The youngest player in the squad but also the highest scorer on their pre-World Cup tour of Australia and New Zealand. Much will depend on his ability to handle the best quicks in world cricket.