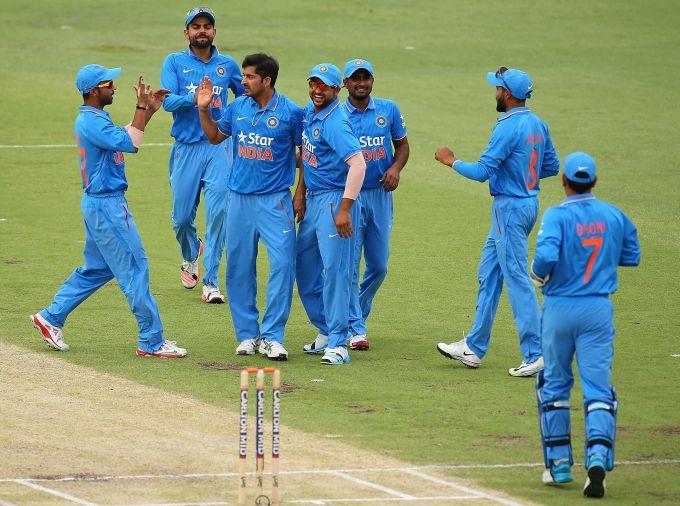 Indian players celebrate after a fall of a wicket. Photograph: Getty Images
India's World Cup-winning coach Gary Kirsten termed Indian cricket team as an "incredibly strong unit which opponents will find it tough to beat" during the upcoming mega event starting February 14.
"The Indians have a really good chance of retaining the trophy. They have produced a new team after 2011 and they have had incredible success. I think the Champions Trophy win was a tremendous event for them and they have an incredibly strong side, which will be tough to beat," Kirsten said.
With Indian team plagued with injuries, Kirsetn said that it depends on the player who is injured.
"It all boils down to how important the cricketer is to the balance of the team. Replacing an important but injured player is tough, as the guy who comes in to fill his shoes may not be able to play the same role. Before the knock-outs, the teams can experiment and reshuffle a bit and then settle down on the combination of the team," he added.
For Kirsten, everyone has moved one since the triumph of 2011. "They have all forgotten about 2011 and are focusing on the upcoming World Cup. New time, renewed hopes, they will be doing their best to retain the trophy."
'Stick to Kohli at No 3'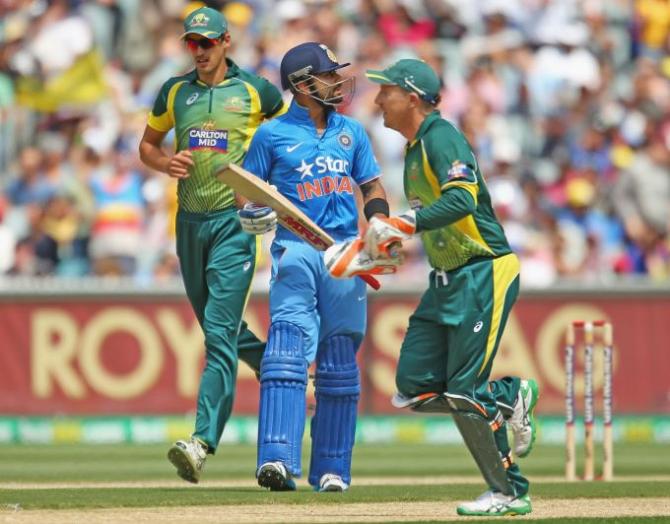 Virta Kohli. Photograph: Scott Barbour/Getty Images
Meanwhile, India's 1983 World Cup hero Mohinder Amarnath feels that Indians shouldn't shuffle too much with Virat Kohli's batting order and sticking with his No 3 position.
"A man in-form should bat in higher order. Virat is in form now. He is aggressive and ready to take the challenge. He should bat at number three position," Amarnath said.
Amarnath was of the view that while it will be tough for India to defend the World Cup, but the team shouldn't lose faith on their performance.
"For a champion team, it is always a tough job to retain the title. But important thing is have faith on your performance," said Amarnath.
'Better to go with a full-fit team'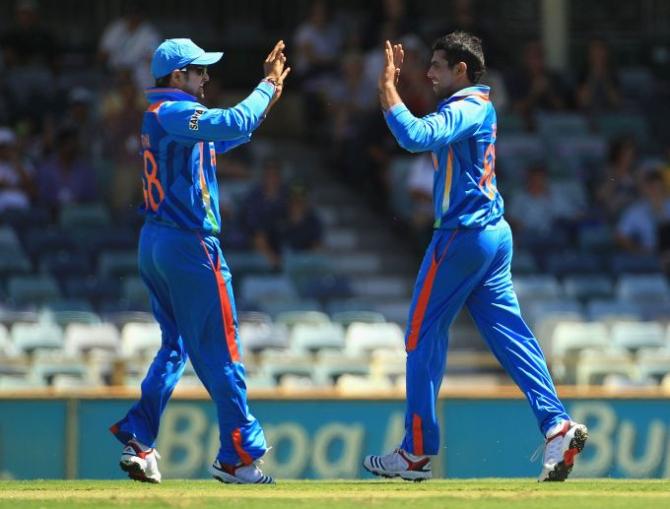 Ravindra Jadeja celebrates with Suresh Raina. Photograph: Hamish Blair/Getty Images
About fitness problems in Indian team, Amarnath said, "It is definitely better to go with a fully-fit team than a half fit side. Players, who are not fit should be sent back. I hope all the players in the Indian team get fully fit by the time the tournament starts."
The former chief selector said that it is hard to predict the semi-final line-up.
"It is very difficult to predict. Any team can beat any team in the World Cup. He also agreed that Australia, South Africa, India have a good chance while New Zealand will be the dark horse."
Amarnath mentioned that for India key thing would be where and whom you play.
"India's bowling strength is in spin bowling. Moreover two new balls would be used in an innings and ball would remain hard. I feel Amit Mishra should have been there in the squad," he said.