From Clive Lloyd and Viv Richards to Imran Khan and Mahendra Singh Dhoni, many players have etched their names in the annals of cricketing history with heroic efforts that helped their teams clinch One-day cricket's biggest prize.
With the 2015 edition of the cricket World Cup starting on February 14, here's a brief history of finals from 1975-2011…
1975, England: Lloyd played a captain's innings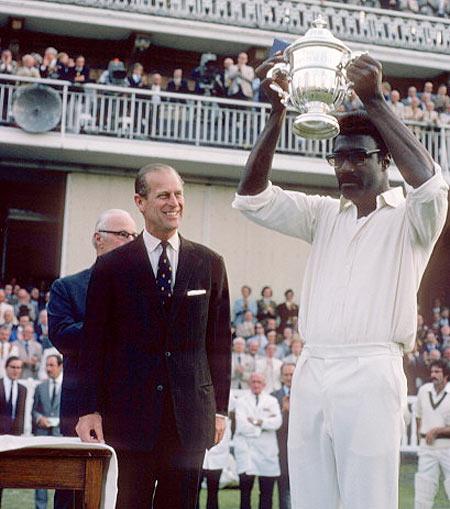 Clive Lloyd holds aloft the 1975 Prudential World Cup. Photograph: Getty Images
Fine weather blessed the first global One-day tournament culminating in an unforgettable final between West Indies and Australia at Lord's.
Striking the ball with relaxed brutality, West Indies' captain Clive Lloyd tamed an attack headed by the pace and fury of Dennis Lillee and Jeff Thomson to score 102 from 85 balls.
He was ably assisted by the 39-year-old Rohan Kanhai, a late replacement for his injured contemporary Garfield Sobers. Kanhai contributed 55 to West Indies' 291 for eight from their 60 overs.
Australia captain Ian Chappell led a spirited reply with 62 before he fell victim to one of three runouts effected by the electric reflexes of Viv Richards. Lillee and Thomson added 41 for the final wicket before Australia were finally dismissed for 274 at twilight on the longest day of the year.
1979, England: Richards, Garner decimated the hosts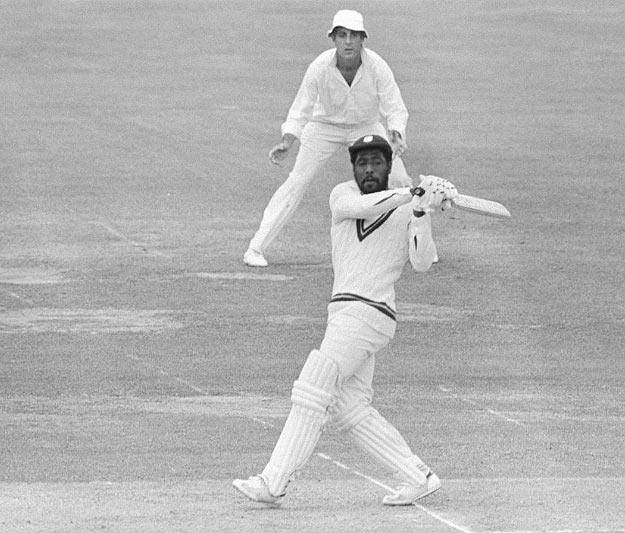 Viv Richards bats during the 1979 World Cup final. Photograph: icc-cricket.com
Peace was brokered with Australian entrepreneur Kerry Packer, whose rebel World Series had split world cricket, shortly before the second World Cup.
Australia still chose not to select any of the players who had signed for Packer but West Indies did and a team who were to rule world cricket throughout the next decade demolished England in the final.
Richards, then the world's No 1 batsman, stroked an imperious 138 and Collis King struck a whirlwind 86. Although England captain Mike Brearley and Geoff Boycott put on 129 for the first wicket, they took up 38 of the 60 overs.
After their dismissals, the giant Joel Garner ran through the middle order with a series of unplayable yorkers to take five wickets in 11 balls and give his team victory by 92 runs.
1983, England: When Kapil's 'devils' changed the face of the One-day game in India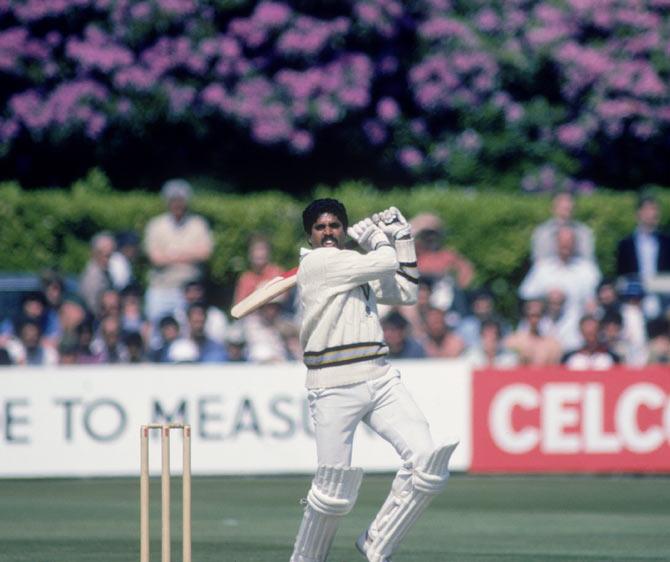 India captain Kapil Dev during his record innings of 175 not out off 138 balls against Zimbabwe in the World Cup at Nevill Ground, Tunbridge Wells, Kent, 18th June 1983. Photograph: Trevor Jones/Getty Images
Richards seemed intent on winning the final against underdogs India on his own after West Indies had been set a modest 184 to win.
He struck seven boundaries in his 33 from 28 balls before top-edging a hook which India captain Kapil Dev, running away from the pitch towards the boundary at mid-wicket, coolly collected.
West Indies imploded thereafter, with India recording a famous 43-run victory which was to have profound implications at home where One-day cricket quickly superseded the Test game as the most popular form of the sport.
1987, India and Pakistan: Australia snatch victory from England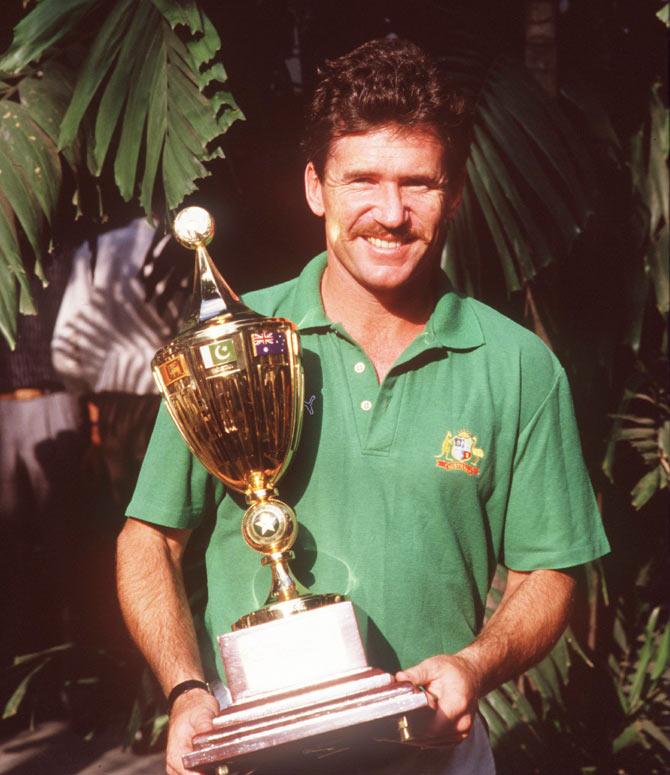 Allan Border poses with the World Cup after winning the 1987 World Cup in Calcutta. Photograph: Adrian Murrell/ALLSPORT/Getty Images
England appeared to be cruising to victory in the final against Australia at Kolkata's Eden Gardens when Mike Gatting tried a reverse sweep off opposing captain Allan Border's first delivery and lobbed a simple catch.
A well-drilled and disciplined Australia side went on to win by seven runs with the core of the team who later thrashed England in the 1989 Ashes series and eventually succeeded West Indies as unofficial world Test champions.
Because of the shorter daylight hours on the sub-continent all matches were played over 50 overs, now the standard length, instead of 60.
1992, Australia and New Zealand: Imran inspires Pakistan to glory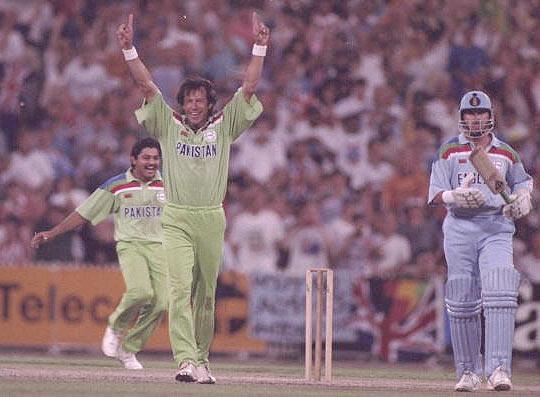 Pakistan captain Imran Khan celebrates winning the 1992 World Cup after defeating England. Photograph: Getty Images
Famously urged by their captain Imran Khan to "fight like cornered tigers," Pakistan rebounded from imminent elimination in the opening round to defeat England in the final at the Melbourne Cricket Ground.
Imran, the greatest player to emerge from Pakistan, scored 72 batting at number three in his final match for his country. He also took the final wicket after his protege Wasim Akram had blown away Ian Botham, Allan Lamb and Chris Lewis.
Coloured clothing, floodlights and a white ball, all pioneered in World Series cricket, were finally introduced into the tournament.
1996, India, Pakistan and Sri Lanka: Jayasuriya, De Silva power Sri Lanka
Sri Lankan team members rush onto the wicket to celebrate with batsmen Arjuna Ranatunga and Aravinda De Silva (hugging) after they beat Australia to win the World Cup at the Gaddafi stadium in Lahore on March 17, 1996. Photograph: Russell Boyce/Reuters
Sri Lanka, with the explosive Sananth Jayasuriya at the top of the order and Muttiah Muralitharan bewitching opposing batsmen with his prodigious powers of spin, proved worthy champions.
The Sri Lankans had demonstrated before the tournament that they could chase down totals previously thought beyond reach and they exploited the fielding restrictions at the start of the innings by attacking from the first ball.
Aravinda da Silva, their most accomplished batsman, scored an assured unbeaten century in the seven-wicket win over Australia in the final in Lahore.
1999, England, Wales and Scotland: Of 'chokers' SA and Waugh's warriors beating Pakistan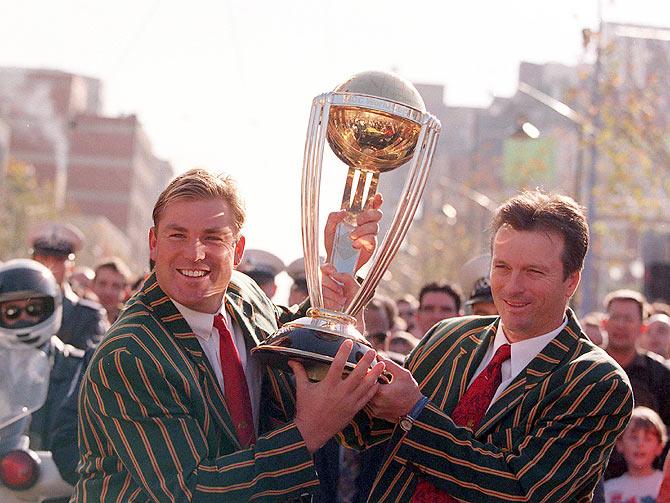 Shane Warne and Steve Waugh hold the World Cup Trophy during a ticker-tape parade through Melbourne, in celebration of the Australian Cricket team's victory over Pakistan in the 1999 World Cup final at Lord's, London. Photograph: Tony Feder/ALLSPORT/Getty Images
Australia, the world's best Test side, were in danger of elimination in the group stages and again in the Super Six round where 120 not out from captain Steve Waugh, dropped on 56 by Herschelle Gibbs, ensured victory over South Africa.
Then, in a semi-final between the same teams, South Africa needed only one run with four balls remaining in the final over with their best one-day batsman Lance Klusner on strike. A panicky run-ut tied an epic match which put Australia through by virtue of their superior run rate in the previous round.
Australia made no contest of the final against Pakistan, taking barely 4-1/2 hours to overwhelm the 1992 champions.
2003, South Africa, Zimbabwe and Kenya: Australia hammered Ganguly's India
Australia's Ricky Ponting (right) hits a six as India's wicketkeeper, Rahul Dravid, looks on during the 2003 World Cup final at the Wanderers Stadium in Johannesburg. Photograph: David Gray/Reuters
Australia's new one-day captain Ricky Ponting struck eight sixes in his 140 not out in the final against India as his team scaled new heights with a relentless 125-run victory.
The Australians became the first team to win three World Cups and took their unbeaten run in the tournament to 16.
England refused to play in Zimbabwe, whose two leading players Andy Flower and Henry Olonga wore black armbands when they played against Kenya to protest against "the death of democracy in our beloved Zimbabwe."
2007, West Indies: Gilchrist hammers Lankan bowlers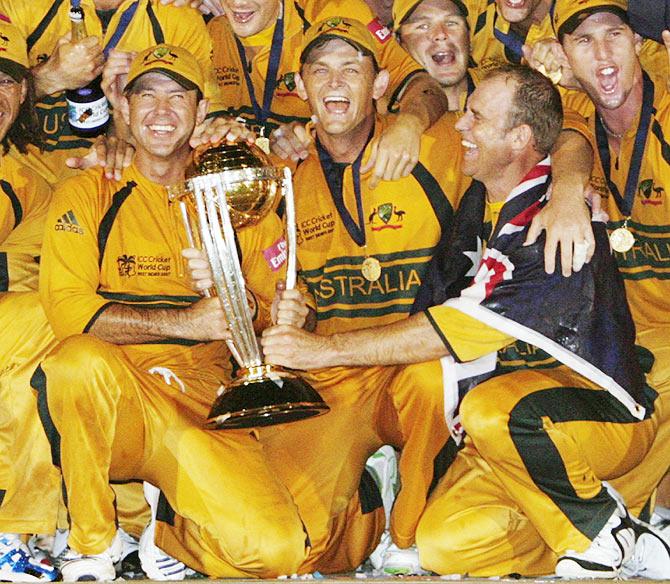 Australia captain Ricky Ponting (left), wicketkeeper Adam Gilchrist (centre) and Matthew Hayden (front right) celebrate victory over Sri Lanka in the World Cup final in Bridgetown, Barbados, on April 28, 2007. Photograph: Tim Wimborne/Reuters
Australia, fresh from a 5-0 Ashes series win over England, systematically destroyed all opposition throughout the Caribbean, finishing with victory over Sri Lanka in a rain-shortened final at the Kensington Oval in Bridgetown, Barbados.
Adam Gilchrist bettered Ponting's record tally in a final with a typically audacious 149. Two other Australian giants, Matthew Hayden and Glenn McGrath, were the leading run-scorer and wicket-taker respectively.
The tournament was overshadowed by the death of popular Pakistan coach Bob Woolmer at the age of 58 in his hotel room in Jamaica after his team had unexpectedly lost to Ireland. Police launched a murder investigation which led nowhere and a jury later returned an open verdict.
2011, India, Sri Lanka and Bangladesh: Dhoni's six gives India trophy after 28 years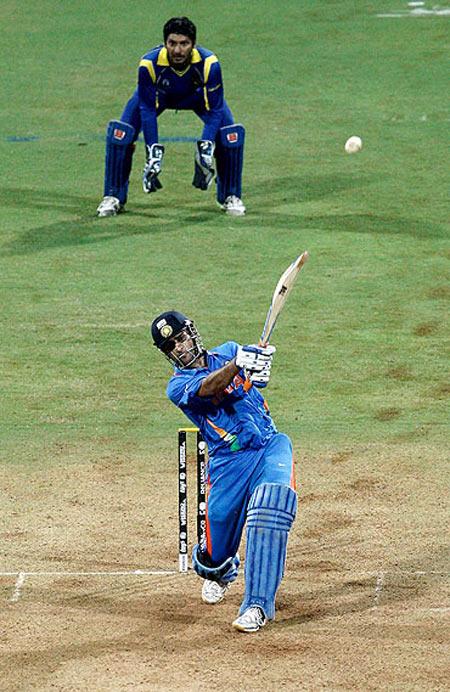 India captain Mahendra Singh Dhoni hits the winning six in the 2011 World Cup final against Sri Lanka at the Wankhede stadium in Mumbai. Photograph:Getty Images
Pakistan were also selected as one of four co-hosts but were stripped of their matches because of security fears following the attack on the touring Sri Lankan team in 2009.
Australia, rebuilding their team, missed the final for the first time since 1992 as India and Sri Lanka met in the decider, pitting Sachin Tendulkar against Muttiah Muralitharan.
Mahela Jayawardene scored an unbeaten 103 in Sri Lanka's challenging 274-6 but India recovered from a slow start to win by six wickets with 10 balls to spare with Gautam Gambhir making 97 and India's captain Mahendra Singh Dhoni an unbeaten 91. India became the first country to win the cricket World Cup final on home soil.