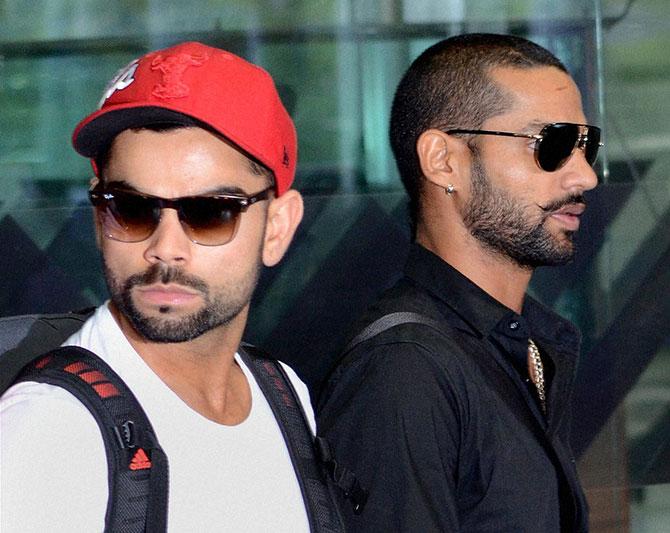 Indian Test captain Virat Kohli and Shikhar Dhawan. Photograph: PTI
Virat Kohli (fourth), Shikhar Dhawan (seventh) and Mahendra Singh Dhoni (ninth) have also maintained their respective positions in the ICC ODI batting chart.
The list is still headed by South Africa's AB de Villiers.
Although no Indian bowler figures in the top-10 of the ODI Bowling chart, there were some significant gains made by them.
Medium pacer Bhuvneshwar Kumar has climbed four places to 12th after taking five wickets for 80 in the series, while teammates Axar Patel (up 18 to a career high 47th), Mohit Sharma (up seven places to 51st) and Harbhajan Singh, who lies just outside the top-100 in 101st position, have also climbed up the ladder.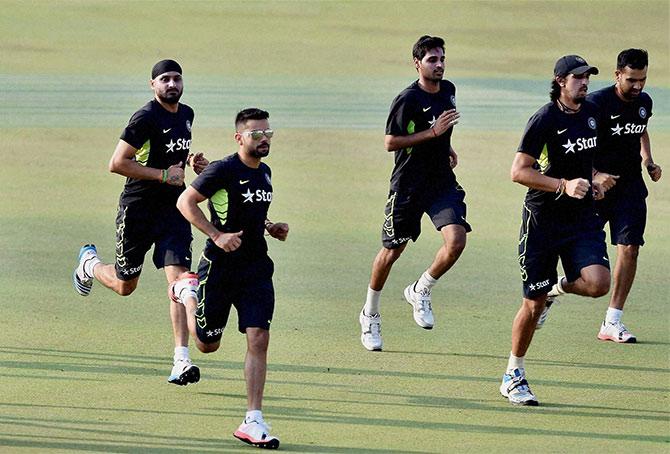 Indian cricketers warm up during a team practice session. Photograph: PTI
Meanwhile, Bangladesh continued its recent fine run of home form in ODI cricket with a first home series victory over South Africa on Wednesday to make it four successive home series victories.
The 2-1 triumph helped cement its ICC Champions Trophy 2017 qualification, as well as its seventh place position in the ICC ODI Team Rankings, and also closed the gap on sixth-placed England to two points.
The Proteas remain in fourth place, but dropped three rankings points to 109.
Following its 3-0 series victory over Zimbabwe, India maintained its second place ranking and still remains 14 points adrift of Australia, who leads the field on 129 points.
ICC ODI PLAYER RANKINGS:
Batsmen (top 10)

1 AB de Villiers (SA) 889
2 Kumar Sangakkara (SL) 851
3 Hashim Amla (SA) 806
4 Virat Kohli (India) 790
5 T Dilshan (SL) 788
6 Kane Williamson (NZ) 786
7 Shikhar Dhawan (India) 765
8 Ross Taylor (NZ) 732
9 MS Dhoni (India) 723
10 Glenn Maxwell (Aus) 720
Bowlers (top 10)

1 Mitchell Starc (Aus) 783
2 Trent Boult (NZ) 727
3 Sunil Narine (WI) 709
4 Dale Steyn (SA) 706
5 Imran Tahir (SA) 704
6 M. Johnson (Aus) 693
7 Shakib Al Hasan(Ban) 690
8 Saeed Ajmal (Pak) 675
9 James Anderson (Eng) 650
10 Morne Morkel (SA) 646
ICC ODI Championship table:

1 Australia 129
2 India 115
3 New Zealand 112
4 South Africa 109
5 Sri Lanka 105
6 England 98
7 Bangladesh 96
8 West Indies 88
9 Pakistan 88
10 Ireland 50
11 Zimbabwe 43
12 Afghanistan 41