Can India become the first team to lift silverware in front of home crowd?
South Africa hopes to end 18-year title drought.
Australia targets missing trophy in its collection.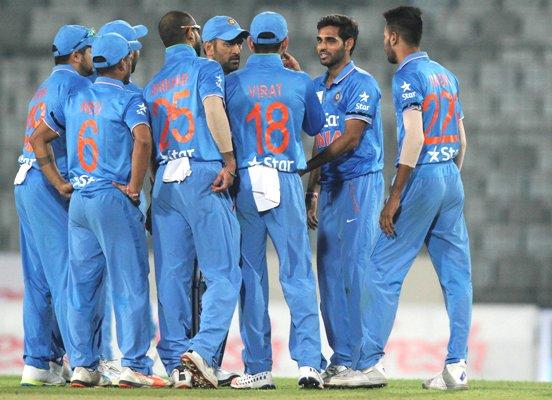 IMAGE: India's players celebrate the fall of a wicket. Photograph: Solaris Images.
India strengthened its reputation as a strong title contender for the ICC World Twenty20 after entering the home tournament as the number-one ranked side in the world.
The sixth edition of the tournament, to be held in India for the first time, starts on Tuesday with 13th-ranked Zimbabwe taking on 14th-ranked Hong Kong in Nagpur. That match will be followed by a meeting between ninth-ranked Afghanistan and 11th-ranked Scotland.
The second round kick off on March 15, also in Nagpur, with India going head-to-head against New Zealand.
The final will be played at Eden Gardens on April 3.
- World T20: Complete Coverage
The 10-team women's competition will also be played alongside the men's second round, with the semi-finals and final before the men's knock-out matches at the same venues.
India's number-one ranking was sealed late Sunday evening after Mahendra Singh Dhoni's side won the Asia Cup in Mirpur, hours after Australia had chased down South Africa's 204 to level the three-match series at one-all.
Irrespective of which side now wins the series in Cape Town on Wednesday, it will not be enough to dislodge India from atop the pedestal.
India, which won the inaugural event in South Africa and finished runner-up in Bangladesh two years ago, is on 127 points, nine points clear of 2012 winner West Indies and South Africa, who are equal on 118 points.
New Zealand is fourth on 116, followed by 2010 winner England, 2010 losing finalist Australia, 2009 champion Pakistan and defending champion Sri Lanka in that order.
These eight sides qualified directly for the second round after finishing inside the top eight of the MRF Tyres ICC T20I Rankings as on April 30 2015.
Tenth-ranked Bangladesh and Zimbabwe have been joined in the first round by Afghanistan, Hong Kong, 15th-ranked Ireland, 12th-ranked Netherlands, 11th-ranked Scotland and 16th-ranked Oman, who qualified for the tournament proper after claiming the top six positions in the ICC World Twenty20 Qualifier 2015 in Ireland and Scotland.
Bangladesh, Ireland, Netherlands and debutant Oman are in Group A, while Afghanistan, Hong Kong, Scotland and Zimbabwe are in Group B.
If rankings have anything to do with qualification, then Bangladesh and Afghanistan should progress from Group A and B respectively. But it would not be wise to under-estimate the strength, talent, experience and ability of Ireland and Netherlands as well as Zimbabwe and Scotland.
This means plenty of action and tight finishes are in store in the first-round matches.
Since the ICC World Twenty20 Bangladesh 2014, India has played 16 matches and has won 11, including 10 out of 11 T20Is this year. This is reflected in the MRF Tyres ICC T20I Player Rankings which boasts a number of its players enjoying high rankings.
In the batting table, Virat Kohli is second and followed by Rohit Sharma (11th), Suresh Raina (16th), Yuvraj Singh (22nd), Dhoni (43rd) and Shikhar Dhawan (48th). In the absence of Sunil Narine, second-ranked Ravichandran Ashwin starts as the highest-ranked bowler while Ravindra Jadeja is 11th, Jasprit Bumrah 27th and Yuvraj is 43rd.
Yuvraj is also India's highest-ranked all-rounder in sixth position.