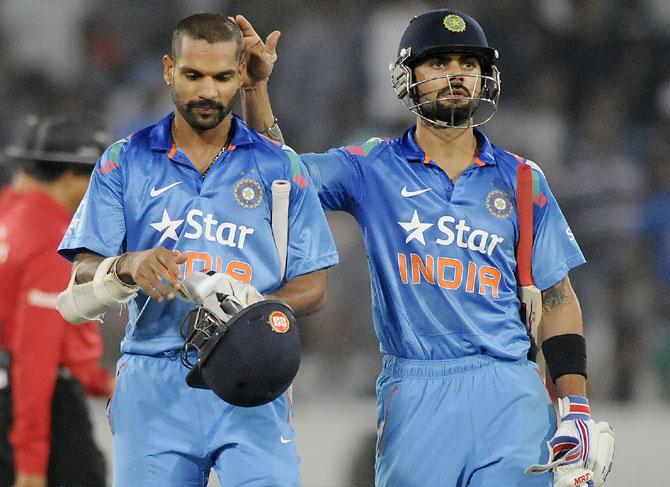 Virat Kohli captain of India pats teammate Shikhar Dhawan as he walks back to the pavilion.Photograph: BCCI
Two Indian batsmen are now in the top five of the ICC ODI rankings, with Virat Kohli remaining at number three and opener Shikhar Dhawan climbing up the ladder to fifth after earning four places in the latest list issued on Wednesday.
However, India skipper Mahendra Singh Dhoni, who is not playing in the ongoing five-ODI series against Sri Lanka due to an injury, has slipped one place to seventh position.
Dhawan has moved up owing to his superb performance in the first three matches of the ongoing ODI series against Sri Lanka. He has been the leading run-getter of the series so far with 283 runs at an average of 94.33.
Meanwhile, the two South Africans -- AB de Villiers and Hashim Amla -- continue to occupy the top two positions in the batting table. George Bailey is the highest-ranked Australia batsman in fourth place.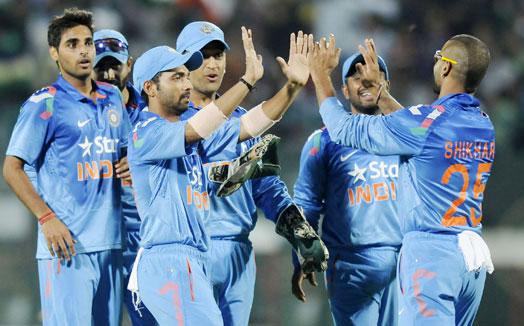 India's Bhuvneshwar Kumar celebrates a wicket with his teammates. Photograph: BCCI
In the ODI bowlers list, India's medium pacer Bhuvneshwar Kumar is now sharing the sixth spot with Mohammad Hafeez of Pakistan after moving up a place.
Ravindra Jadeja, however, has dropped two places to be at number eight in the table, which is still headed by Pakistan's Saeed Ajmal. Third-ranked South Africa paceman Dale Steyn will be looking to reduce Sunil Narine's 38-point gap when his side takes on Australia. Meanwhile, Mitchell Johnson is Australia's highest-ranked bowler in fifth spot.
India, which had jumped to number-one position in the ICC ODI Team Rankings after winning the second match of the series against Sri Lanka, may soon be challenged by Australia and South when the two go head to head in a five-match ODI series in Perth on Friday.
After securing an unassailable 3-0 lead, India (with 116 points) are currently ahead of second-ranked South Africa by one ratings point with Australia one more ratings point behind in third position.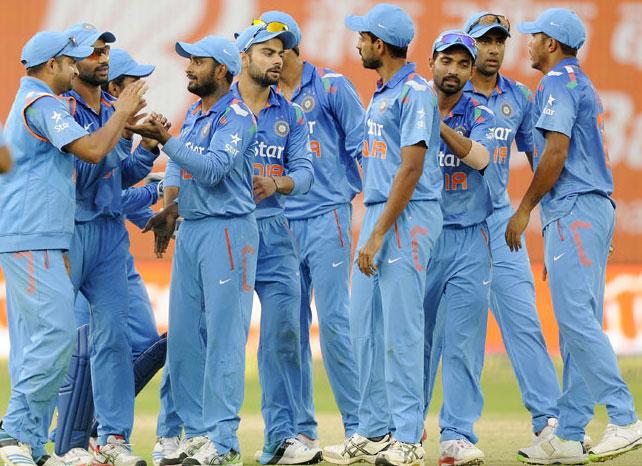 The Indian team celebrates the fall of a Sri Lankan wicket. Photograph: BCCI
With the final two ODIs to be played in Kolkata and Ranchi respectively, the reigning world champions can finish as high as 117 ratings points (if they
win the remaining two games). But they could also slip as low as 114 ratings points if Sri Lanka emerge victorious in both the matches.
India will still be in number-one position by a fraction of a point if Sri Lanka win Thursday's game.
If Australia win the series 3-2, then they will finish on 115 ratings points, while South Africa will drop to 114 ratings points. However, if the series result is reversed, then South Africa will end up on 116 ratings points and Australia on 113 ratings points.
In the scenario of Australia winning the series 4-1, they will rise to 117 ratings points and South Africa will slip to 112 ratings points, while the Proteas' victory by the same margin will put them on 118 ratings with the host side dropping to 111 ratings points.
ICC ODI Player Rankings (as on 12 November):
Batsmen
1 AB de Villiers (SA)
2 Hashim Amla (SA)
3 Virat Kohli (India)
4 George Bailey (Aus)
5 Shikhar Dhawan (India)
6 K. Sangakkara (SL)
7 MS Dhoni (India)
8 Quinton de Kock (SA)
9 T. Dilshan (SL)
10 Ross Taylor (NZ)
Bowlers

1 Saeed Ajmal (Pakistan)
2 Sunil Narine (WI)
3 Dale Steyn (SA)
4 James Anderson (England)
5 M. Johnson (Australia)
6= M.Hafeez (Pakistan)
B. Kumar (India) 647
8 Ravindra Jadeja (India)
9= Steven Finn (England)
Clint McKay (Australia)